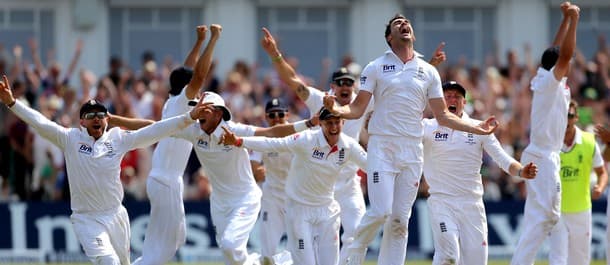 The 2015 Ashes are less than two weeks away, with England and Australia to renew their age-old rivalry once again. It is one of the most anticipated events on the cricket calendar, and as always, there is plenty of spice to this year's competition.
Australia won the Cricket World Cup on home soil earlier this year, while England made an embarrassing early exit. However, a ODI series and a Twenty20 win against World Cup finalists, New Zealand, has brought renewed hope to the English team; and their new coach – Australian, Trevor Bayliss – has just joined the training camp as the squad prepare for the first Test at the SWALEC Stadium (Sophia Gardens) in Cardiff. To add to the drama, England will be looking for some sort of revenge after suffering a whitewash in the last Ashes tour in Australia in 2013/14.
First Test Betting
Starts Wednesday 8th July, 11:00am
England – 4.00Bet €100 to win €4003/1Bet £100 to win £400+300Bet $100 to win $4003.00Bet HK$100 to win HK$4003.00Bet Rp100 to win Rp400-0.3333Bet RM100 to win RM400 with Bet365, Totesport and Betfred
Australia – 2.00Bet €100 to win €2001/1Bet £100 to win £200+100Bet $100 to win $2001.00Bet HK$100 to win HK$2001.00Bet Rp100 to win Rp2001.0000Bet RM100 to win RM200 with Skybet and Ladbrokes
Draw – 3.50Bet €100 to win €3505/2Bet £100 to win £350+250Bet $100 to win $3502.50Bet HK$100 to win HK$3502.50Bet Rp100 to win Rp350-0.4000Bet RM100 to win RM350 with Bet365, Boylesports
We already tipped Australia to win the Ashes at a tasty 1.67Bet €100 to win €16767/100Bet £100 to win £167-149Bet $100 to win $1670.67Bet HK$100 to win HK$167-1.49Bet Rp100 to win Rp1670.6700Bet RM100 to win RM167 way back in April, but with most firms now going around the 1.36Bet €100 to win €1369/25Bet £100 to win £136-278Bet $100 to win $1360.36Bet HK$100 to win HK$136-2.78Bet Rp100 to win Rp1360.3600Bet RM100 to win RM136 mark for an Australian victory, the value now may well lie with England. After those confidence boosting wins against New Zealand (albeit in a different format of the game), England are currently available at 5.00Bet €100 to win €5004/1Bet £100 to win £500+400Bet $100 to win $5004.00Bet HK$100 to win HK$5004.00Bet Rp100 to win Rp500-0.2500Bet RM100 to win RM500 if you fancy them to regain the Ashes.
Despite backing the Aussies to win overall, there is a bit of value in backing England to win the first test. The recent one-day series against New Zealand saw England play a much more aggressive and attacking style of play, and it will be interesting to see if they can carry that through to the five-day discipline. They took the first of five ODI's against New Zealand by 201 runs, but lost the next two to trail 2-1 in the series. They put in excellent performance in the final two matches to take the series 3-2 though, and followed it up with a 56-run victory in the Twenty20 contest.
It wasn't just the victories that have re-energized England, but the manner of them as well. A host of records were broken in the ODI series, which are a good reflection of England's new attacking stance. They scored 1,617 runs, which was the highest ever achieved by a side in a five-match series, and hit 209 boundaries, again the highest ever by a team in a five-match series. New Zealand played their part in a memorable series too, scoring their highest ever runs total in a five-match series of 1,534. The combined total of 3,151 is also the first time ever that 3,000 combined runs has been surpassed in a five-match series.
New Coach, New Start
The addition of Trevor Bayliss as England Coach could also have a huge bearing on England's chances, and success has followed the Australian wherever he has been. He made the point to the media that he is not coming over to shout and bawl at players, but to help them relax and play their best cricket.
Bayliss said that players are already under immense pressure to perform and win matches, and his aim is to give the players an atmosphere in which they will be treated as professionals and given the freedom to go out and play. That could be just the tonic England needs after years of a very disciplined and staunch approach that brought lots of success, but has possibly gone a bit stale in recent years.He also refused to be drawn on the Kevin Peterson saga, simply saying "He is a good batter, but at this stage he is unavailable, so that's all I know".
If England's new-found energy can be transferred to the five-day game, they could cause a surprise this summer. Certainly in the first test one would expect them to come out full of confidence and enthusiasm, and that may be enough to carry them to victory. As the series wears on though it might be difficult for England to maintain those levels, and the Australians are a very strong, very experienced side.
The Bowling Stakes
The New Zealand bowling attack in the ODI series was very inexperienced by comparison, and Australia will almost certainly ask England more questions over the course of five tests. With Johnson, Starc and Harris the Aussies have a formidable attack, and it's also worth keeping an eye out for young pace bowler Josh Hazelwood who has been tipped to have a good summer in the bowling stakes. He might well provide a bit of value in later tests, but we'll recommend a watching brief for the first test.
The bowler that catches the eye as a potential bet for the series is Stuart Broad. He was top bowler in England's last test match, against New Zealand prior to the ODI series, where he took seven wickets overall. The seam bowler struggled a little bit out in the West Indies, as England drew a three test tour back in April, but the surface here suits much better. James Anderson will naturally get plenty of support, but Broad could be the way to go at a very decent price, and should give us an interest all summer.
Top England Bowler (Series):
Stuart Broad – 4.33Bet €100 to win €433333/100Bet £100 to win £433+333Bet $100 to win $4333.33Bet HK$100 to win HK$4333.33Bet Rp100 to win Rp433-0.3003Bet RM100 to win RM433 with Skybet and Boylesports
Earlier in the year, after England's dismal display at the World Cup, it was difficult to see anything other than a comfortable Ashes victory for Australia, but England's new-found strategy has given punters plenty to think about. Yes, the Australians are probably the best side in the world right now, but going to England and winning the Ashes is by no means a simple task. With a feelgood factor suddenly back in English Cricket, with Trevor Bayliss coming in as coach, and with the famous Barmy Army behind them, England can certainly give Australia a good run for their money, and at the odds, they can also give us a good run for our money in the first test.
Tips Summary
England v Australia Ashes First Test, Wednesday 8th July, 11am.
To Win the 1st Test:
England – 4.00Bet €100 to win €4003/1Bet £100 to win £400+300Bet $100 to win $4003.00Bet HK$100 to win HK$4003.00Bet Rp100 to win Rp400-0.3333Bet RM100 to win RM400 with Bet365, Totesport and Betfred
Ashes Top England Bowler:
Stuart Broad – 4.33Bet €100 to win €433333/100Bet £100 to win £433+333Bet $100 to win $4333.33Bet HK$100 to win HK$4333.33Bet Rp100 to win Rp433-0.3003Bet RM100 to win RM433 with Skybet and Boylesports
2015 ashes
Australia
cricket
England
The Ashes