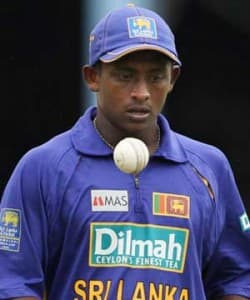 Patience is the name of the game with Sri Lanka well worth backing to win its Second Twenty20 International versus New Zealand provided that the home team gets to bat first at the Muttiah Muralitharan International Cricket Stadium and there are no storm clouds hovering over the Pallekelle venue.
The First Twenty20 International between Sri Lanka and New Zealand did not get under way because heavy rain fell over Pallekelle and prevented the sides from getting on the field. Bookmakers have trimmed Sri Lanka's odds for its Second Twenty20 International against New Zealand, most probably because now the series boils down to one match and there is less chance of the home team taking it easy.
Sri Lanka is available at odds of 1.45 with Bwin to beat New Zealand and take out the abbreviated Twenty20 International series and, as the world's number one side in the shortest form of cricket, those are fair odds provided that it gets the first opportunity to bat and the weather is fair.
History shows that batting first at the Muttiah Muralitharan International Cricket Stadium is important. The ground named after Sri Lanka's greatest cricketer has staged 13 Twenty20 International games that have produced a positive result and the team batting first has won eight of them, with two ties that went to super overs. Bookmakers will update their odds after the toss for the Second Twenty20 International between Sri Lanka and New Zealand but they are unlikely to know that whichever side bats first will have a major advantage. If it is Sri Lanka and the weather looks like allowing both teams to bat out 20 overs then the home side is worth a wager.
Statistical rankings have their critics but Sri Lanka is the world's number one Twenty20 International team on merit. Sri Lanka has won 33 and lost 21 of its 54 completed Twenty20 International matches, including four of its six games this year. Sri Lanka boasts two of the world's top eight Twenty20 International bowlers according to the rankings – Ajantha Mendis is in third place and Nuwan Kulasekara is in eighth position – plus the number crunchers are being harsh on Lasith Malinga, whose prowess in the format is better than his ranking of 18th suggests. It is no accident that many Twenty20 sides around the globe have spent big bucks on securing Malinga's signature for domestic competitions.
And Sri Lanka is no slouch with the bat, either. Mahela Jayawardene is the number four Twenty20 International batsman and he has company in the form of Tillakaratne Dilshan (15th) and Kumar Sangakkara (16th). Sri Lanka is a well rounded Twenty20 International team, unfortunately something that cannot be said of it in the Test arena.
New Zealand is no pushover in Twenty20 International matches but the Black Caps are much weaker without their undoubted format star, Brendon McCullum. New Zealand officials ruled that McCullum and another Black Caps batsman, Ross Taylor, would not tour Sri Lanka so that they could prepare for their country's upcoming home Test series versus the West Indies by playing some red-ball cricket in the land of the long white cloud. McCullum is number two in the Twenty20 International batting rankings so no team, let alone one that is rated the world's seventh best, is going to play well without him. McCullum is a power hitter who can take Twenty20 matches away from opponents so he is a big loss.
Another negative for New Zealand is the absence of Martin Guptill, who is the seventh highest batsman in the Twenty20 International rankings. Only one New Zealand squad member features in the top 20 of either the Twenty20 International batting or the Twenty20 International bowling rankings – Nathan McCullum is 12th with the ball – so the Black Caps are nowhere near as well credentialed as their hosts.
With regards to Second Twenty20 International exotics, the most appealing play is backing Dilshan to top score for Sri Lanka at odds of 4.50 with Sky Bet. Dilshan was Sri Lanka's leading light with the bat during its recent One Day International series versus New Zealand, scoring half centuries in all three games, hitting a high score of 81 runs and averaging 94.50 runs thanks to one unbeaten knock.