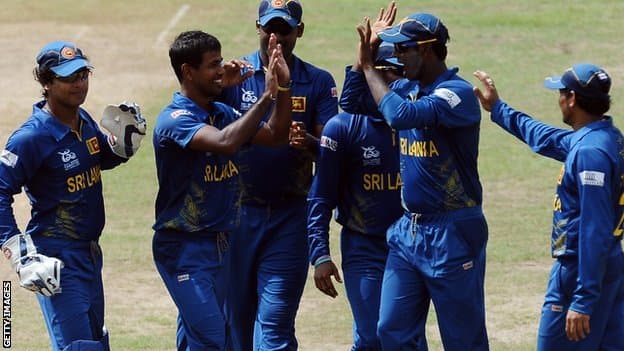 Sri Lanka is the world's top ranked Twenty20 International team and, fresh off the back of an emphatic 4-1 success in its One Day International series versus South Africa, it deserves to be the favourite for the first of three hit-and-giggle matches between the cricket sides.
South Africa skipper AB de Villiers had, with the best of intentions, hoped his team's One Day International games against Sri Lanka would herald the start of its 2015 ICC World Cup preparations but now the straight-talking Proteas captain believes that personnel changes will be required.
De Villiers could not put a positive gloss on South Africa's 1-4 One Day International series loss, which included three comprehensive defeats – one by eight wickets with 36 balls remaining, one by 128 runs and one by 180 runs. De Villiers let slip that he thought that Sri Lanka has been out of the Proteas' league at times. The honesty of de Villiers may be refreshing but it may have damaged his side's confidence even more than its on-field limited-overs defeats.
Spin bowling was the difference between Sri Lanka and South Africa in their One Day International clashes. The home team took 24 wickets with slow bowling and the away side did not post a batting score in excess of 238 runs. Sri Lanka only lost seven wickets to South Africa's spinners and, despite sluggish conditions, scored more than 300 runs twice.
Morale within the Sri Lanka squad is sky high and, with its status as the premier Twenty20 International team on the line over the course of the next three matches – the home side has amassed 1875 points from 18 games for a rating of 134, which places it ahead of Pakistan (124), India (121), the West Indies (120), England (113), South Africa (112), Australia (103), New Zealand (102), Ireland (81), Bangladesh (74), Scotland (62), Zimbabwe (48), the Netherlands (36) and Kenya (34) – it has selected its strongest roster. Dinesh Chandimal will resume his captaincy, with Lasith Malinga – the most destructive bowler in the Twenty20 format – as his deputy. Sri Lanka has strike power with both bat and ball.
Sri Lanka and South Africa have met only once in Twenty20 International action and, while the Proteas won by 32 runs, one should take the result with a large pinch of salt. Rain reduced the match to seven overs per innings, which made the game almost farcical. South Africa scored 78 runs for the loss of four wickets before the pressure got to Sri Lanka and they slumped to 46 runs for the loss of five wickets.
Of much greater value are the recent Twenty20 International records of Sri Lanka and South Africa. Sri Lanka has won its last three completed matches, including back-to-back away wins over Australia, and six of its last seven games that produced a positive result. Conversely, the Proteas have won only two of their last seven completed matches, with their rare victories both taking place on South African soil.
Sri Lanka has three players ranked in the world's top 15 Twenty20 International batsmen and the one who is in the best nick is Kumar Sangakkara. The wicketkeeper smashed 372 runs, including one knock of 169, eight sixes and 44 fours, during the recent One Day International series at an average of 93. Sangakkara, who has belted half a dozen fifties in the Twenty20 International arena, is the top batsman pick for the home team given his good form and high ranking.
That no South Africa batsman is ranked inside the top 15 speaks volumes about its Twenty20 International struggles, with JP Duminy being its leader at number 17. Duminy struck the highest individual score for the Proteas during the recent One Day International series, hitting 97 runs off 121 balls in his side's eight-wicket loss. Therefore, Duminy is the best bet to be South Africa's top batsman.
The three-game Twenty20 International series between Sri Lanka and South Africa starts in Colombo and then switches to Hambantota for the last two matches. There will be 48 hours between the games once the series gets under way.