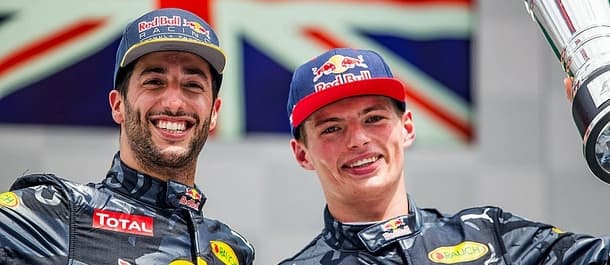 One cannot help humming Public Enemy's Don't Believe The Hype whenever Formula One conversation turns to Red Bull driver Max Verstappen and his future on the racetrack.
Verstappen is an outrageously talented 19-year-old and it is incredible that a teenager is competing at the highest level of motor racing. But one thinks that many Formula One fans are selling short Verstappen's teammate, Daniel Ricciardo, and that there is value in backing the Australian to beat the Dutchman in season-long head-to-head betting markets.
SkyBet is offering odds of 2.20 that Ricciardo finishes the Formula One competition higher on the ladder than Verstappen and one thinks that the odds-on Dutchman is a classic false favourite. Ricciardo and Verstappen were Red Bull colleagues for last term's final 17 Formula One events and, both in qualifying and races, the Australian beat the Dutchman more often than not – 11-6 in qualifying and 10-7 in races.
Bookmakers are favouring Verstappen over Ricciardo because, presumably, they expect the Dutchman to improve greatly in 2017 because none of the 2016 Formula One statistics support the state of the season-long head-to-head betting markets. But is it realistic to expect Verstappen to improve? After all, Verstappen won his first-ever Formula One in a Red Bull vehicle and, if anything, he fared worse in his intrateam battle against Ricciardo as the tournament progressed.
Ricciardo's public image is of a happy-go-lucky Australian larrikin who does not take himself too seriously. But only fierce competitors get to the top of Formula One and one would be shocked if Ricciardo did not use the hype around Verstappen as motivation to be Red Bull's leading driver.
Daniil Kvyat was the driver who made way for Verstappen when the Dutchman joined Red Bull and he did not cover himself in glory versus Carlos Sainz in last term's final 17 Formula One races. Sainz is available at odds of 1.45 with 32Red to get the better of Kyvat this season and that is simply too big.
Last year, Sainz qualified better than Kvyat 11 times out of 17 and the Spaniard enjoyed a 12-2-3 race form edge over the Russian. Sainz is a Formula One driver who believes that he is going places, whereas Kvyat's confidence was shattered when Red Bull bosses relegated him to the Toro Rosso camp.
Sainz against Kvyat is a bad Formula One match on which for bookmakers to bet but some of them feel compelled to quote prices about every team clash. Sainz should be at odds around the 1.20 mark so punish 32Red for its 1.45 quote.
Finally, Nico Hulkenberg appeals at odds of 1.44 with Winner Sports to end the Formula One competition higher on the ladder than Jolyon Palmer. Hulkenberg is new to Renault but many Formula One pundits rate him as the best driver without a seat at one of the teams in the hunt for race and title honours.
Hulkenberg beat his former Force India colleague Sergio Perez 12-9 in Formula One qualifying last season and their race head-to-head was 8-8 in the 16 races that they both completed. Palmer lost his 2016 Formula One qualifying head-to-head versus his ex-Renault teammate, Kevin Magnussen, 9-12 and there was nothing to choose between the Briton and the Dane in the 21 races throughout the year.
Ricciardo to finish above Verstappen
2017 Formula One Season
Odds: 2.2
Sainz to finish above Kyvat
2017 Formula One Season
Odds: 1.45
Hulkenberg to finish above Palmer
2017 Formula One Season
Odds: 1.44
F1
Formula One
Hulkenberg
Kyvat
Palmer
Ricciardo
Sainz
Verstappen