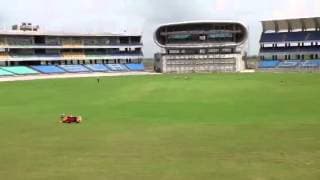 Australia's tour of India gets under way with a standalone Twenty20 International and there are grounds for opposing the touring team even at fairly short odds for such a game.
The Saurashtra Cricket Association Stadium will be the venue for the Twenty20 International match that precedes seven One Day Internationals before Australia returns home for its next Ashes series against England. Local pitch curators Rasik Makwana and Dhiraj Parsana have both said that the Saurashtra Cricket Association Stadium track will favour batsmen over bowlers, with Makwana saying that it will be a batting paradise on which even more than 200 runs – that is 10 runs per over – would not be an easy total to defend.
If one takes the words of Makwana and Parsana at face value then the Twenty20 International between India and Australia is highly likely to go the way of the side with the better batting line-up. According to the Twenty20 International rankings for batsmen, India is well ahead of Australia.
India has six batsmen ranked in the world's top 35 – Virat Kohli (sixth), Suresh Raina (eighth), Yuvraj Singh (16th), Gautam Gambhir (19th), MS Dhoni (30th) and Rohit Sharma (35th). All except Gambhir is in India's squad for the Twenty20 International and a few of them have performed extremely well in the recent Champions League Twenty20 tournament that the India-based franchises dominated.
Australia's batting stocks are much weaker than those of India, at least according to the Twenty20 International rankings. Australia's top six batsmen in the rankings are Shane Watson (third), David Warner (fourth), Aaron Finch (20th), Cameron White (32nd), David Hussey (39th) and George Bailey (52nd). Bailey is only in Australia's team because he is its captain, while Warner, White and Hussey did not make its roster. How Australia fares will have a lot to do with how Watson and Finch bat because the away side is weak.
Surprisingly, neither India nor Australia possesses a great Twenty20 International record and that does temper one's enthusiasm for the Indians a little bit. India has won 24 of its 43 Twenty20 International games that have produced a positive result, with its home record reading four victories and five defeats. Australia has won 31 of its 60 Twenty20 International matches that have produced a positive result, with its record away from home reading 19 victories and 23 defeats. India has the slight edge with regards to those historical numbers and, also, it has won four of its last six Twenty20 International games, whereas Australia has lost six of its last seven Twenty20 International matches.
India is trading at odds of 1.62 with Ladbrokes to win its Twenty20 International versus Australia and that looks like the play if one wants to bet on the result of the game.
Perhaps the pick of the exotics in light of the reported comments about the Saurashtra Cricket Association Stadium pitch is betting on one or more batsmen scoring more than 70 runs at odds of 2.62 with Stan James. Normally scoring more than 70 runs is a tough ask in a Twenty20 International – for example, only four batsmen achieved the feat during the recent Champions League Twenty 20 event in which there were 20 matches that produced a positive result – but it is hard to ignore what the local curators have said. If 200 runs does end up being the par score, there is a superb chance that at least one batsman will score more than 70 runs.
Finally, it may be worth nibbling at the long odds of 9.00 that Ladbrokes is quoting about one or more batsmen hitting a century in the Twenty20 International between India and Australia. Nine batsmen have scored Twenty20 International tons, including Finch (156 against England) and Raina (101 versus South Africa), with New Zealand slogger Brendon McCullum scoring centuries in two games. There have been 16 Twenty20 International scores in the 90s, seven of which were not-out totals, so big knocks are not uncommon. Again, this punt is based on the Saurashtra Cricket Association Stadium track being extremely kind to the men with bats.