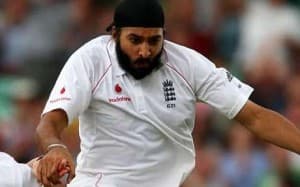 Not for the first time, Monty Panesar is being hailed as the possible saviour of England's cricket team but there is one killer statistic that should be sufficient to scare off anyone considering backing the touring team to win its Second Test against India in Mumbai this week.
It seems certain that Panesar will line up alongside Graeme Swann following England coach Andy Flower's admission that it was a mistake to go into the First Test, which India won by nine wickets, without the slow left arm orthodox bowler.
But history shows that pairing Panesar and Swann may not be such a brilliant idea, even though the Mumbai pitch has been a spinner's paradise down the years, like so many Indian tracks. That is because England has not win a Test match when Panesar and Swann have featured in the same side.
All the talk in the lead up to the Second Test has been about Panesar but, to be honest, England's problems are much greater with the bat than they are with the ball. The reason why England lost the First Test by an emphatic margin was because five of its top six failed with the bat, with only Alistair Cook of the top-line batsmen doing his job. And if had not been for wicketkeeper Matt Prior in both England knocks, the away team would have lost by an innings.
Bookmakers have framed their markets on the Second Test, with India trading at around evens, England at around 5-1 and the draw at around 13-8. Patriotic English fans will step into the touring side based on the good feeling that surrounds cult hero Panesar but serious punters will be making up their minds between the other two possibilities.
Panesar cannot bat, his fielding is notoriously poor and his bowling record in overseas Tests is terrible. He has played 18 Test matches outside England, with his away bowling average being more than 11 runs higher than his home one. Only twice has he taken five or more wickets in an innings overseas, compared to eight times on home soil. And his bowling average in India works out at nearly 56 runs.
England has won only three of the 18 away Tests in which Panesar has played and two of them were in New Zealand. To put it bluntly, Panesar is one of those rare spinners who do not perform well on the dry and dusty pitches that one typically encounters in India and other Asian countries. That is why it is hard to see Panesar making England much better in the Second Test than it was in the First Test.
Mumbai's Wankhede Stadium has been starved of Test cricket in recent years but each of the last six matches there have produced a result, if one counts last year's remarkable draw between India and the West Indies as a tie. The scores were level at the end of the fifth day, with India scoring 242-9 in their final dig to finish one run short of victory. They lost a wicket on the final ball when they tried to turn one run into two and the Windies whisked off the bails easily.
India at around evens is the best Second Test bet given the likelihood that the Mumbai pitch will suit spinners, while in terms of exotics, one could do much worse than dutch
Ravichandran Ashwin and Pragyan Ojha for man of the match. Both India spinners are available at around 9-1, which means one can get around 4-1 about one of them winning the award.
Two of the last three Test matches in Mumbai have resulted in spinners taking out the individual honour, with Ashwin getting the nod in last year's thrilling tie between India and the West Indies. Slow bowlers took 24 of the 39 wickets that fell in the match, including all 10 in the second innings of the Windies. Ashwin took nine wickets in the game, as well as scoring a first-innings century.