New Zealand claimed victory over England in the opening one-day international of the series, winning their ninth 50-over contest on the bounce.
Ross Taylor scored a brilliant century helping the Kiwis recover from a horrendous start of 27-3 to guide his team to the triumph. Tom Latham ascored a half-century, sharing a stand over 100 runs with Taylor that was the foundation of the chase. Mitchell Santner found the boundary late on to secure the victory by three wickets, playing a vital role with an innings of 45.
England had set a decent total on a slow pitch at Hamilton, with Jos Buttler leading the charge by scoring 79. Solid bowling in the final 10 overs from New Zealand – led by Tim Southee and Trent Boult – prevented the Three Lions from posting 300, which proved to be a decisive factor.
Joe Root fired on his return, although he fell 29 runs short of his 11th ODI century. Ben Stokes had a mixed game on his comeback. He was dismissed for just 12 with the bat, but did take two crucial wickets that almost turned the game.
It was a close contest, with the home side just edging home with four balls to spare. Hopefully the rest of the series can live up the excitement of the opening match.
New Zealand's Top Batsman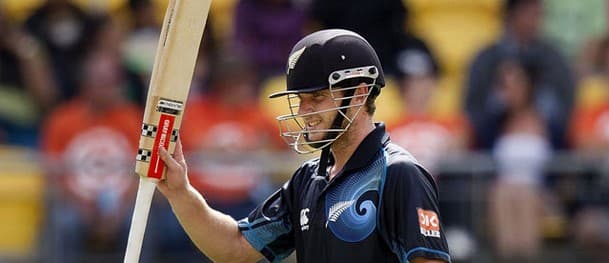 The Kiwis were able to secure victory in the opening match of the series without their top three scoring over 13 runs. Martin Guptill, Colin Munro and Kane Williamson all fell cheaply to leave their side in trouble at 27-3. However, they were bailed out by Taylor and Latham with two superb innings, while Santner pushed them over the line at the end. It's rare for New Zealand to struggle at the top of the order given the quality of Guptill and Williamson. Both players average in the 40s and seeing them both fail for two matches in a row would be a surprise.
Williamson will be desperate to lead the charge after struggling for form in the T20 series. His only innings of note of late has been his 72 scored against England at Wellington in the 20-over format. Other than that he has struggled to break double digits. The New Zealand skipper needs a strong performance to set him up for the remaining games and the Test series. He scored a half-century in his one appearance at Mount Maunganui, back him to shine again at the Bay Oval with odds of 4.50Bet €100 to win €4507/2Bet £100 to win £450+350Bet $100 to win $4503.50Bet HK$100 to win HK$4503.50Bet Rp100 to win Rp450-0.2857Bet RM100 to win RM450 with BetVictor.
England's Top Batsman
Root and Buttler led the charge for England with the bat as the slow pitch at Hamilton hindered their power hitters. Jonny Bairstow was out of touch opening the innings, while Eoin Morgan was again out cheaply continuing his issues at the crease. Jason Roy notched 49, although he had to graft for every run. The pitch will play an important role in whether England's unit is able to tee off at the Bay Oval. The Three Lions are a team that enjoys pace on the ball and should conditions suit – it would be no surprise to see their top order fire.
Roy played within himself before being undone by Santner when it appeared he just lost his concentration looking for a quick single for his fifty. Consistency has not been his strong point in an England shirt. Partly due to his style of play, looking to take the attack constantly to the opposition.
However, it would be a mark in his development if he is able to stack up meaningful scores back-to-back. With Hales out of the side, there's pressure on him and Bairstow to lead the way with their team-mate searching for a way back into contention. Back Roy to top score at odds of 5.00Bet €100 to win €5004/1Bet £100 to win £500+400Bet $100 to win $5004.00Bet HK$100 to win HK$5004.00Bet Rp100 to win Rp500-0.2500Bet RM100 to win RM500 with 888Sport.
New Zealand's Top Bowler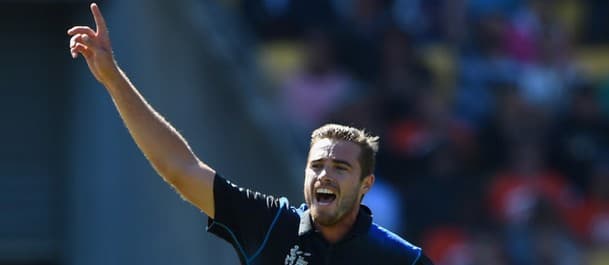 Although their figures were not outstanding Santner, Boult and Southee were all extremely impressive in the opener. Santner delivered key wickets of Roy and Stokes to stymie England's momentum, while being dispatched for less than a run-a-ball. Boult was expensive, but was effective at the top of the innings removing Bairstow and he could have more wickets.
Southee was perhaps the best of the bunch, holding Buttler in check towards the end of England's 50 overs. And although he was wicketless, his performance was one of the deciding factors in the game. Wickets at the top will be imperative, thrusting Southee and Boult to the fore once again. Southee has an excellent record against England, averaging 23.88 in his 16 matches taking 33 wickets.
The 29-year-old had rhythm in the first match and appeared to have the measure of the England batsmen. Few bowlers have managed to halt the Three Lions in the last 10 overs in the last three years, making the feat that much more impressive. Back Southee to be rewarded in the wicket column at the Bay Oval at odds of 4.50Bet €100 to win €4507/2Bet £100 to win £450+350Bet $100 to win $4503.50Bet HK$100 to win HK$4503.50Bet Rp100 to win Rp450-0.2857Bet RM100 to win RM450 with 888Sport.
England's Top Bowler
The Three Lions got off to a great start with the ball in Hamilton. Chris Woakes and David Willey were both on song to reduce the home side to 27-3. Woakes was extremely impressive with his accuracy and ability to move the ball off the seam. However, the difference between the sides was the ability to strike in the middle overs. England had few answers for Taylor and Latham along with Santner's late surge to drive his side over the line. Morgan made a rare lapse in judgement to allow Adil Rashid to bowl late in the innings.
Liam Plunkett's absence loomed large as Tom Curran struggled in relief, failing to provide the pace and wicket-taking ability of the veteran seamer. With a talented top three, Morgan's men need Woakes to continue to strike with regularity at the top of the innings. He has become a reliable performer in an England shirt and the tourists need him to fire once again. Back him to lead the wicket column at odd of 4.50Bet €100 to win €4507/2Bet £100 to win £450+350Bet $100 to win $4503.50Bet HK$100 to win HK$4503.50Bet Rp100 to win Rp450-0.2857Bet RM100 to win RM450 with BetVictor.
Winner
New Zealand are on the hunt for their 10th win on the bounce in the 50-over format. They were able to defeat England without contributions from their best two batsmen. Southee and Boult looked dangerous in the opening stages of the innings with the ball, while Santner prevented the Three Lions from putting together lengthy partnerships. England looked a little shaken at times in unfamiliar conditions and it may take a little longer to feel comfortable. Back the Kiwis to notch the win at odds of 2.05Bet €100 to win €20521/20Bet £100 to win £205+105Bet $100 to win $2051.05Bet HK$100 to win HK$2051.05Bet Rp100 to win Rp205-0.9524Bet RM100 to win RM205 with Betway.
Tips Summary
New Zealand To Beat England 2nd ODI
Wednesday 28th February 2018 14:00 NZDT (1:00 GMT)
Odds: 2.05Bet €100 to win €20521/20Bet £100 to win £205+105Bet $100 to win $2051.05Bet HK$100 to win HK$2051.05Bet Rp100 to win Rp205-0.9524Bet RM100 to win RM205
Kane Williamson To Be New Zealand's Top Batsman
Wednesday 28th February 2018 14:00 NZDT (1:00 GMT)
Odds: 4.50Bet €100 to win €4507/2Bet £100 to win £450+350Bet $100 to win $4503.50Bet HK$100 to win HK$4503.50Bet Rp100 to win Rp450-0.2857Bet RM100 to win RM450
Tim Southee To Be New Zealand's Top Bowler
Wednesday 28th February 2018 14:00 NZDT (1:00 GMT)
Odds: 4.50Bet €100 to win €4507/2Bet £100 to win £450+350Bet $100 to win $4503.50Bet HK$100 to win HK$4503.50Bet Rp100 to win Rp450-0.2857Bet RM100 to win RM450
Jason Roy To Be England's Top Batsman
Wednesday 28th February 2018 14:00 NZDT (1:00 GMT)
Odds: 5.00Bet €100 to win €5004/1Bet £100 to win £500+400Bet $100 to win $5004.00Bet HK$100 to win HK$5004.00Bet Rp100 to win Rp500-0.2500Bet RM100 to win RM500
Chris Woakes To Be England's Top Bowler
Wednesday 28th February 2018 14:00 NZDT (1:00 GMT)
Odds: 4.50Bet €100 to win €4507/2Bet £100 to win £450+350Bet $100 to win $4503.50Bet HK$100 to win HK$4503.50Bet Rp100 to win Rp450-0.2857Bet RM100 to win RM450
cricket
England
Eoin Morgan
Kane Williamson
new zealand