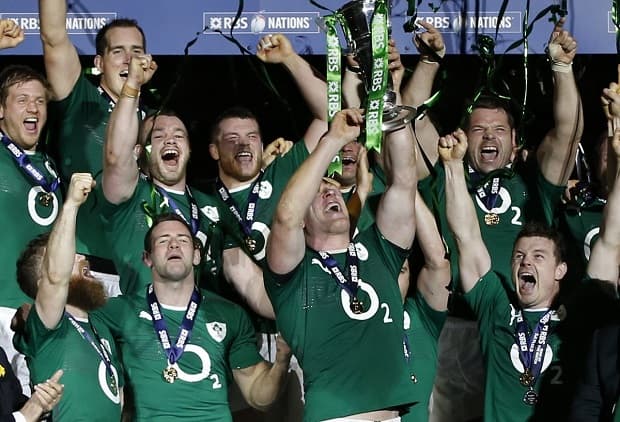 Ireland won Rugby's Six Nations tournament last year for the first time since 2009, finishing ahead of England on points difference, and they can be backed to retain the trophy again this year. They won four of five matches in last season's competition, going down 13-10 away to England in their only reverse. This time around they have the same run of fixtures as when they completed the Grand Slam in 2009 – the previous time they won the Six Nations – and they may also be worth a small investment to repeat that feat in 2015.
The annual competition involves the four home nations along with Italy and France, and a number of other trophies are contested during the league-based tournament. Each nation plays each other once, with home advantage alternating year by year. If a country wins all of its five games it wins the 'Grand Slam', a feat which has been achieved eight times in the fifteen tournaments since 2000, when all six teams became involved. France and Wales have won three Grand Slams each, while England and Ireland have one apiece. The 'Triple Crown' is awarded to any of the home nations which beats the other three during the tournament, the 'Calcutta Cup' is retained by the victor of the England v Scotland game each year, the 'Millennium Trophy' is contested between Ireland and Wales in their fixture, the 'Centenary Quaich' between Scotland and Ireland, and the 'Guiseppe Garibaldi Trophy' between Italy and France.
Overall since 2000, France are the most successful Six Nations team with five titles, England and Wales are next with four each, and Ireland have taken the prize twice. Scotland won the last Five Nations tournament in 1999, before Italy were admitted the following year, but along with the Italians have never won a Six Nations. Italy are the least successful country in Six Nations history, having landed the 'Wooden Spoon' nine times in fifteen competitions.
England – 2.88Bet €100 to win €28847/25Bet £100 to win £288+188Bet $100 to win $2881.88Bet HK$100 to win HK$2881.88Bet Rp100 to win Rp288-0.5319Bet RM100 to win RM288 with Skybet
England go into the tournament as slight favourites, and they were unlucky to lose out on the title last year after going down on points difference to Ireland. The 26-24 loss away in France in the first match cost them a chance of winning both the Grand Slam and the main trophy, and although they outscored Ireland, it was the tight Irish defence which gave them the advantage – conceding just 49 points over their five games. England had the favourable fixtures last year, facing both the next two best teams – Ireland and Wales – at home. The Saxons face a tougher task this time around as they have to travel to both of those countries, starting with the tricky game in Wales. That might be their undoing this time around, but if they win both away games they'll be deserving of a fifth Six Nations.
Ireland – 3.00Bet €100 to win €3002/1Bet £100 to win £300+200Bet $100 to win $3002.00Bet HK$100 to win HK$3002.00Bet Rp100 to win Rp300-0.5000Bet RM100 to win RM300 with Bwin
Ireland make considerably more appeal, despite having to cope with the loss of influential player, Brian O'Driscoll. They also have a few injury concerns leading up to the tournament, but if they can get a fully fit squad they have the strength in depth to find a way of playing without the iconic player. They won the Six Nations last year even though they had to play England and France away, and could fare even better this year when playing both on home ground. They begin the defence of their trophy with an away tie in Italy, which is probably the best opportunity they could have to get off to a winning start. They'll also play Scotland away, which they ought to have enough to win, with the only real test on the road against Wales. If Ireland can overcome the English on home soil, they have every chance of retaining the trophy, and could be given a real chance of landing their second Grand Slam. That match against England is scheduled for the 1st of March, after which they play Wales and Scotland away. If they've recorded three wins over Italy, France and England by then, they'll be strongly fancied to make it five out of five.
Ireland is the highest ranked Six Nations Championship team in the official World Rugby Rankings, and their 85.48 points rating ranks it behind only New Zealand (93.70) and South Africa (88.23), with England (fourth on 84.85), Wales (sixth on 81.64), France (seventh on 79.66), Scotland (eighth on 78.78) and Italy (14th on 71.19) being its Six Nations Championship rivals, yet most bookmakers are listing the Irish as second favourites for the title, It just doesn't add up.
Ireland to win the Grand Slam – 7.00Bet €100 to win €7006/1Bet £100 to win £700+600Bet $100 to win $7006.00Bet HK$100 to win HK$7006.00Bet Rp100 to win Rp700-0.1667Bet RM100 to win RM700 with 888Sport and Unibet
Wales – 5.00Bet €100 to win €5004/1Bet £100 to win £500+400Bet $100 to win $5004.00Bet HK$100 to win HK$5004.00Bet Rp100 to win Rp500-0.2500Bet RM100 to win RM500 with Bwin and Paddy Power
Wales are the one side who might snatch the trophy away from England and Ireland, and they were a predictable third in the league last year after beating France, Scotland and Italy, but losing to Ireland and England. They face the two market leaders at home this time around, which should give them a better chance of finishing higher up the league, and they certainly can't be ruled out.
France – 8.00Bet €100 to win €8007/1Bet £100 to win £800+700Bet $100 to win $8007.00Bet HK$100 to win HK$8007.00Bet Rp100 to win Rp800-0.1429Bet RM100 to win RM800 with Totesport, Ladbrokes and Betfred
France haven't won a Six Nations tournament since 2010, and they'll struggle to do so in 2015. They achieved a huge win over England at home last year, but lost to the Welsh and the Irish to finish 4th in the Six Nations league table. They have to travel to both Ireland and England this time around, and it's a big ask for them to win the competition with those fixtures in mind.
Scotland – 34.00Bet €100 to win €340033/1Bet £100 to win £3400+3300Bet $100 to win $340033.00Bet HK$100 to win HK$340033.00Bet Rp100 to win Rp3400-0.0303Bet RM100 to win RM3400 with Bet365, Betvictor and Coral
Scotland haven't been a force in Rugby Union for some time, and it's seven years since they won a Calcutta Cup by beating England. They can't be considered for the Six Nations, and realistically will be aiming to challenge France for 4th place in the table. Unfortunately they play the French away, and if they lose that they may have to resign themselves to the 5th place finish they secured last year, with a sole victory coming over the Italians.
Italy – 501.00Bet €100 to win €50100500/1Bet £100 to win £50100+50000Bet $100 to win $50100500.00Bet HK$100 to win HK$50100500.00Bet Rp100 to win Rp50100-0.0020Bet RM100 to win RM50100 with Bet365, Totesport and Betfred
The price on Italy says all you need to know about their chances of winning this tournament. They took their ninth wooden spoon in fifteen attempts last year, after losing all five matches and conceding 172 points in the process. A measure of success for them would be to pip Scotland for 5th place, but it's unlikely they'll even manage that.
Tips Summary
Rugby Union Six Nations Tournament – 6th February to 21st March 2015
Ireland to Win the Six Nations – 3.00Bet €100 to win €3002/1Bet £100 to win £300+200Bet $100 to win $3002.00Bet HK$100 to win HK$3002.00Bet Rp100 to win Rp300-0.5000Bet RM100 to win RM300 with Bwin
Ireland to win the Grand Slam – 7.00Bet €100 to win €7006/1Bet £100 to win £700+600Bet $100 to win $7006.00Bet HK$100 to win HK$7006.00Bet Rp100 to win Rp700-0.1667Bet RM100 to win RM700 with 888Sport and Unibet
England
France
Grand Slam
ireland
Italy
rugby
rugby union
Scotland
six nations
triple crown
Wales