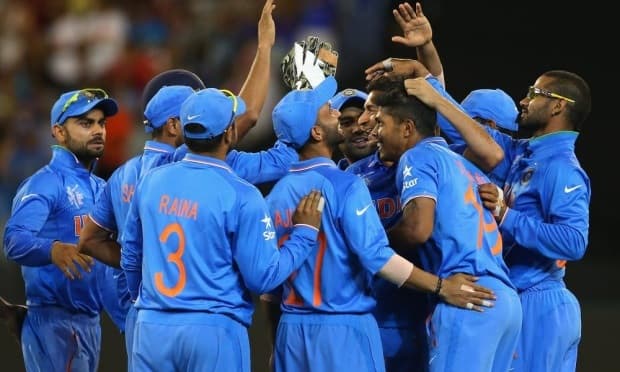 The Cricket World Cup is well underway down under, and has already brought plenty of thrills, excitement and upsets. Dual host's Australia and New Zealand have both started well and already look formidable; Ireland have given us the shock of the tournament so far in beating the West Indies; Chris Gayle has smashed the record books with his magnificent double century as the West Indies hit back against Zimbabwe; and England have faced a backlash from fans after their meek surrender against New Zealand. The World Cup has been full of fantastic action so far, but we're still only part-way through the group stage, which means there are almost five weeks of Cricket yet to be played.
We recommended a punt on Australia to lift the trophy back in January at 3.75Bet €100 to win €37511/4Bet £100 to win £375+275Bet $100 to win $3752.75Bet HK$100 to win HK$3752.75Bet Rp100 to win Rp375-0.3636Bet RM100 to win RM375 , and we're happy to stick with that, as they're now trading at 2.75Bet €100 to win €2757/4Bet £100 to win £275+175Bet $100 to win $2751.75Bet HK$100 to win HK$2751.75Bet Rp100 to win Rp275-0.5714Bet RM100 to win RM275 . They've had a decent start, but one which has perhaps been eclipsed by their fellow hosts, New Zealand, who have won all of their first three matches. Those two play each other on Saturday 28th February, and that one game looks likely to have a huge impact on how the rest of the tournament will pan out.
Looking at the odds available on various markets covering the World Cup, the one that really stands out and catches the eye is Australia/India in the 'Name the Finalists' betting. We agree with the bookmakers that there are four teams who can realistically make the final unless there are any big upsets – Australia, New Zealand, India, and South Africa – and these are the top four in the betting to make the final. We would also be very surprised if Australia don't make the final, which means in all likelihood, they'll be lining up against one of those other three. Again, this is reflected in the odds on offer, but where we disagree with the bookies is in who their opponents will be. An India v Australia final is priced up as a considerable outsider, with South Africa v Australia and New Zealand v Australia finals, both much shorter. We think there are reasons to back against those two, which is why we think India represent a little bit of value.
Name the Finalists
Australia/New Zealand – 4.50Bet €100 to win €4507/2Bet £100 to win £450+350Bet $100 to win $4503.50Bet HK$100 to win HK$4503.50Bet Rp100 to win Rp450-0.2857Bet RM100 to win RM450 with Ladbrokes
Australia/South Africa – 6.00Bet €100 to win €6005/1Bet £100 to win £600+500Bet $100 to win $6005.00Bet HK$100 to win HK$6005.00Bet Rp100 to win Rp600-0.2000Bet RM100 to win RM600 with Boylesports
Australia/India – 10.00Bet €100 to win €10009/1Bet £100 to win £1000+900Bet $100 to win $10009.00Bet HK$100 to win HK$10009.00Bet Rp100 to win Rp1000-0.1111Bet RM100 to win RM1000 with Ladbrokes, Boylesports and Bet365
New Zealand/South Africa – 13.00Bet €100 to win €130012/1Bet £100 to win £1300+1200Bet $100 to win $130012.00Bet HK$100 to win HK$130012.00Bet Rp100 to win Rp1300-0.0833Bet RM100 to win RM1300 with Ladbrokes
New Zealand/India – 13.00Bet €100 to win €130012/1Bet £100 to win £1300+1200Bet $100 to win $130012.00Bet HK$100 to win HK$130012.00Bet Rp100 to win Rp1300-0.0833Bet RM100 to win RM1300 with Boylesports and Totesport
South Africa/India – 17.00Bet €100 to win €170016/1Bet £100 to win £1700+1600Bet $100 to win $170016.00Bet HK$100 to win HK$170016.00Bet Rp100 to win Rp1700-0.0625Bet RM100 to win RM1700 with Coral
It's never easy to second guess the results to determine who will face who in the knockout stages, but with the top four from each pool going through to the quarter-finals, we can have an educated guess at which teams will make the cut. Pool A features Australia, New Zealand, England, and Sri Lanka, and those would be the four expected to reach the quarter-finals. The two hosts already look destined for the first two spots, but who finishes top will decide who can avoid the first-placed team in Pool B, which is why their match at the weekend has so much significance.
Pool B features India, West Indies, South Africa, Pakistan and Ireland. The Irish victory over West Indies gives them a great chance of grabbing 4th spot in the group and progressing to a quarter-final, possibly at the expense of Pakistan who have lost both matches they've played so far. India, South Africa and West Indies would be expected by most to take the top three positions. The two most fancied sides in this pool at the outset were India and South Africa.
India are the reigning world champions, and pre-tournament concerns about their lack of quality in the bowling stakes, particularly in the conditions in Oceania, have been dispelled with two fine performances. They beat Pakistan in their opening game, and followed that up with a mightily impressive victory over South Africa. Back-to-back World Cups are hard to come by, but given they way they've performed so far, they've every chance of making the final. Assuming that they continue in the same form and top the pool, they could face a quarter-final against England or Sri Lanka, and potentially a semi-final against the second-placed team in Pool A. If Australia continue their recent winning form against New Zealand, they could relegate their co-hosts to second position and a semi-final against India.
New Zealand have reached the semi-final of the World Cup on six occasions, but have never once reached the final, and that's a damning statistic. This may be 'their time' and if they continue to win throughout the tournament they will stay on home soil, but there also has to be a good chance that they will fall at the final hurdle yet again. If they do end up facing India in a semi-final, we could see history repeating itself for the Black Caps.
If Australia force their way to the top of Pool A, they'd be likely to face a semi-final against the West Indies or South Africa, and they'd have to be fancied to progress to the final. If they end up second in the Pool, they would be likely to take the route mapped out for New Zealand above, and that would pitch them against India in the semi. That's why this weekend's game is so important, and both of the hosts will be under no illusion that a victory on Saturday all but ensures a first-place finish. New Zealand have only won three of fifteen and one of the last five against Australia at Eden Park, so there is good reason to believe that the Aussies will come away with the bragging rights.
There's a great deal of cricket to be played over the next few weeks, but at this stage, an Australia/India final looks decidedly over-priced and well worth an interest.
Tips Summary
Cricket World Cup Final – 29th March 2015
Name the Finalists – Australia/India – 10.00Bet €100 to win €10009/1Bet £100 to win £1000+900Bet $100 to win $10009.00Bet HK$100 to win HK$10009.00Bet Rp100 to win Rp1000-0.1111Bet RM100 to win RM1000 with Ladbrokes, Boylesports and Bet365
Australia
cricket
cricket world cup
England
india
new zealand
south africa