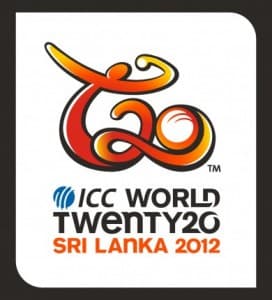 The ICC World Twenty20, commonly referred to as the T20 World Cup, is the international championship of Twenty20 cricket and a relatively new addition to the calendar.
First held in South Africa in 2007, the ICC World Twenty20 moves to even-numbered years for its third edition in 2010 and now is on a two-year cycle, with the 2012 tournament taking place in Sri Lanka from Tuesday 18 September to Sunday 7 October. Twenty-seven matches will be played.
Cricket's 10 Test-playing nations – Australia, Bangladesh, England, India, New Zealand, Pakistan, South Africa, Sri Lanka, West Indies and Zimbabwe – will take part in this year's ICC World Twenty20, as will a couple of minnows – Afghanistan and Ireland – after they qualified by placing first and second in a series that ran for 13 months.
The format of this year's ICC World Twenty20 will be the same as the one for the 2010 competition. There will be four groups of three teams in a preliminary round. The top two sides from each group will proceed to the Super Eight stage of the tournament, which is another round-robin phase. The top two teams from each Super Eight group will contest the semi-finals, the winners of which will meet in the final.
Pakistan has been the most successful ICC World Twenty20 side so far, winning the 2009 competition in England after finishing runner-up to India in South Africa two years earlier. England won the 2010 title in the West Indies.
ICC World Twenty20 betting tips
Twenty20 cricket is a bit of a raffle – the shorter the game, the greater the possibility of a shock – but some countries have played more international matches than others, putting them at a distinct advantage.
No national side has played more Twenty20 internationals during the current official rankings period than Pakistan and it, as mentioned above, is the most successful team in the albeit short history of the ICC World Twenty20 event.
Yet in spite of the obvious things in Pakistan's favour, which also include the probable conditions in Sri Lanka, bookmakers have got them down as the 7-1 sixth favourites, with only England of the major countries at longer odds, justifiably so since the defending champion has no match winner now that Kevin Pietersen is persona non grata.
India is the favourite to win this year's ICC World Twenty20 favourite because it is the home of the world's most famous domestic Twenty20 competition and, consequently, its stars have played lots of high-intensity, big-bash games. However, expectation is a burden and it could prove the undoing not only of the Indians but the Sri Lankans on home soil.
South Africa and West Indies are worthy of their places in this year's ICC World Twenty20 betting market based on their recent performances and resulting rankings. The same cannot be said of Australia, which was ranked below Ireland at the beginning of this month. All of them, though, are worth passing over in favour of the Pakistanis at the odds.
Top run scorer in this year's ICC World Twenty20 is sure to be a popular exotic betting market. Brendon McCallum is the world's top-ranked Twenty20 international batsman but he plays for New Zealand and the Black Caps may not make it past the preliminary round in which it is grouped with Pakistan and Bangladesh. That is why he is around 33-1.
Chris Gayle is the obvious favourite but he is too short at around 7-1. Afghanistan is, on paper, the whipping boy of the 12 sides competing in this year's ICC World Twenty20 and, therefore, England and India top-order batsmen may offer value-priced alternatives to the West Indian.
The outcome of the toss in matches between established sides and lesser lights has the potential to make or break bets on the top run scorer in this year's ICC World Twenty20 for blindingly obvious reasons so it makes sense to keep stakes small and nibble at some of the likely lads at long odds.
Craig Kieswetter is around 33-1 yet he opens the batting and ranks higher than all bar one of his England colleagues. Of the India batsman, Suresh Raina is the highest ranked and usually he comes in at first drop. There is a bit of 50-1 about Raina available, which is not the worst bet ever.
ICC World Twenty20 betting offers
Several bookmakers have devised interesting ICC World Twenty20 offers, most notably BetVictor and Paddy Power.
BetVictor's offer is simple: if England wins this year's ICC World Twenty20 tournament it will refund all losing winner market bets, up to a maximum of 50 British pounds or 50 euros per client. There is a list of terms and conditions attached to the concession, the most important of which is that the offer only applies to single bets placed before the competition gets under way on Tuesday 18 September 2012.
Paddy Power's offer is game related: it will refund all losing single match bets placed before the game starts, up to a maximum of 100 British pounds or 100 euros, if the match is decided on the final ball of a game in which the chasing team has batted for at least 15 full overs.
For the record, had Paddy Power's 2012 ICC World Twenty20 offer been in operation during the 2010 ICC World Twenty20 it would have resulted in two refunds from 27 matches.
Therefore, from a purely value perspective, one would have to say that BetVictor's offer is slightly superior to that of Paddy Power but the percentages are pretty close.
ICC World Twenty20 betting strategies
Back outsiders blindly
There is a school of thought that Twenty20 matches are so unpredictable that backing outsiders to level stakes may prove to be a successful 2012 ICC World Twenty20 ploy.
Bet toss-losing teams if they drift
While winning the toss is an advantage, it is not that big of one in Twenty20 games. The toss winner has won only 134 of the 251 Twenty20 internationals that have produced a match winner, which equates to a 53.4 per cent win rate. So get on toss-losing teams if their odds blow out too much.
Get to know the Duckworth-Lewis method
Do not even think about participating in live betting on this year's ICC World Twenty20 matches unless Messrs Duckworth and Lewis are close personal friends.