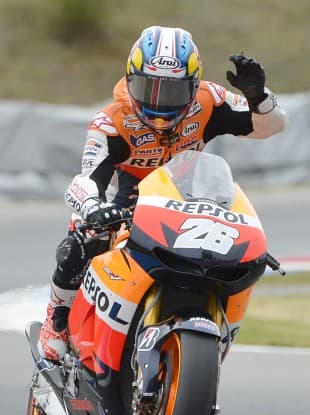 The Aragon MotoGP is the third of four Spanish stops on this year's MotoGP calendar and it is one in which a developing trend may lead to profits for punters who like statistics.
A relatively new event, the Aragon MotoGP made its debut in 2010 when it replaced the Hungarian MotoGP. Casey Stoner won the first MotoGP at Motorland Aragon on a Ducati, taking the chequered flag more than five seconds in front of Honda's Dani Pedrosa. Another Ducati motor cyclist, Nicky Hayden, rounded out the podium, with no Yamaha star in the medals.
Stoner won the 2011 Aragon MotoGP as well, this time on a Honda, with Pedrosa having to settle for an second runner-up position in a row on the same machinery. Yamaha's highest finisher was Jorge Lorenzo, who came third more than 14 seconds behind Stoner and more than six seconds behind Pedrosa. Honda motor cyclists were three of the top four.
Pedrosa finally broke his Aragon MotoGP duck in 2012, with the Honda motor cyclist blowing away everyone and finishing more than half a dozen seconds ahead of his biggest rival, Lorenzo, in spite of starting the race from second place.
The developing Aragon MotoGP trend is this: Honda has yet to lose to Yamaha in one of the three previous races. That is a trend with which one can go to war because two of the MotoGP heavyweights are Honda motor cyclists and Yamaha powers the other one. According to the trend, Marc Marquez and Pedrosa hold the Aragon MotoGP aces over Lorenzo. Marquez is trading at odds of 2.25 with Betfred, with Lorenzo available at odds of 2.75 with Betfred and Pedrosa on offer at odds of 6.50 with 888sport.
It is helpful to Lorenzo opposers that the reigning MotoGP champion has won each of the last two rounds after Marquez went on a four-race winning run. Lorenzo edged out Marquez and Pedrosa in the British MotoGP – less than two seconds covered the three Spaniards – and followed that with a win in the San Marino MotoGP by a slightly wider margin.
With one of the big three having won all except one of this year's 13 MotoGPs, it boils down to a choice between Marquez and Pedrosa. Marquez has beaten Pedrosa in each of the last six races that both Spaniards have completed, which even allowing for the fact that Pedrosa took part in some of those races in considerable discomfort is worth noting. Pedrosa's Aragon MotoGP performances are listed above, with only Stoner beating him at Motorland Aragon in the top category. Marquez is a MotoGP newcomer this year but, in lower classes, he has one first, one second and one failure to finish, with the latter being off pole position.
If one wants to bet on the Aragon MotoGP winner, perhaps the top play is to back Marquez at odds of 2.25 and have a saver on Pedrosa at odds of 6.50. At those prices, one would have 84.62 units on Marquez for every 15.38 units on Pedrosa. If Marquez wins then one effectively backs a winner at odds of 1.90, while a Pedrosa victory would result in break even.
Alternatively, one could snap up Bwin's odds of 1.50 that a Honda motor cycle is the Aragon MotoGP winning bike or wait for bookmakers to frame a race head-to-head between Pedrosa and Lorenzo in which the former would be a big underdog.
Marquez is trading at odds of 1.25 with William Hill to win the MotoGP championship. Marquez is 34 points ahead of both Lorenzo and Pedrosa with five rounds remaining. Marquez has not finished lower than third in the 13 races that he has completed – he retired from the Italian MotoGP – and five more podium finishes for the title favourite would mean that either Lorenzo or Pedrosa would have to accrue at least 114 points to defeat him. Firsts are worth 25 points, with seconds paying 20 points and thirds paying 16 points.