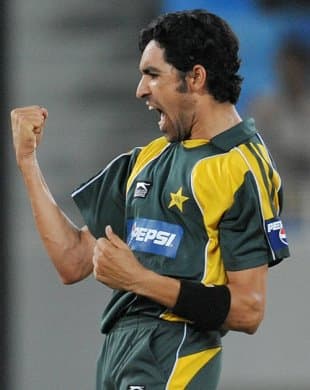 Pakistan has had the better of South Africa in their recent Twenty20 International matches but the Pakistanis cannot be backed to win their latest clash with the Proteas with any confidence given their serious batting deficiencies.
Sky Bet is offering odds of 1.80 that Pakistan continues its form slump and loses its First Twenty20 International game against South Africa and, in the circumstances, betting on any other outcome would appear to be folly in the extreme.
It does not really matter that Pakistan has won each of its last five Twenty20 International matches, including a 95-run away victory over South Africa eight months ago, a game in which Pakistani bowler Umar Gul took five wickets for six runs in 14 balls. Pakistan made 195 runs for seven wickets in its 20 overs before Gul's remarkable performance helped it to dismiss South Africa for 100 runs in 12.2 overs. Three South Africa batsmen – Farhaan Behardien, Chris Morris and Justin Ontong – were out for golden ducks to Gul.
Pakistan's batting line-up is in such terrible form that one could not entertain backing the de facto home team at odds of 2.20 with Paddy Power. Pakistan made only 151 runs in its Fifth One Day International loss to South Africa in Sharjah, which meant that the Pakistanis failed to bat out their full 50-over entitlement for the fourth time in the series and averaged 194.2 runs per innings. South Africa ended up with a mean of 223.8 runs per innings, winning its last three matches by 68 runs, 28 runs and 117 runs respectively.
Twenty20 games are skewed in favour of batsmen so one has to back the side that has the better batting form. There is no dispute that South Africa is that team and, therefore, the Proteas are the bet at odds of 1.80. South Africa's Twenty20 International results are a mixed bag and, according to the official rankings, South Africa is the world's number five side and Pakistan is the world's number two team. However, South Africa did get the better of top-ranked Sri Lanka in Sri Lanka before heading to the Middle East to play Pakistan and the Proteas have dominated the final stages of their One Day International series versus the below-par Pakistanis.
The pick of the exotics given the recent history of Twenty20 International games at the Dubai Sports City Cricket Stadium is a bet on the most runs in an over going under 15 and a half runs, an option that is available at odds of 2.10 with Paddy Power. Clearly Paddy Power has seen support for the over but those punters have not undertaken due diligence.
There have been 10 Twenty20 International matches at the Dubai Sports City Cricket Stadium between top-tier sides. No batsman has scored more than 67 runs in a single innings and no team has scored more than 168 runs in a single innings, either. Most of the games have been extremely low scoring by Twenty20 standards, with one match being won with a score of only 90 runs and another game being taken out by 109 runs.
Admittedly, six of the 10 Twenty20 International matches at the Dubai Sports City Cricket Stadium have had overs of more than 15 and a half runs but the most productive overs in those games have been 14 (twice), 15 (twice), 17, (three times), 18 (once), 19 (once) and 20 (once). In light of Pakistan's batting problems – and one should not forget that South Africa's batsmen have been relatively poor during the recent One Day International series between the sides – one can understand why Paddy Power set its line at 15 and a half runs. But one cannot understand the plunge on over 15 and a half runs, which means that going under the line is the bet.