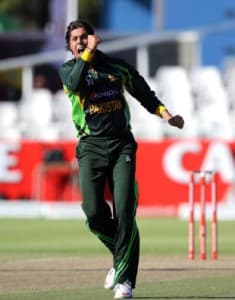 Pakistan upset the odds to shock South Africa and win the First One Day International between the teams but do not think for one moment that the Pakistanis have turned the corner because their serious problems still remain.
The headline result of Pakistan winning by 23 runs do not tell the whole story and certainly does not support backing the Pakistanis to take a 2-0 lead when the series switches to Port Elizabeth for the Second One Day International.
Pakistan fumbled its way to 218 runs for nine wickets from its 50 overs. Pakistan slumped from 49 runs without loss to 131 runs for seven wickets before a couple of debut-making tailenders, Bilawal Bhatti and Anwar Ali, put on 74 runs for their side's eighth wicket. Bhatti fell leg before wicket to Morne Morkel for 39 runs and Ali was unbeaten on 43 runs.
South Africa batted poorly to fall short of what was a very reachable target but the Proteas do not make a habit of bad batting performances. On the other hand, Pakistan does make a habit of recording below-par scores and the events of the First One Day International between the teams serve only to reinforce one's already firm belief that punters cannot trust the Pakistanis to be competitive on a regular basis.
The Second One Day International match market holds almost no appeal. One cannot summon the guts to tip South Africa at odds of 1.50 with Ladbrokes and Winner and the same goes for Pakistan at odds of 2.88 with BetVictor. Yes, one of the two sides has to win but bookmakers appear to have framed their odds with a view to doing no trade. So that leaves one to examine the various exotic markets for a recommended play.
Since neither South Africa nor Pakistan is scoring runs for fun and many of the top-order batsmen on both teams are in a rut one's first port of call should be the odds of 1.61 that Bet365 are offering about the Second One Day International not featuring at least one individual century. Only Jacques Kallis reached 50 runs in the First One Day International at Newlands in Cape Town and three of the five 50-overs-a-side games between Pakistan and South Africa in the United Arab Emirates a few weeks ago failed to produce a centurion.
Also supporting a punt on the Second One Day International between South Africa and Pakistan not featuring a ton is the record of One Day International matches at St George's Park in Port Elizabeth. St George's Park has staged 34 One Day International games and only six of them have seen a batsman acknowledge the crowd on reaching a century. It took nine One Day International matches at St George's Park before a batsman scored a ton and it was Australia star Mark Waugh who made history with 115 unbeaten runs against South Africa in 1997. Since then Herschelle Gibbs (125 runs for South Africa versus the West Indies in 1999), Saleem Elahi (135 runs for Pakistan against South Africa in 2002), Graeme Smith (105 runs for South Africa versus England in 2005), Kallis (121 unbeaten runs for South Africa against the West Indies in 2008) and Gibbs again (110 runs versus Australia in 2009) have top scored in One Day International games at St George's Park with outstanding three-digit knocks.
Twenty-eight out of 34 equates to betting odds of around the 1.20 mark so there is definitely value in taking up Bet365 on its offer of 1.61 that the Second One Day International between South Africa and Pakistan does not feature at least one century. Odds of around the 1.40 mark would seem about right in the circumstances that one has outline above.