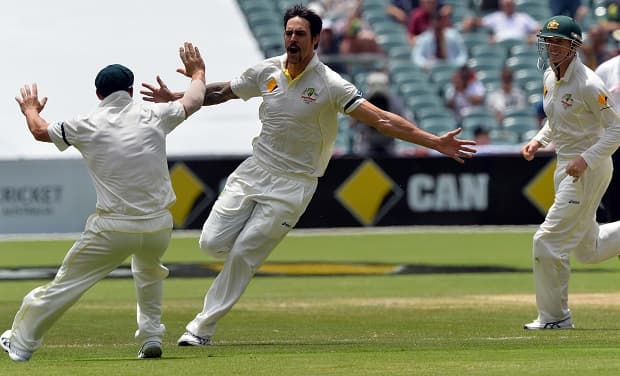 The last cricket World Cup was won by India on home soil in Mumbai back in 2011. Four years have passed in a flash, and the latest renewal of the sport's showpiece event will take place in Australia and New Zealand from the 14th February to the 29th March.
Fourteen teams have been separated into two pools for the 50-over, one-day format, and the top four from each pool will qualify for the quarter-finals. The two pools are as follows:
Pool A
England, Australia, Sri Lanka, Bangladesh, New Zealand, Afghanistan, Scotland.
Pool B
South Africa, India, Pakistan, West Indies, Zimbabwe, Ireland, UAE.
Australia are the most successful World Cup side, with four titles under their belts – in 1987, 1999, 2003 and 2007. The West Indies (1975 & 1979) and India (1983 & 2011) have won the tournament twice each, while Pakistan (1992) and Sri Lanka (1996) have taken the trophy once each.
Australia – 3.75Bet €100 to win €37511/4Bet £100 to win £375+275Bet $100 to win $3752.75Bet HK$100 to win HK$3752.75Bet Rp100 to win Rp375-0.3636Bet RM100 to win RM375 with Ladbrokes
There are question marks over most of the sides coming into this tournament, but Australia probably have the least questions to answer, and with home advantage and their previous World Cup pedigree behind them, they can be expected to go very close. Despite being favourites, the best odds offered by Ladbrokes are worth taking on an impressive group of players. They boast a fierce batting line up, which is essential in one-day cricket, and can call on the likes of Bailey, Finch, Maxwell, and an opening partnership of Watson and Warner. They also possess an excellent bowling attack with the cult hero, Mitchell Johnson, leading the charge. The conditions will certainly favour the Australians, and it's worth noting that many of the sub-continent sides have a poor record in Oceania.
South Africa – 5.00Bet €100 to win €5004/1Bet £100 to win £500+400Bet $100 to win $5004.00Bet HK$100 to win HK$5004.00Bet Rp100 to win Rp500-0.2500Bet RM100 to win RM500 with Bet365, Skybet and Betvictor
South Africa could be the biggest danger to the Aussies, and a 50% win rate away from home since the last World Cup is an impressive stat. The recent defeat to Australia in the ODI series dampens enthusiasm, but they have some good young players and possess one of the world's best batsmen in Hashim Amla. They have a decent win record in Oceania, and one of the best records in both bowling and batting statistics since the last World Cup. However, they're price is short enough at the moment, and not that much bigger than Australia's, whose chances are there for all to see.
India – 7.00Bet €100 to win €7006/1Bet £100 to win £700+600Bet $100 to win $7006.00Bet HK$100 to win HK$7006.00Bet Rp100 to win Rp700-0.1667Bet RM100 to win RM700 with Betvictor, Bwin and Boylesports
India come here as defending champions, but it's hard to see them winning back-to-back World Cups, despite having an abundance of talent. They've been knocked out in the first round of three previous World Cups, having finished as semi-finalists in each of the preceding tournaments, and their fans will be hoping history won't repeat itself this time around. India's captain, MS Dhoni, announced his retirement from test cricket recently, having apparently fallen out of love with the five-day game, but that could be good news for the country's World Cup chances. If he's fully focused on the one-day game he could lift the performances of the players around him. He has an average of 50 over around 250 one-day matches, and it was his six that brought India the winning runs in the last World Cup. However, bowling is an issue for India, and they may lack the quality of bowlers, particularly in these conditions, to have an impact on the competition.
New Zealand – 8.00Bet €100 to win €8007/1Bet £100 to win £800+700Bet $100 to win $8007.00Bet HK$100 to win HK$8007.00Bet Rp100 to win Rp800-0.1429Bet RM100 to win RM800 with Bet365, Ladbrokes and Coral
New Zealand will co-host the tournament, and can be expected to reach the quarter-finals at the least. Their World Cup record is good, they've made the semi-finals six times in total across 10 tournaments, but tellingly, have never made it to a final. That's a damning statistic and they don't make huge appeal at the prices. Home advantage will surely galvanise the players, but that won't be enough on it's own. The last time the World Cup was held in Australia and New Zealand, they were semi-finalists, and they appear to be destined for a similar finish this time around.
Sri Lanka – 10.00Bet €100 to win €10009/1Bet £100 to win £1000+900Bet $100 to win $10009.00Bet HK$100 to win HK$10009.00Bet Rp100 to win Rp1000-0.1111Bet RM100 to win RM1000 with Bet365, Totesport, and Paddy Power
Sri Lanka recently beat England in a one-day series, and that will have given them confidence going into the tournament, but it's still hard to make a case for them winning the whole thing. They retain the services of some very experienced players such as Jayawardene and Sangakkara, who will both retire from the sport after this tournament. However, they have a poor record in Oceania, with a win percentage of just 31%, and their reliance on spin bowlers may also be a negative with conditions bound to be dry and dusty.
England – 12.00Bet €100 to win €120011/1Bet £100 to win £1200+1100Bet $100 to win $120011.00Bet HK$100 to win HK$120011.00Bet Rp100 to win Rp1200-0.0909Bet RM100 to win RM1200 with Bwin
England's World Cup preparations have been shrouded in controversy and instability, and it's very difficult to give them much of a chance in Australia and New Zealand. They should get through Pool A, but will probably find life tough in the quarters and the semis. The sacking of Alastair Cook as England's one-day captain was popular among many cricket fans, with his tactics for one-day games having been heavily criticized. Cook is set to be replaced at the top of the order by Alex Hales, an inexperienced batsman who has played just seven one-day internationals and garnered an average of 18. It's very early days in his England career for the young batsman, and in fact for many of England's young players – the top four in the batting have amassed just 68 games between them – but the World Cup stage is not the place to learn your trade. These guys will benefit hugely from the experience, and that may make them a better side in four years time when the World Cup comes to these shores, but the upcoming tournament is surely too soon.
Beyond the top six in the betting, Pakistan and the West Indies are the only other two sides with a realistic chance and both are priced at odds of around 15.00Bet €100 to win €150014/1Bet £100 to win £1500+1400Bet $100 to win $150014.00Bet HK$100 to win HK$150014.00Bet Rp100 to win Rp1500-0.0714Bet RM100 to win RM1500
However, it's very difficult to look past Australia with so many factors in their favour.
Tips Summary
To win the Cricket World Cup, 14th February to 29th March
Australia – 3.75Bet €100 to win €37511/4Bet £100 to win £375+275Bet $100 to win $3752.75Bet HK$100 to win HK$3752.75Bet Rp100 to win Rp375-0.3636Bet RM100 to win RM375 with Ladbrokes
Australia
cricket
cricket world cup
England
india
new zealand
pakistan
south africa
sri lanka