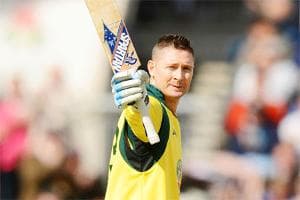 So emphatic was Australia's victory in the Second One Day International after the first match was cancelled that it makes sense to stick with the Australians as the series moves to Edgbaston in Birmingham for its next game.
Batting first, Australia recovered from losing Shaun Marsh for a duck in the opening over to score 315 runs for the loss of seven wickets, Michael Clarke hitting 105 runs off 102 balls and George Bailey, Aaron Finch and Shane Watson playing strong supporting roles. England had not chased a target of that size successfully before and the home team came up 88 runs short, with only four Englishmen getting into double figures. Had England wicketkeeper Jos Buttler not scored 75 runs coming in at number seven, the home side could have been dismissed for about 150 runs in 30 overs.
The respective performances of Australia and England at Old Trafford in Manchester in what became the first match of the series continued the post-Ashes trend of recent years. Since the Ashes became competitive again – one can date that to 2005 – the One Day International games have, by and large, gone the way of the team that lost the Test matches.
For the record, England won the Ashes in 2005 but lost the One Day International series 3-2. Australia regained the Ashes in 2007 but lost the One Day International series, going down 0-2 to England in the final of the three-side tournament. England won back the Ashes in 2009 but lost the One Day International series 1-6. And England retained the Ashes in 2011 but lost the One Day International series, again by a 1-6 scoreline. Ashes success equals One Day International sorrow, or so it has been since 2005.
Australia is available at odds of 1.73 with Coral to take out the Third One Day International and put itself in a position where it cannot lose the series. That looks like a great price given the way that the series opener played out. England captain Eoin Morgan defending his team's selection that featured only four frontline bowlers – Steven Finn, Boyd Rankin, Ben Stokes and James Tredwell – and gave the impression that there will not be major changes to his side. England does not have all that many options with the ball anyway, with James Anderson, Stuart Broad and Graeme Swann being rested ahead of the Ashes rematch later this year and Tim Bresnan having injured his back. England does not appear to have the bowling resources to stop Australia's batsmen if the likes of Clarke, Finch and Watson hit their straps.
Of the Third One Day International exotics, the ones that appeal most are those pertaining to Australia's strike power with the bat. Australia is trading at odds of 1.91 with Bwin to score more runs in its first 15 overs and England does in its equivalent period. Australia was 69-2 after 15 overs at Old Trafford, when ahead of England's 54-3. Remember, also, that England was chasing a mammoth score and still it could not keep pace with Australia in the crucial first third of the game. So Australia to get off to a better start than England is a decent bet, particularly given the odds.
BetVictor is offering odds of 1.91 that Australia hits more sixes in the Third One Day International than England does. Australia won this exotic 7-6 at Old Trafford and it merits favouritism. However, a better bet may be Australia to hit more fours than England at the same odds with Bwin. There is less luck involved in hitting fours than sixes and, also, the higher scores means that there is less likely to be a tie. Australia hit 32 fours at Old Trafford, with England managing only 17. Play the fours over the sixes.
With regards to the One Day International series, stay away from the score market because bookmakers do not play fair with punters. Every rained-out match plays into the hands of bookmakers and penalises punters who have bet assuming that every subsequent game will produce a positive result. The market is for mug punters only. Do not go anywhere near it.