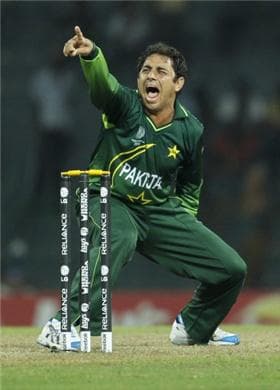 Pakistan spinner Saeed Ajmal has an excellent record in One Day International matches at the Sharjah Cricket Stadium so odds of 3.50 with 888sport about him being the de facto home team's top bowler are appealing in what is a very tough game in which to bet on the headline result.
In the last 10 years Pakistan has taken part in five One Day International matches against top-tier teams at the Sharjah Cricket Stadium and Ajmal, who has played in all of them, has been the top Pakistani bowler on four occasions.
In 2012, Pakistan and Australia faced off twice in One Day International games at the Sharjah Cricket Stadium. Ajmal dismissed David Hussey, Michael Hussey and Glenn Maxwell in their first clash to end with three wickets for 30 runs as Pakistan lost by four wickets. Ajmal got rid of George Bailey, Michael Clarke and David Hussey in their second Sharjah showdown, finishing with three wickets for 37 runs but again finding himself on the unlucky losing team.
Earlier this year, Pakistan played two One Day International matches versus South Africa at the Sharjah Cricket Stadium. Once again, Pakistan failed to register a victory but it was not because of Ajmal, who dismissed AB de Villiers, Faf du Plessis, Wayne Parnell and Graeme Smith to end their first meeting with four wickets for 30 runs and sent Quinton de Kock, Ryan McLaren and David Miller back to the pavilion during their second scrap to finish with three wickets for 45 runs. Ajmal likes Sharjah even if Pakistan does not.
Admittedly, Sri Lanka was Pakistan's opponent in the One Day International game at the Sharjah Cricket Stadium in which Ajmal did not earn top Pakistani bowler honours but it is not as if he had a nightmare – two wickets for 29 runs is an above-average return – and he would have won had it not been for Shahid Afridi's haul of five wickets for 35 runs.
Ajmal is in good nick having been Pakistan's star performer with the ball in its recent Twenty20 International matches against Sri Lanka at the Dubai Sports City Cricket Stadium. Ajmal took two wickets for 35 runs in Pakistan's victory in the first game and he snared two wickets for 25 runs when Sri Lanka bounced back and levelled the two-match series.
If one must bet on the main outcome of the First One Day International game then backing Pakistan makes considerably more sense than backing Sri Lanka based on the results of matches between the sides, particularly in the United Arab Emirates where the Pakistanis have had to play for several years since away teams refused to tour their home country.
Pakistan and Sri Lanka have lined up against each other in 132 One Day International games. Pakistan has registered 77 wins to Sri Lanka's 50, with four games producing no result and one match ending in a tie. But the really eye-catching statistics pertain to the records of the sides in the United Arab Emirates. Pakistan's numbers are 92 wins, 54 losses and one tie, whereas Sri Lanka's numbers are 31 wins, 50 losses and two ties. Simply, Sri Lanka's One Day International form on the road differs greatly from its form on home soil. So, if the aforementioned Pakistan top bowler play on Ajmal is too exotic for one's taste, one could back the Pakistanis to win the First One Day International at odds of 2.10 with William Hill. Pakistan should be the joint favourite at worst so odds of 2.10 represent half-decent value.
Although it may not mean much, Pakistan had won each of its last three One Day International matches versus Sri Lanka at the Sharjah Cricket Stadium. Pakistan won by 26 runs in 2011, triumphed by seven wickets in 2003 and bolted in by 217 runs by 2002. Factor in those results as well and one cannot fathom why many bookmakers are favouring Sri Lanka.