An Introduction to Horse Racing
Horse racing. The 'Sport of Kings'. Once the cheering crowds and tight finishes grip your imagination, the passion for racing invariably remains for life. However for outsiders and newcomers to horse racing, all of the information can be a little overwhelming.
This article provides a beginners guide to all things racing, including British idiosyncrasies, codes, race types, connections, courses, resources and an introduction to betting on horse racing.
British Idiosyncrasies
Many aspects of British racing retain a sense of tradition. The pros and cons of this approach are open for debate, but regardless, they remain. One of these quirks is that racing distances are still measured and described in furlongs. A furlong equates to 1/8th of a mile, which is 220 yards, or 201.2 metres.
Another idiosyncrasy is the way which value of sales of horses are measured at auction. Instead of using pounds sterling, 'Guineas' are the currency used. The Guinea was replaced by the pound in 1816, and equates to £1.05 in today's money.
Codes
There are two type of horse racing in the Britain – Flat and National Hunt. Flat racing runs form April-November and National Hunt from November-April. But just what is the difference?
Essentially the flat code is racing without any obstacles. Races are run over distances ranging 5f to 21f, with the majority falling in the 5-12f bracket. The horses tend to be smaller and as a result flat jockeys weigh less than their National Hunt counterparts. In flat race, horses break from stalls with the horse's draw is usually decided randomly.
National Hunt racing (or jumps as it is commonly referred to), is racing with obstacles that the horses and riders have to negotiate. These can come in the form of hurdles (smaller solid barriers) or fences (larger and made out of birch).
National Hunt Flat racing (more commonly refers to as bumpers), falls under the code of jumps racing, even though there are no obstacles for the horses to jump. These are flat races which are run over 13-18f on National Hunt card, and their purpose is to give the horse some racing experience before they go jumping. There is normally one bumper at the end of each meeting.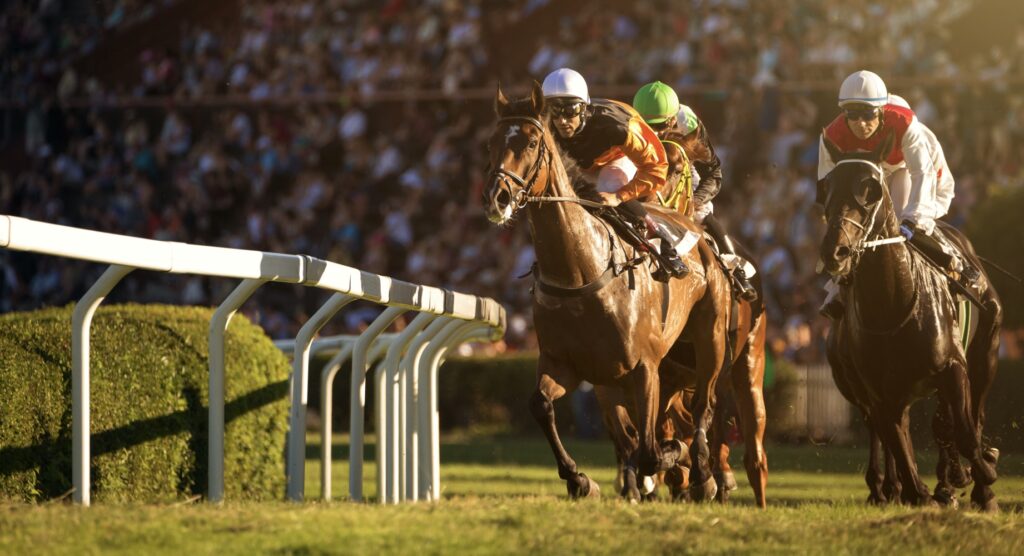 Race Types
There are several different race types in Britain, but the most common contests are:
Maidens
Maidens
These races are for horses who have not won a race or are having their first start. They are generally divided into 2yo and 3yo+ categories on the flat.
Handicaps
Handicaps
Handicap races are contests where runners carry different amount of weights in the saddle based on their current level of perceived ability. By shouldering a range of weights, this in theory should make every race very competitive (although it doesn't always work out that way).
Each horse has an official rating which is allocated to the runner by the handicapping department at the British Horseracing Authority (racing's governing body).
Claimers
Claimers
Races where owners can sell their horses. The fee the owners are willing to part with their runner is reflected in the weight that horse carries in the contest. A smaller sum equates to a lower racing weight
Sellers
Sellers
Again where connections can part ways with their runner. After the race, there is an auction with the highest bidder taking home the horse.
Group Races
Group Races
Group races are the highest standard of contests in both flat and national hunt racing. Here, the likes of famous horses such as Frankel and Kauto Star have racked up the bulk of their victories. There is no handicap system in place in group racing.
Top Betting Sites for All Types of Horse Races in UK – January 2023
Connections
Each horse has an owner, or a group of owners who fund the training costs, choose the silks the horse wears and get the bulk of the prize money. Owners have the choice of who trains their horse and who rides it. Trainers make their money by charging training fees and they also receive a percentage of prize money.
Courses
British racecourses are unique in their make-up when compared with the majority of courses worldwide. Each track has its own traits and characteristics that make it distinguishable from its counterparts. Whilst some share similar designs, no two are the same – that includes the four all-weather courses that are currently in operation in Britain. Most tracks in countries such as the USA are oval in shape and are the horses run left handed.
Smaller and nippier horses with sharp acceleration tend to benefit from courses which are sharp, have a relatively short run in and may have undulations such as Chester. Bigger, long striding horses often perform best on long galloping courses such as Newcastle, where the runners have time to find their stride and come with a long, withering run. The nuances of each track are fascinating and part of what makes the puzzle of analysing races in Britain so interesting.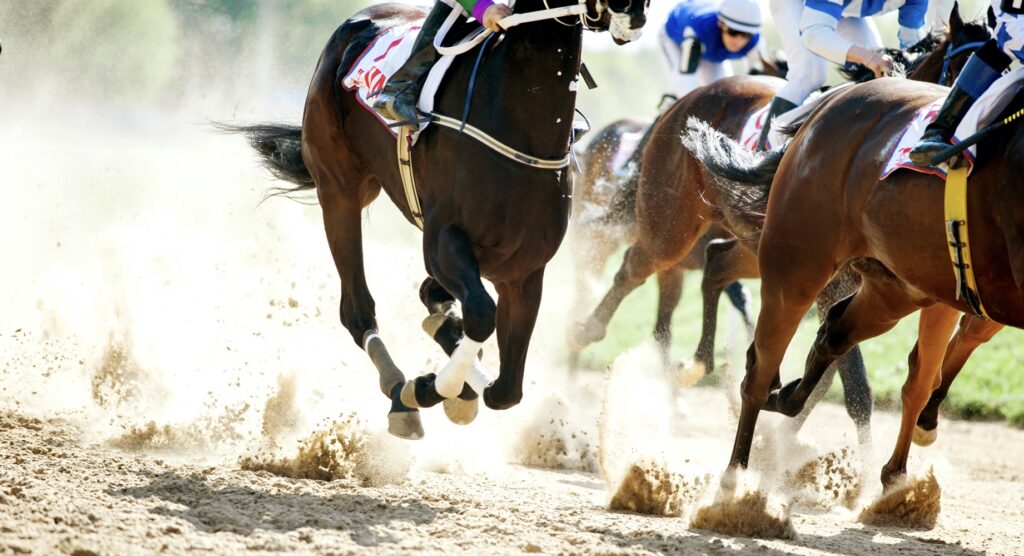 Resources
Having access to the right resource can be absolutely crucial to success as a horse racing punter. There are more form analysis tools and databases for British racing than anywhere in the world and if taking a serious interest in betting on racing, it is strongly advisable to have subscriptions to at least a few of the services on offer.
First off, the bread and butter for any punter is the Racing Post. The trade paper provides a detailed history of each horse's form, entries, detailed race cards and breaking news about the sport. Basic access to the site is free, but for those who want all of the extras, there is a subscription fee.
There are several horse racing databases that allow the more dedicated bettor to interrogate the form and trends further. These include:
Proform Racing
Proform Racing
The most expensive but also the most comprehensive. Proform provide endless amounts of data, their own stats and information, a system builder and their own ratings. Users can also look at previous in running prices and trends – a particularly useful facet for those who like to bet in running.
Flatstats
Flatstats
A great tool for lovers of flat racing. Competitively priced, Flatstats runs on a website subscription (as opposed to a downloadable program), and offers a system builder, their own ratings, sire stats and much more.
Raceform Interactive
Raceform Interactive
Another database with a plethora of different features. The system builder allows users to interrogate sire, jockey, horse and trainer stats. Signposts alert users to profitable angles and trends and it is probably a case of choosing between this and Proform Racing.
Horse Race Base
Horse Race Base
A very inexpensive subscription service, but one which is definitely value for money. The site offers reports, analysis, a system builder and data management. The design could be a little better but the quality of the content is high.
Those wishing to elevate their knowledge of horse racing and their skill in finding value winners should seriously considering signing up to one, if not two of these services.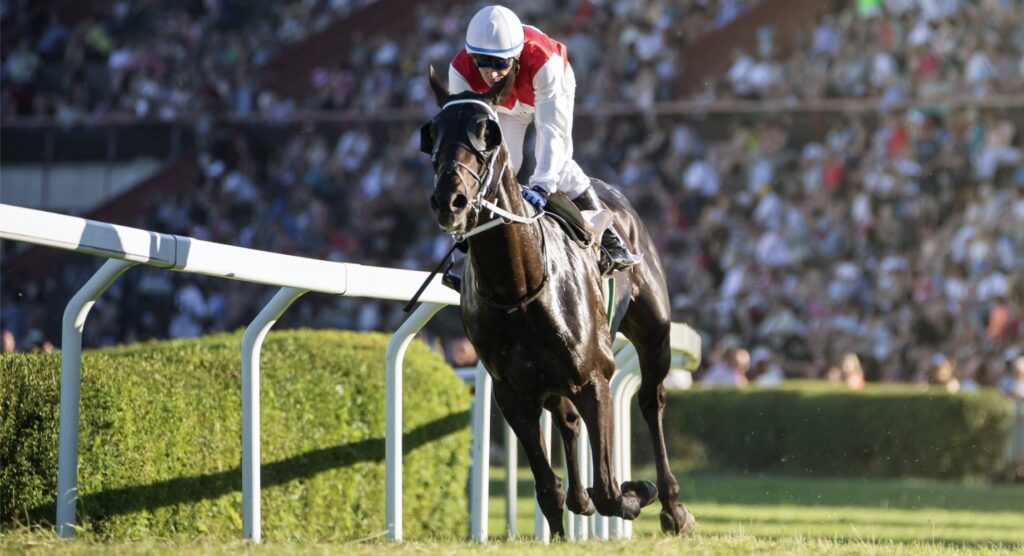 Betting
Betting forms the backbone of British racing. After all, the funding for the sport is derived from a percentage of profits made by bookmakers. It is often what ignites people's love for the sport and gambling and racing will be intertwined eternally.
The mechanics of British odds can be found in Understanding Fractional Odds but it is important to understand how the prices move throughout the day and what determines the final figures.
Some bookmakers will now price up races the night before they are due to be run. This has a dual purpose; firstly it is a selling point for the brand and secondly it allows them to correct any mistakes they may have made with their odds compilation.
This is because the limits they set are very low and it allows an adjustment to be made to an incorrectly priced horse, without too much liability being shouldered.
Over the course of the next morning and up until race time, the odds on runners across different races will invariably change based on the individual liabilities and trading decisions of different bookmakers.
However, once it gets to ten minutes before race time, the odds are then dictated by the 'on course' bookmakers. These are those taking bets on track. With every firm online, the odds changes and movements in this period should be identical. Bookmakers will pile money into certain horses in the on course ring to try and manipulate the odds based on their prior liabilities.
As the race goes off a Starting Price (commonly referred to as SP) will be returned. The SP is supposed to reflect the final odds posted by the on course bookmakers as the race commences.
Betting at SP is never advisable, because as a bettor, you never know what your return will be. In weaker markets such as the night all-weather meetings in the winter, there is very little betting action on course and small amounts can move the odds of a horse fairly dramatically. Most bookmakers offer 'Best Odds Guaranteed' – where you get the odds quoted to you at the time of bet placement or SP depending on whichever is bigger, and this concession should always be used.