As part of a long-running investigation into misleading and deceptive marketing and promotional practices, the United Kingdom's Competition and Markets Authority [CMA] today announced an agreement reached with three large UK-facing operators designed to bring an end to such deceptive practices. The announcement by the CMA named three operators as voluntarily having agreed to rein in their practices: William Hill, Ladbrokes, and PT Entertainment Services (the parent company of TitanBet and winner.bet.uk, among other brands).
The CMA's announcement targeting the three firms is the first such formal reprimand since the CMA announced its investigation into alleged industry-wide deceptive practices back in October of 2016. Central to the investigation have been misleading and deceptive bonus offers that often include "sticky" requirements.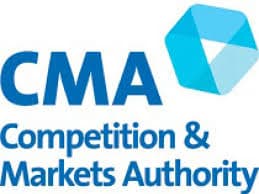 Those requirements often mandated play-through minimums (usually multiples of the deposited amount) and barred the withdrawal of deposited funds until the bonus offer was completed or expired, conditions in violation of UK consumer law. While veteran online punters have likely become familiar with the pitfalls of such "sticky" promotions, they've been a particular nuisance and hazard for newer gamblers, with the result that the firms pushing those offers often get to rake in most of the new gamblers' deposits before the gamblers themselves meet the requirements for cashing anything out.
That's a big problem, the CMA has been saying all along. It was last June that the consumer-protection agency announced ongoing investigations against "several" operators, and it's likely that more than just these three have been targeted. It's also not clear from the CMA's statement if any sorts of fines or penalties have been levied, other than compliance now being mandatory for all UK-facing gambling firms. The CMA is itself more of an advisory oversight agency, and formal complaints, as the CMA notes, are duly forwarded on to the Gambling Commission.
More precisiely, the CMA stated the public shaming's cause as follows:
The promotions under particular scrutiny are designed to attract players onto casino-like gaming websites by offering bonus funds when players put in their own money. The CMA found that certain terms in these promotions were likely to be 'unfair', in breach of consumer protection law, and could mislead consumers. There was particular concern people could be made to play for longer than they had bargained for before being able to withdraw their own money.
The CMA also stated that the now mandated-changes mean that:
Players won't be required to play multiple times before they can withdraw their own money;
Gambling firms must ensure that any restrictions on gameplay are made clear to players, and cannot rely on vague terms to confiscate players' money;
Gambling firms must not oblige players to take part in publicity.
The CMA also issued a matching pair of "Do's and Dont's" advisories, one each for consumers and for gambling operators. We'll bring you the basics from those in a follow-up piece.
Today's CMA presser also implies that many other companies have also engaged in such practices, even if Bill Hill, Laddies, and TitanBet parent PT Entertainment were among the most egregious offenders. According to the CMA, "Further enforcement activity by the CMA in the sector is ongoing." Note also that this long-term CMA investigation is separate from other gambling-industry stories that have cast the industry in harsh light in recent months, such as the ongoing public outcry over FOBTs in land-based betting shops and the (false) claim that the UK is about to ban credit-card use as a means of depositing online.
According to George Lusty, the CMA's Project Director, "Gambling always carries a risk, but players should never face unfair restrictions that prevent them from getting at their money. Firms mustn't stack the odds against players, by putting unfair obstacles in their way, or making it difficult for them to stop gambling when they want to."
"The CMA is here to make sure businesses' terms and practices are fair for their customers," added Lusty. "We welcome the commitment from these leading firms to address the problems our investigation uncovered, by making important changes to their terms and conditions. We now expect others to follow, and look forward to the Gambling Commission's continued work to make sure all operators in this sector play fair with their customers' money."
Gambling Commission Executive Director Sarah Gardner also grabbed the opportunity to do some scolding. "We back the action taken by the CMA today," said Gardner. "Gambling firms must treat their customers fairly and not attach unreasonable terms and conditions to their promotions and offers."
Added Gardener, "We expect all Gambling Commission licensed businesses to immediately review the promotions and sign up deals they offer customers and take whatever steps they need to take, to the same timescales agreed by the three operators, to ensure they comply. Operators should be very aware that we will continue to work closely with the CMA to ensure customers are getting a fair deal across the gambling industry."
bonus offers
CMA
Competetion and Markets Authority
Gambling Commission
Ladbrokes
marketing
promotion
restrictions
sticky
TitanBet
UKGC
United Kingdom
William Hill