UK Competition and Markets Authority Announces Enforcement Action Over Consumer-Protection Violations
The United Kingdom's Competition and Markets Authority (CMA) has announced an enforcement action targeting online sports-betting and gambling operators who continue to offer misleading or deceptive sign-up and bonus offers, or who place artificial roadblocks in the way of customers who seek to withdrawal all or portions of their balances.
Both practices, the misleading offers and the blocking or delaying of wthdrawals, appear to be in contravention of longstanding United Kingdom consumer-protection laws. The CMA has been working together with the United Kingdom Gambling Commission since the joint investigation into alleged unfair practices was launched last October.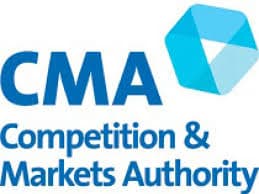 Neither the CMA nor the UKGS has announced exactly which – or even how many – of the UK-licensed operators will be targeted in the enforcement actions, other than it is "several" operators and not just one.
All told, the UKGC and CMA have fielded about 800 consumer complaints involving various operators' practices. Given that number, it's almost impossible for the largest UK operators to have not been hit by a complaint or three in recent months, though we'll soon find out who's been pushing the compliance envelope in imaginative ways.
Operators found to be in violation are subject to increasing fines and other sanctions, which in extreme instances could lead to suspension or termination of an operator's license. It's likely that these violations won't rise above the level of fines, maybe with refunds offered to any customers provably impacted in a negative way by such misleading tactics. As the CMA notes, any final assessment of fines or other sanctions would likely wait until the results of the enforcement action are brought to an English court, barring a preemptive settlement with any of the violators.
In its announcement, the CMA said, "The enforcement action addresses failings by operators around transparency and fairness of gaming sign-up promotions for new customers and practices around free bet offers", which the agency further described as "confusing and unclear".
The CMA also addressed the alleged withdrawal issues. "There are concerns that some operators are stopping customers taking money out of their accounts. The CMA has been told by customers that some firms have minimum withdrawal amounts far bigger than the original deposit, or place hurdles in the way of them withdrawing their money. Customers might have to play hundreds of times before they are allowed to withdraw any money, so they don't have the choice to quit while they're ahead and walk away with their winnings when they want to."
The CMA's Senior Director for Consumer Enforcement, Nisha Arora, said, "We know online gambling is always going to be risky, but firms must also play fair. People should get the deal they're expecting if they sign up to a promotion, and be able to walk away with their money when they want to.
"Sadly, we have heard this isn't always the case. New customers are being enticed by tempting promotions only to find the dice are loaded against them. And players can find a whole host of hurdles in their way when they want to withdraw their money.
UKGC Chief Executive Sarah Harrison offered her take as well. "Gambling operators must treat customers fairly – but some have been relying on terms that are unclear with too many strings attached."
"Whilst the CMA takes enforcement action on how consumer legislation is followed, the gambling industry should be under no illusion that if they don't comply with consumer law, we will see this as a breach of their operating licence, and take decisive action".
The CMA has also announced that it is accepting continuing input from customers, particularly in the area of withdrawals being blocked by various operators for any number of reasons, including but not limited to mininum withdrawal amounts. The CMA has also established a "case page" for the enforcement action, including its contact e-mail, gambling@cma.gsi.gov.uk, for consumers to use. The CMA will accept consumer input through August 31st.
action
bonus
CMA
Competetion and Markets Authority
enforcement
Gambling Commission
marketing
promotion
sign-up
UK
UKGC
United Kingdom
withdrawal