The United Kingdom Gambling Commission (UKGC) has issued an advisory aimed at businesses, large and small, warning them against operating fantasy football leagues. According to a UKGC statement, suh fantasy leagues are generally legal only if operated under a Gambling Commission-issued pool betting license, since prizes are determined by the number of paying entrants.
The warning is not intended for football fans who run a private league, such as co-workers or groups of friends, but is directed more toward businesses – okay, pubs and the like – that offer such leagues as a way of attracting business.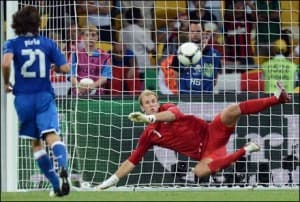 According to the UKGC, "Promoting a fantasy football league [via advertising and social media] could mean it is being operated in the course of a business and will need an operating licence." The UKGC is implying that it will monitor social media as a way of identifying possible violators, focusing on Twitter and Facebook.
Ben Haden, a programme director at the Gambling Commission, said: "Fantasy football is no doubt a popular pastime for many during football season and many will be thinking about setting up their own league this summer.
"We want to ensure that those organising these leagues – whether it's between friends, work colleagues or otherwise – are aware of the legalities and do not breach gambling rules."
The UKGC also issued a bullet-point list to help the business owners and private league participants self-identify the type of fantasy-league operations that might run afoul of the law. Organizers should be considering the following points to determine whether their leagues or competitions might draw unwanted attention from the UKGC:
Does it look and feel like commercial gambling?
Is it run for profit?
Is there any deduction for running costs?
Is the source of participants beyond a genuine circle of friends and relations?
Is advertising used to obtain participants?
Is the size of the league beyond what is normal for a private league?
Can any member of the public view or join the league?
What is the level of activity required in running the league?
Are there any wider revenue sources?
So sayeth the UKGC: "Any cash fantasy football leagues that are run in the course of a business require an operating licence from the Commission to operate lawfully; without it organisers are at risk of prosecution."
The UKGC also noted, "Other fantasy competitions could include fantasy rugby on competitions such as the Six Nations and 'Select a Stable' competitions on key horseracing festivals such as Royal Ascot.
The UKGC also offered this description for league organizers to help them determine whether their promotional efforts might cross the line:
Promoting your fantasy football league

Advertising for gambling purposes includes doing anything which encourages someone to gamble with their business, or providing information about gambling facilities with the intention that that will increase the use.

This includes tweets or Facebook posts, whether public or private or within groups.

Promoting a fantasy football league in this way could mean it is being operated in the course of business and need an operating licence.
business
fantasy
Football
Gambling Commission
league
sports
UKGC
United Kingdom