The United States continues to serve up unusual stories connected to sports betting, and in a legal case from Nevada dating from early 2017, one of the country's most well-known sports bettors has accepted a plea deal to settle a raft of charges levied against him in connection to place bets at Las Vegas casinos. "Vegas Dave", in more formal settings known as David Oancea, accepted a plea deal on a single misdemeanor charge that brought an end to a case that had stretched nearly two years.
The historical tension that exists the world over between prominent sports books and sharps sometimes emerges in unusual ways, such as this case involving Vegas Dave. This bettor had for years promoted himself and his abilities to "Beat Vegas" through long-odds futures bets on sporting leagues' eventual champions. Oancea had indeed become famed for a pair of big scores in recent years, collecting $2.5 million when the Kansas City Royals won the 2015 MLB World Series, and another $2.3 million when the Denver Broncos won the 2016 NFL Super Bowl.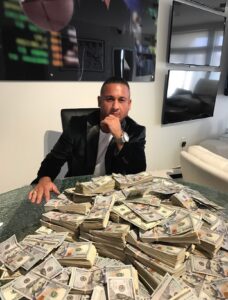 Oancea claimed that his success made him unwelcome at many Vegas books, and he made that claim a central point of his sports-tout services. All told, he built up a large online persona with, reportedly, hundreds of thousands of social-media followers. How his being unwelcome at many Vegas books then became part of the news when, in April 2017, Vegas Dave was charged with 19 felonies involving the use of US Social Security numbers belonging to others, in connection with his oversized bets at two Vegas casinos, Wynn Las Vegas and Westgate.
Vegas Dave faced nine counts of misuse of a Social Security number and 10 counts of causing a domestic institution to file false reports. Vegas casinos are required to report transactions of $10,000 and higher, which included here many dozens of Oancea's wagers and payouts involving the stolen SS numbers. The 10 reports cited in the indictment against Oancea included 137 such instances of a $10,000-or-higher transaction.
Oancea could have faced some stiff punishment, involving prison time, and the government sought the forfeiture of roughly $881,600. Instead, Oancea — who retained one of Las Vegas's most prominent attorneys in gambling-related matters, Richard Schonfeld — succeeded in getting all 19 felony counts dismissed, replaced instead with a single misdemeanor charge of causing a violation of record keeping and procedures. Vegas Dave ends up with three years' probation (no sentence to be served at all), and a somewhat smaller forfeiture of a little over $551,300, described as "property" targeted for forfeiture in the 2017 indictment.
The curious part of the entire affair is the why. It doesn't appear from the available court documents that Oancea used a blatantly falsified version of his name, such as whoever the real people were that were the rightful owners of the borrowed Social Security numbers. Perhaps some minor fudging of his name occurred in the filling out of the forms required in Nevada in association with the placing or cashing out of bets. Another possibility is that Oancea might have believed the use of the wrong SS numbers might cause some confusion connected with large-scale payouts, thus perhaps saving a taxes-due notice on winnings from reaching its proper recipient. Yet Vegas Dave was so well known in gambling circles that such a notion would have had little chance of succeeding anyway.
It's all a head-scratcher, and added to Vegas Dave's claimed difficulties in being able to place large wagers, it might explain why his attorney, Schonfeld, was able to plead the case down from 19 felonies to just a single misdemeanor. In any event, according to a Vegas news report, the whole case has moved him out of the actual betting biz and into the tout industry. Or, as Vegas Dave prefers to call it, he's now exclusively a "sports information consultant".
consultant
felonies
forfeit
futures
misdemeanor
Oancea
plea deal
Social Security
sports betting
tout
Vegas Dave