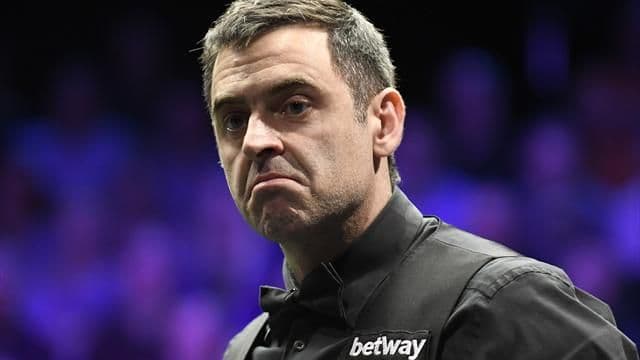 Sporting interviews in the aftermath of victory are predictable. "You must be delighted with that win?". "I'm happy with the result, but the performance can be improved". "Do you think you can go all the way now?". "I'm taking it one game at a time".
So it was a pleasant surprise for BBC snooker viewers in early December when Ronnie O'Sullivan walked into the studio. Because this was a different type of interview. The background is Ronnie's long-term unhappiness with the way the snooker circuit is run. And a continuing verbal spat with snooker head honcho Barry Hearn. Whilst a part of me still thinks this feud might be a set-up between the two of them, I probably have to accept it at face value at this stage.
Steve Davis was in the studio for this interview, and he is very much a Hearn man. So he put on a few silly faces and tried to concentrate the interview on the rumours that Ronnie wants to start a breakaway tour. Just to try to make Ronnie look a bit stupid.
Sadly this largely missed the point. There's a worthwhile debate to be had about the ranking system in snooker as frankly, it's nonsense. Currently, players are ranked purely on prize-money won over the previous two years in the twenty ranking events on the calendar. Barry Hearn uses this same system in darts and thinks it's a great system as it rewards those who turn up for everything. Surely the reward is the actual money though?
As fans of any sport, we want a ranking system which gives us reliable information. If the World Number 8 is up against the World Number 18 then there should be an expectation that 8 is the better player, the more likely winner. However, if Number 8 has turned up for all 40 ranking events and Number 18 has been far more selective then clearly the rankings become less meaningful. They just measure the quantity of play rather than quality.
Ronnie points out that other sports get around this problem by various bits of cleverness. After some research, this seems true. For example, golf simply divides your points earned by the number of events played, subject to a minimum number of events. Tennis splits the calendar neatly into compulsory events and voluntary events and limits the number of voluntary events that can be counted for ranking.
If Golf and Tennis do this then surely snooker should also. So a win for Ronnie on this part of the debate I think.
He's also surely correct that players shouldn't have a final in China on a Sunday followed by a first-round match in Europe on Tuesday. A no-brainer this. A draw bracket that always gives the four semi-finalists a first-round bye in the next event would be simple enough to do.
The Breakaway aka The Snooker Players Popular Front of Judea
He's on less solid ground with his breakaway tour idea though. The plan seems to be that Ronnie and various players will start their own rival organisation and run competing events. Presumably fishing in the same sponsorship pool of bookmakers and fighting for TV time. Stephen Hendry, Jimmy White, Mark Williams, Yu Delu and Cao Yupeng have been mentioned as possible participants.
Could it actually happen? I don't think it's possible on a big scale. It won't ever be like the BDO to PDC split in darts. What could happen though is he gets to run one or two stand-alone events as part of a reality TV stunt, perhaps with the current board turning a blind eye. I could see this being an attractive proposition and making great TV. So if anyone offers you 6.00Bet €100 to win €6005/1Bet £100 to win £600+500Bet $100 to win $6005.00Bet HK$100 to win HK$6005.00Bet Rp100 to win Rp600-0.2000Bet RM100 to win RM600 on the 'breakaway' happening then it might be worth a bet but make sure the terms and conditions are loose and favourable.
The China Hustle
Eagled-eyed people might have noticed that I referred to Yu Delu and Cao Yupeng as having being mentioned for Ronnie's breakaway. Aren't they banned for fixing snooker matches? This was the second biggest story in snooker during the UK Championship. Guilty pleas so the evidence must have been very strong. I have a certain sympathy as apparently they were put under quite extreme pressure from the real bad guys in the background. It must be quite easy to convince someone that throwing a frame here or there isn't that big a deal so long as you are still trying to win the match. But it's a slippery slope obviously.
I do believe that this frame-fixing happens on an on-going basis, with some of the bigger names involved. There are consistent rumours that a Top 32 player is already subject to a long-running investigation. It's not that players miss deliberately, sometimes it's just that they play completely the wrong shot every visit for an entire frame which eventually leads to the loss. And next frame they are back to normal. Keep an eye out for XXXXXXXXX (redacted by editor) in early frames in smaller events in the new year.
The Dafabet Masters
Speaking of the New Year the next big event will be the Dafabet Masters at the Alexandra Palace in mid-January. The field of 16 is now confirmed.
Mark Allen
Mark Williams
Mark Selby
Ronnie O'Sullivan
John Higgins
Judd Trump
Barry Hawkins
Ding Junhui
Neil Robertson
Kyren Wilson
Shaun Murphy
Stuart Bingham
Ryan Day
Stephen Maguire
Luca Brecel
Jack Lisowski
I don't think there are too many hard-luck stories outside the Top 16 – Marco Fu, Ali Carter, Joe Perry and Dave Gilbert are next on the list so no real big name is missing out. We'll know more when the draw is confirmed over the next few days. And perhaps we'll have a look from a betting perspective closer to the time.
The 'Ally Pally' is also the venue for the 2019 Darts World Championship over the Christmas period. Happy Punting!
Dafabet Masters
ronnie o'sullivan
snooker