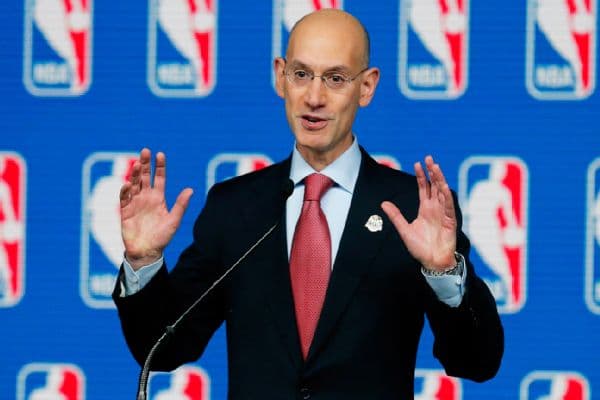 Increased support for legalised gambling in the US over the past few months and even years has proven to be a controversial and complex topic that has roused debate across the country. Adam Silver, the NBA Commissioner Adam Silver this week published an article championing the merits of legalised gambling, providing a much-needed boost for those lobbying to have current laws relaxed.
The debate over whether or not sports betting should be legalised in the US has been rumbling on for some time now, with legitimate arguments from both camps. The introduction of fantasy sports betting, however, has created tricky ground for the anti-betting camp. For those not familiar with fantasy sports it involves selecting a dream team built around a set budget with each player being affixed a set price. Players then pick and drop players throughout the season accumulating points based on a range of criteria depending on the sport. In the NFL DFS, for instance, players receive points for the likes of touchdowns, interceptions and tackles. The unprecedented success of fantasy sports has led to daily fantasy sports, which many see as a mixture of regular gambling and regular fantasy sports. This makes it tricky for protestors to fight their corner, particularly when NFL teams such as the New England Patriots have struck up a sponsorship with DraftKings.
There are fundamental issues here with a clear conflict of interest between the league's overall standpoint, the individual sponsorships and promotion of fantasy sports, and the public's desire for legalised gambling. With such a layered and unclear mesh of opinions being spouted from all angles, Adam Silver took the opportunity to give his two pennies. Ever a vocal presence (unlike chiefs of the other major sports leagues in the US), Silver's piece in the New York Times upset some figures but was honest and forthcoming; traits that many appreciate from such a high ranking official.
"There is an obvious appetite among sports fans for a safe and legal way to wager on professional sporting events," Silver stated. "Mainstream media outlets regularly publish sports betting lines and point spreads. Voters in New Jersey overwhelmingly voiced their support for legal sports betting in a 2011 referendum.
"Outside of the United States, sports betting and other forms of gambling are popular, widely legal and subject to regulation. In England, for example, a sports bet can be placed on a smartphone, at a stadium kiosk or even using a television remote control.
"In light of these domestic and global trends, the laws on sports betting should be changed. Congress should adopt a federal framework that allows states to authorize betting on professional sports, subject to strict regulatory requirements and technological safeguards."
The benefits for Silver himself are quite obvious. Legalised gambling is a proven factor in generating interest in games which leads to increased viewership, pouring more money in from a plethora of advertisers and so on. The more people that care about the outcome of a game, the more it becomes a must-see event and the more money is made.
However, Silver has risked damaging his reputation by making such a clear stand in favour of legalised gambling. Although many will agree with his views he has attracted a rather unsavoury supporter in the form of Tim Donaghy. For those who don't remember, former NBA referee Donaghy was slapped with a 15-month jail term after admitting to confiding which games he would be officiating in a sports betting scam. He capitalised on that by creating his own betting website after emerging from prison, and seems to be capitalising even further by riding the coattails of Silver in the hope that the relaxation of strict gambling laws would see his website flourish.
There are also pockets of protestors who believe that permitting gambling will increase the chance of corruption within the game; something Adam Silver of all people would want to avoid. Having already flexed his muscle by delivering a lifetime ban to former Los Angeles Clippers owner Donald Sterling after evidence of racist behaviour was made public, Silver would not want to jeopardise the clean image for the league he is working towards by then providing a platform for cheating.
This is certainly a view shared by many of the doubters, and ones in positions of considerable influence at that. NHL Commissioner Garry Bettman rhetorically asked "do you want people at football and basketball games rooting for the spread or rooting for their favourite team?" It is a valid question for a country that currently doesn't enjoy the privileges of unrestrained betting across multiple sports, yet the fact that an underground betting market is already prominent in the US – not to mention the fact that Las Vegas has free reign over the sports betting market – again proves problematic for those looking to rule a line under the legalised gambling effort.
There are two sides to the coin and it may be the case that, until sports gambling is legalised, nobody will know how deeply it will impact the game. Viewership and interest in general are all but guaranteed to see a sharp and prolonged increase, but the games' integrity is much harder to measure objectively. Some would argue that if somebody wanted to rig a game then the current underground gambling market would be the perfect place for that and so the conversion to mainstream gambling would mainly affect casual gamblers. In addition, incidents such as the aforementioned Tim Donaghy scandal – and the introduction of daily fantasy sports betting – have already shown that corruption is possible without legalised gambling.
With the widespread publication of Silver's piece and a largely warm reception to his refreshing honesty, this latest addition to the debate is a clean win for the pro-gambling camp.
betting
legalize
nba
regulation
us betting