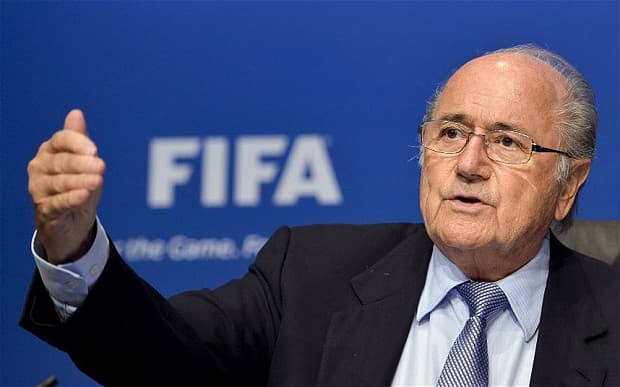 Ever since Russia and Qatar were announced as the hosts of the 2018 and 2022 World Cups respectively, FIFA has been unable to shake the accusations of corruption at its core. It has been nearly four years since the controversial decision was made. On 2nd December 2010 in Zurich the FIFA Executive Committee votes resulted in landslide victories for the two surprise winners, despite widespread concerns about their abilities to host the quadrennial event. More recently, the infamous Garcia report has highlighted the farcical hypocrisy surrounding football's governing body, and it seems that enough is enough for some of England's leading figures; former FA Chief David Bernstein has called for a European-wide boycott of FIFA's World Cup tournaments.
The Garcia report is a supposedly independent investigation into the 2018 and 2022 World Cup bidding process carried out by former US attorney Michael Garcia. Although being hired by FIFA it was accepted that Garcia would represent a fair and independent source, having been outside of the "footballing family" for at least four years. The same was said of Judge Hans-Joachim Eckert who was hired to head the adjudication chamber.
Garcia's report took two years to compile and spanned some 430 pages. It is worth noting that Garcia exonerated himself from any investigative procedures regarding the US to avoid a conflict of interest. He did not have the power to subpoena witnesses and was therefore reliant on the cooperation of everybody involved to produce a conclusive report. Whilst England were very forthcoming with the investigation, other countries were openly hostile. Russia, who won the 2018 bid, claimed to have destroyed all of their computers and could therefore not provide copies of emails from the bid process. Spain were revealed as being outwardly uncooperative in refusing to provide documents when requested, and it is widely suspected that previous claims by The Sunday Times that Qatar distributed millions of dollars in bribes may well have been substantiated.
However, the Garcia report took an outrageous twist following Eckert's summary. On 14th November 2014 the German judge produced his concise summary of the full report, highlighting what he claimed were the key findings and refusing to publish the full report for legal reasons. There was some negativity regarding the voting process – the reluctance of Russia and Spain to comply fully, for instance – but overall the report seemed to indicate that the blame should be shared among all countries involved. England, for instance, were lambasted for their role in supporting a £35,000 gala dinner involving disgraced former FIFA Vice-President Jack Warner yet the silence of Spain and destruction of computers by Russia were met with less ferocity.
Michael Garcia was not happy. Having seemingly had his real report smothered by the powers that be, he issued a statement declaring his intention to challenge Eckert's version of his findings.
"Today's decision by the Chairman of the Adjudicatory Chamber contains numerous materially incomplete and erroneous representations of the facts and conclusions detailed in the Investigatory Chamber's report," Garcia stated. "I intend to appeal this decision to the FIFA Appeal Committee."
When the very man who compiled the report speaks out to declare he is unhappy at what is being said was found, it doesn't take a giant leap of the imagination to suspect that there may be an element of political underhandedness occurring.
Tackling FIFA has proven to be a complex issue. The politics of their setup makes it difficult for countries to unite against them, even if they feel wrongdoing has occurred, with countries such as Russia, Spain and France having a vested interest. Like any world superpower flexing their muscle, some believe that it is impossible to alter their ways and that attempting to do so would only result in harsher sanctions in the future. This is not an unwarranted view either, as several recent events indicate.
During the process of creating the Garcia report, two individuals came forward as witnesses under the promise that their identities would be protected. After their evidence was thrown out, both were exposed in what can only be described as shameful treatment by FIFA in what some would say is a clear warning to anyone else thinking of speaking out against the organisation. Bonita Mersiades was one of these people, having worked on the Australian bid.
""I have been threatened in terms of not publishing information about the bid," said Mersiades. "I have written a book about the bid and I have certainly been threatened about that. There are people in FIFA who would prefer that the book doesn't see the light of day.
"I was threatened that if I did publish it then there would be legal trouble for me. I think it's interesting that they went to the point of singling out two whistleblowers, both of whom happened to be women." She then went on to summarise the corrupt nature of the investigation succinctly and poignantly.
"The whole concept of having an investigation by FIFA about FIFA by people paid by FIFA – that's not what an independent investigation is, so it doesn't surprise me at all that that's what they've come up with."
Phaedra Almajid was the other whistleblower, this time making accusations about Qatar's bid. Her original claim that at least three FIFA Executive Committee members accepted a 7-figure bribe was later retracted, seemingly under pressure from influential members of the footballing body.
"When it comes to FIFA, be prepared to be crucified, not once or twice but over and over again," claimed Almajid. "Be prepared to suffer and pay for your actions. Be prepared never to feel safe and never to feel you can trust anyone. But most importantly, be ready to be betrayed by those who have promised to protect you."
Strong words, and a sentiment that seems to resonate with David Bernstein. He has announced a desire to break free from FIFA and for European countries to make their own competitions with a less dictatorial hierarchy, whilst FA Chairman Greg Dyke has written a letter to every FIFA Executive Committee member stating that an urgent publication of the Garcia report is necessary should they wish to retain faith from English fans and authorities. Perhaps this is a genuine attempt to break down the stranglehold Sepp Blatter enjoys over world football. More likely, these are tactical moves to scare FIFA into acting more favourably towards England in the future. Either way, one thing is clear; until the Garcia report is published in full, it would be foolish to suggest that the 2018 and 2022 World Cup voting process was fair and transparent.
corruption
England
FIFA
Fifa World Cup
Qatar
Russia
soccer
The FA