Embattled FIFA President Sepp Blatter has been suspended for 90 days by his organization's own ethics committee, pending final confirmation of the recommended suspension by the chairman of the Ethics Committee, German Judge Hans Joachim Eckhert. Blatter's suspension, technically "provisional" until confirmed by Eckhert, comes after the launching ten days of a criminal investigation against Blatter by Swiss authorities.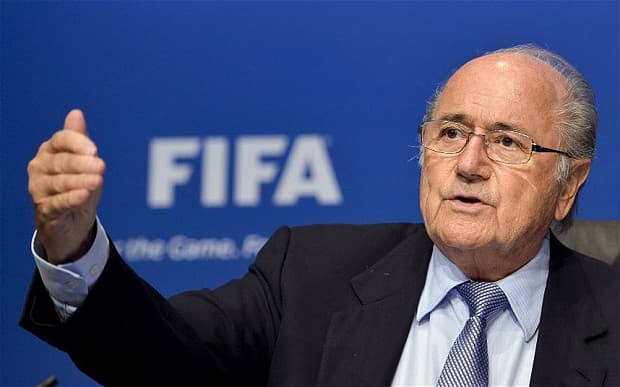 The latest investigation comes after FIFA itself was rocked in late May by the indictments of 14 international football officials by United States authorities over sports-marketing deals involving FIFA in both North and South America, and possible bid-rigging regarding the awarding of the 2018 and 2022 World Cups. Swiss authorities were also part of that investigation, and FIFA's Zurich headquarters were raided and searched as part of that multi-national probe.
The latest Swiss investigation, however, centers on what has been described as a "disloyal payment" of two million Swiss francs (about £1.3 million) to UEFA president Michel Platini. The payment was made from a FIFA account and was allegedly for advisory work done on FIFA's behalf by Platini between January 1999 and June 2002, though why the work was undocumented and not paid for before this remains unexplained.
Nonetheless, Platini himself remains outside the current Swiss investigation, according to most mainstream reports, although he also remains under the spotlight of FIFA's own internal ethics committee.
The circumstances surrounding the payment are, at the least, curious. The two million Swiss francs were sent Platini's way in February of 2011, just after Platini met with Qatar's Mohammed bin Hammam. Bin Hamman at that time was both the president of the Asian Football Confederation and a member of FIFA's own 24-man executive committee. Various reports from the time state that bin Hamman lobbied Platini hard to "stand against" Blatter, shortly before Blatter himself was reelected to one of his recurring terms as FIFA president.
Bin Hamman resigned his twin posts with the Asian Football Confederation and FIFA's own executive committee months later, and the entire episode came just a half year or so after Qatar itself was awarded the hosting rights to the 2022 World Cup. All told, the entire sequence of events appears far from being aboveboard.
France's Platini, nevertheless, remains the insider's choice to become the next FIFA president once the eventually-retiring Blatter finally leaves the FIFA stage, a move which most of FIFA's international business partners continue to pray happens sooner rather than later. Blatter remains entrenched as FIFA's chief despite announcing his eventual resignation following this past summer's sham presidential election, which saw him continue his reign in FIFA's top post, now at 17 years and counting.
When the Swiss probe was announced, Blatter's attorney, Richard Cullen, released the following brief statement:
"President Blatter spoke to FIFA staff today and informed the staff that he was cooperating with the authorities, reiterated that he had done nothing illegal or improper and stated that he would remain as president of FIFA.
"On the (UEFA President Michel) Platini matter, President Blatter on Friday shared with the Swiss authorities the fact that Mr. Platini had a valuable employment relationship with FIFA serving as an adviser to the president beginning in 1998. He explained to the prosecutors that the payments were valid compensation and nothing more and were properly accounted for within FIFA including the withholding of Social Security contributions.
"Because of the continuing investigation President Blatter will answer no further questions at this time."
Platini also issued a statement about the investigation and the payment he received from FIFA, which was sent to the 54 member UEFA organizations about ten days ago. Platini's statement asserts that the payment was fully reported in accordance with Swiss law, and that it was for for work he did on FIFA's behalf in that much earlier time period — again, without explanation of why another decade elapsed before he was supposedly paid.
Platini also noted in his letter to the UEFA organizations that, "I am aware that these events may harm my image and my reputation and by consequence the image of UEFA, the organization of which I am proud to be president." Platini's statement implied that FIFA owed him the "outstanding" payment all along, though Platini also noted that he will be offering no additional statements on the matter in the near future.
FIFA
indictment
investigation
Michael Platini
Qatar
Sepp Blatter
Swiss
world cup