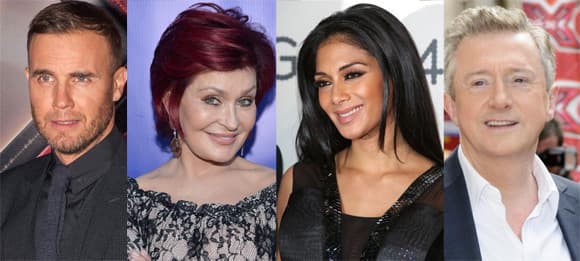 As we reach the business end of this years show, the fate of the remaining contestants lies as much with the shows producers, as it does the judges
So we're into the home straight of the X-Factor as the final 7 acts take the stage on Saturday night to sing songs from the theme 'The Great British Song Choice'. It's starting to get very difficult to predict the outcome of the show as everything really is in the hands of the producers and they can really dictate who they want to win by song selection, running order, change in rules etc.
We'll try our best to find some value in the betting, and if you followed all last weeks bets, you'd have been sitting pretty with a 7/2 winner, a 5/2 winner, an 8/13 winner and your 8/11 bet is now a 1/4 shot so that should come in soon too. Let's see if we can repeat some of that.
Before we look at their rather dull selection of songs, let's see how the winners odds have changed from the 1st live show up til now (Odds are from Week 1, Week 4, Week 6):

Tamera 3/1 >>> 17/10 >>> 9/2 (Twitter – 162k followers (-19k in last 3 days)
Nicholas 9/2 >>> 11/4 >>> 9/2 (Twitter – 186k followers (+6k in last 3 days)
Hannah 11/2 >>> 20/1 >>> 40/1 (Twitter – 84k followers (+2k in last 3 days)
Rough Copy 10/1 >>> 14/1 >>> 5/1 (Twitter – 150k followers (+5k in last 3 days)
Sam B 11/1 >>> 9/2 >>> 11/8 (Twitter – 143k followers (+3k in last 3 days)
Sam C 22/1 >>> 66/1 >>> 80/1 (Twitter – 207k followers (+6k in last 3 days)
Luke 40/1 >>> 12/1 >>> 12/1 (Twitter – 166k followers (+5k in last 3 days)
Tamera's unexpected fall can be attributed to a number of factors. For one, she has become pretty unpopular with the viewing public with various rumours coming out about her personal life and backstage persona. As well as this her week in the bottom 2 probably didn't help. I'm also dumbstruck as to why she has been given so many older songs; songs that aren't connecting with the voters in a similar age group to herself. For those in tune with social media, she's also managed to lose almost 20k followers on Twitter this week while everyone else has gained followers. This is not a good trend for anyone who has money riding on Tamera.
Nicholas has yo-yo'd a little but never been too far away from the top few spots. He's young, cute and Scottish so he will have a lot of votes coming from that demographic. He's solid and he's borderline top 3 depending on what song choices he gets over the coming weeks. He's singing the Scottish national anthem tonight at Hampden Park before Scotland take on the USA, so this could help him if it all goes well.
Hannah hasn't been helped by her song choices. She doesn't have a huge vocal range, but she's been given 'shouting' songs most weeks and they just don't appeal to anyone. She's held off the tears well but it won't be long before they're flooding back again.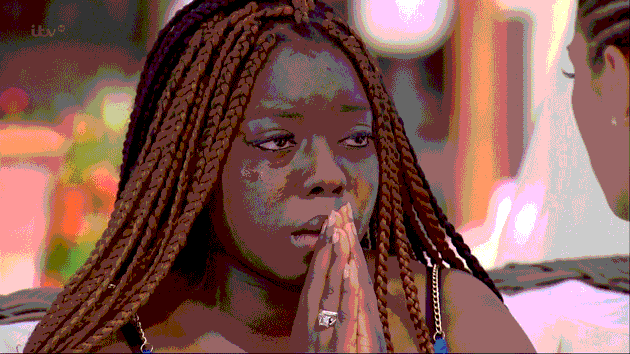 Week 6 could see more tears from Hannah as we're tipping her for another bottom 2 appearance
Rough Copy are still the best entertainers and look like they are having the most fun. They hold the X-factor and have put their own twist on every song they've been given. If they had good weeks while some of the favourites have a bad week, they could be top 3 and at that stage anything can happen.
Sam Bailey has just hit note after note after note. She's nailed every song she's been given and hasn't shown many signs of weakness yet. She's managed to put Tamera in the shade which wasn't expected but I'm still waiting to see how she performs with songs not in her comfort zone. I wouldn't go near her short price of 11/8 though because there's no value in that at all.
Sam Callaghan has been the 'joke' act so far. He knows he doesn't have the best voice in the competition and he's been constantly reminded of it. He doesn't deserve that tag though. He's just not up to the standard of this years show but he's been given some dreadful song choices so far, and this weeks is no different. He's been quoted on Twitter as saying;
'I'd rather fail as my own man with my pride than succeed as somebody else's puppet! X'
'Trying to get to play my guitar on the show x'
He has a massive following of over 200k Twitter fans and they'll want to see him kept in, especially the more nasty Gary acts towards him. He doesn't have long left in the competition but while the public are still voting in their droves, he's still in with a great chance of surviving.
Luke has surprised a lot of people with the way he's taken to every song given to him. He's been able to show off his gravelly voice and it's gone down very well with the majority of the public. He's a lot of people's outside chance and once he gets good song choices, he'll be able to ride the wave for another couple of weeks.
Let's get to this weeks song choices. A rather drab selection here and I could think of better songs for all of them, so good luck to them all this weekend.
X Factor Week 6 Song Choices
Luke Friend – Your Song (Elton John)
Generally you can't go wrong with an Elton John number. Will be play guitar or just sing? This could work really well for Luke and it will appeal to all his fans. Good solid song and I think it will see him safe for another week.
Nicholas McDonald – Someone Like You (Adele)
This is one of the better songs given to any of the acts tonight although the jury is out whether he has he range to pull this off or now. If he sings it well and nails it, he won't be 9/2 after this weekend. I think he has all the tools to make this song his own and the girls will love it. He's also in Glasgow performing the Scottish National Anthem the night before the live show, so expect the producers to give him one of the last 2 slots on the show which is always a big help.
Rough Copy – Viva La Vida (Coldplay)
OK so….how will this work? If they are on early in the show and receive some negative feedback, it could be the first time they are in trouble. I'm not sure they can pull it off so I'm expecting a bad showing for the boys.
Sam Bailey – Something (The Beatles)
I'm not a huge fan of Sam's song choice. I'm not sure it will give her a chance to show off her range and in my opinion she struggles with the tender moments in songs and this has plenty. I can't see her being in trouble, but it won't be as easy as every other week.
Sam Callahan – Faith (George Michael)
Ugly ugly ugly. Starting to feel a little sorry for the guy with the songs he's been given week after week. The only way he won't be in the bottom 2 is if his legion of fans vote for him. Gary choosing not to give him any feedback last week was very patronising, but it's almost impossible for any good feedback this weekend with this song choice. Another cheesy number. If they tone it down and let him bring his guitar on, it could be too similar to the actual video. He should have switched songs with Luke this week. I can see him doing 'Your Song' with Luke doing this one.
Tamera Foster – Diamonds Are Forever (Shirley Bassey)
Great choice for her voice, but yet another really old song choice. Give her something to connect with the younger audience. It's quite similar to 'Wishing on a Star' that she sang in Week 4 and ended up in the bottom 2. Younger voters might not know the song/singer and the older voters might compare her to Shirley Bassey and think she isn't fit to lace her boots. She needs to add some twist to this. I hope she does, but it needs to appeal to the voters. Possible bottom 2 this week.
Hannah Barrett – Satisfaction (The Rolling Stones)
Shouting again. Another poor song choice for Hannah. Only Mick Jagger can do this song, and this won't end well for Hannah. She needs to be singing songs where she's able to control her voice, and this isn't one of those song. This could be her last performance.
I think that Sam Callaghan may just have 1 more week in him to survive the bottom 2. He's a small favourite to go at the moment, but I honestly think it could be Hannah that goes this week a price that's available @ 6/4 with Bet365.
Who will join her in the bottom 2 though? It will be much easier to predict after we hear tonight's performances, but if Sam C gets the votes, and Luke pulls off 'Your Song' then it could be Tamera or Rough Copy. Rather than just back them to make the bottom 2, I'm going to have a small wager on a bottom 2 combo of Hannah/Rough Copy available @ 9/1 with SkyBet although I wouldn't be surprised to see Hannah and Tamera as the bottom two available @ 13/2.
One bet that I would be advising strongly this week, is for 'Deadlock this week' No @ 11/10 Bwin. The odds on this should be more like 8/13 because I can't see any combo of a bottom 2 that will send it to deadlock unless it's Tamera v Rough Copy v Luke combo.
Sam C v anyone and Sam is gone because only Louis will pick Sam. If it's Sam v Hannah, then Sharon/Gary won't save Sam.
Hannah v anyone and Hannah is gone. Will be multiple times in the bottom 2 for Hannah and she won't be saved by any of the judges bar her own, and even if it comes down to a Hannah v Tamera then Nicole will either abstain or else vote to save Tamera.
If you fancy a fun bet, then if you can find a market for clichés, then back Louise to say to Tamera 'You're like a little Shirley Bassey', 🙂