Before we get into the preview of the final, let's just revisited the nonsense that was the semi-final, where something seriously dodgy went on. Last week, we tipped Luke to go @ 9/5 and we tipped Nicholas to be first act saved @ 3/1. As predicted, Nicholas and Sam were the first 2 acts through to the final, but 'in no particular order' they called out Sam's name first so our 3/1 bet on a 50/50 flip didn't come up this time unfortunately.
Our 9/5 on Luke to go, was shortened to 4/7 before Sunday's results show. Rough Copy were 7/1 to get the boot. Luke was dreadful on Saturday night while Rough Copy were pretty decent. The betting suggested that both of those acts would end up in the bottom 2 with Luke being 1/4 and Rough Copy 2/5, while Nicholas was 11/10. After the sing off on Sunday, Rough Copy were still 8/1 to go.
Gary Barlow and Nicole in particular, gave Luke the oul 'I know you're going to have a great career after this' spiel and it was all set up for Sharon to send him home. She decided to send the result to deadlock. Just from looking at all 4 judges body language, we knew something went awry. Luke is announced as going through to the final, and the camera zooms in on Louis and he looks like he has seen a ghost. Louis is usually so passionate when his acts are in the bottom 2. You would have expected him to be begging Sharon to put Luke though, and even when Louis was making his choice, it took him 4 seconds to put Luke through and he declined to make any more comments.
Sharon left the panel shortly afterwards and she wasn't there for the after show. For a long time now, it has been rumored that Sharon will not to be invited back next season, and the betting suggests this is true, with 10/1 available at Coral for her to return in 2014. To put that into perspective, James Corden is 9/1. Maybe this was her 2 fingered salute to the producers, coupled with the fact that Luke doesn't have a snowballs chance in hell of toppling Sam, whereas it is possible that Rough Copy could rally for the final and at least push her.
This is the first year that the producers brought in the judges vote for the semi-final, and by Sharon choosing to send it to deadlock, it was ultimately down to the public to send Rough Copy home as they received the fewest votes. It's how it should have been done in the first place but that doesn't help us when we're out of pocket over it. I'm guessing this won't be the last we hear about it anyway. It will be interesting to see the voting percentages once they are released when the final is over.
Here's the sing-off and the reactions. If you want to skip straight to Sharon's vote, go to the 8 minute mark
http://www.youtube.com/watch?v=ErelZ89s4no
So on to the final, where each act will perform twice on their own, and then be joined by a more illustrious singer to perform a duet. As is the norm, the first will be a song they've yet to sing, the second will be a favourite song of theirs that they've already sung, and then finally they'll perform their duet with all acts will hoping that will be enough to see them into the final. Song choices are below
Sam Bailey
The Edge Of Glory – Lady GaGa
The Power Of Love – Jennifer Rush
Duet with Nicole Scherzinger – And I Am Telling You
Good song choices for Sam. She'll absolutely nail Edge of Glory and it's right in middle of her comfort range and she won't need to stress to sing it. She performed 'The Power of Love' in week 1 and she put in an immense performance and hit every single note so if she repeats that, it could be something special. There could be a lot of champagne glasses smashed during her duet performance because it's going to be high note after high note. Hopefully for Sam, she can sing it as a duet and it won't turn into a 'battle' between her and Nicole. They should complement each other and this could be 3 pretty great songs for Sam.
Nicholas McDonald
Candy – Robbie Williams
In The Arms Of An Angel – Sarah MacLaughlin
Duet with Shane Filan – Flying Without Wings
Candy from Robbie Williams? Not sure if this is a good choice for a semi-final because it's a pretty rubbish song, but I have to say I'm glad to see him try something different although it's been left just a little bit late. It's not the most vocally challenging of songs and it's a lot faster to what he normally sings so I hope he has fun doing it. I just wish it was with another song along the same tempo. It's like chalk and cheese with the 'In The Arms Of An Angel' so he'll be back in his comfort zone with this one. Great choice for him and he sang it beautifully last time out.
I've mixed opinions on his duet with former Westlife singer, Shane Filan. Shane is a great singer but he's not exactly box office, and the song he has chosen has more chance to put everyone asleep instead of getting them up on their feet. It is a good song, but not for the final. I'm hoping they perform well together. Nicholas really has been given the most dreadful song choices over the course of the series, and it's credit to him and his fans that he's made it this far. As far as Nicholas' future career goes, this could be a glimpse of what he might sound like as part of a boyband, as that could be his true calling.
Luke Friend
We Are Young – Fun
What Makes You Beautiful – One Direction
Duet with Ellie Goulding – Anything Can Happen

Solid choices for Luke. I'm looking forward to seeing Luke's take on 'We Are Young'. He has a lovely tone in his voice to pull this off and it's quite a popular song so I'm sure it will go down a treat. We know exactly what way he will sing the One Direction number from his previous performance of it, but i I still don't think it will appeal to everyone and I think he should have went with Skinny Love for his follow up. Nothing up tempo about either of the songs though and I wonder if these songs will alienate the older viewers? I'm not bowled over by his duet. Ellie isn't the most fantastic live singer, and her and Luke have very distinctive voices so will they sync well in this performance? I'm not so sure, but one thing I am sure of it, and that's that Luke can count himself lucky that he didn't get Jessie J as a singer partner (as was rumoured) because she would have completely outshined him. At least he's on a level playing field with Ellie.
Conclusion
X-Factor will need to have a huge shake up next season if it is to restore any credibility. The biggest change needed, is to bring back Simon Cowell, and BetFred are quoting generous odds of 1/2 for that to happen. Coral have him at 1/5. This should be nailed on so I'm going to let BetFred hold some of my money for a few months and then give it back to me with some nice interest as soon as Cowell's appearance is confirmed.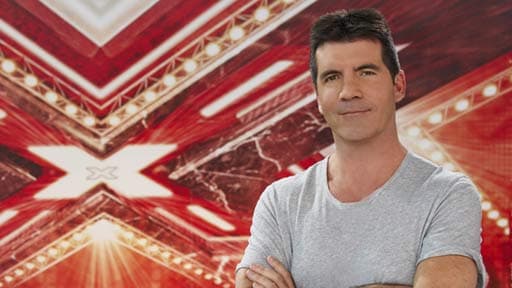 In the face of dwindling ratings, the return of Simon Cowell should help to boost viewer numbers for the flailing show
This isn't the dream X-Factor final we were all hoping for. In an ideal world, way back at the beginning, we'd have liked to see 3 distinctive acts all with a bit of 'X-Factor' inside them. Tamera and Rough Copy couldn't last the distance, so we're left with 3 acts that are really good, but all lacking in the wow factor.
How much weight can we put behind the Scottish vote for Nicholas? Whether we like it or not, the people of Scotland are voting in their droves for him. I'm not saying it's a bad thing, as they'll want to vote for one of their own. Some people might disagree, but remember Michelle McManus from Scotland? She wasn't the best singer in the competition, but she won Pop Idol in 2003. Her first single reached Number 1, and her rushed album only managed to make Number 3 in the charts. Her follow up single debuted at Number 16 and sadly, that was pretty much the end for her.
Then we have Leon Jackson who won X-factor in 2007 in what was described as the biggest shock in reality TV show betting history. The Scot was 6/1 going into the final, with Rhydian 1/3 favourite and he managed to scoop it. The cynic in me feels that the producers are trying everything to stop Nicholas by giving him poor song choices week after week. The rumour mill is full of people thinking it's all sabotage. Is he ahead in the voting each week? We just can't rule on Nicholas for the crown based on past results, and Westlife fans should vote in their droves after his duet with Shane. His demographic of middle aged mums and grannies will love the duet, and then he and Luke share the Under 18s vote, and as we know from recent weeks, anything is possible on X-Factor!
After been bitten in the last couple of weeks in the betting markets, you could play it semi safe by following the masses and backing Sam at best price 1/4. The problem is, I've never seen her as that big a favourite from the start. We know she's sailed through, but so has Nicholas. We don't know the % of votes each has gotten, but Sam has been giving every chance possible to shine with songs that allow her to show off her vocal skills, while Nicholas seems to get the complete opposite. Both are in the final, neither have been in the bottom 2 before, and both have a different demographic voting for them.
Sam's appeal has always been to the Over 24s and a selection of the older voting public. Nicholas will have a wider base of teens, mums and OAPs, but he'll have to share a lot of these with Luke. Rough Copy's voters will be spread around amongst the 3 finalists, maybe moreso with Luke/Nicholas.
Nicholas is 5/1 to win with SkyBet, and Luke is 14/1 with Bet365. I'd rather back Nicholas at that price than back Sam @ 1/4. Sam would be a deserved winner , but shocks do, and have happened in X-Factor, especially where Scottish people are concerned. If you still want to back Sam, take the 4/6 with StanJames of a Sam/Nicholas straight forecast to give yourself some interest.
If you have that little deviousness inside you that wants to see people fail, well Boylesports are offering 4/1 on a finalist forgetting their words during the weekend's show. With each act singing 3 times, this holds greater appeal than in previous weeks, although the producers have yet to fully decide when the 3rd act is going home and what's happening on the Sunday, so some pressure could be alleviated based on this. If Tamera was still here, we could all make a mint!