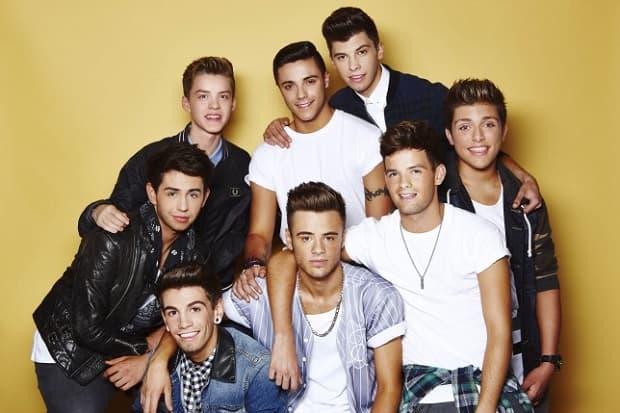 Lola Saunders was the second act to be eliminated from the X Factor last weekend, after Jack Walton had been cruelly dumped from the competition on Saturday night, without even having the chance to save himself in a sing-off. Jack was shown the exit after a tepid performance of Leona Lewis' 'Bleeding Love', while Lola's rendition of Gnarls Barklay's 'Crazy' was enough to see her pitched into a Sunday night sing-off against fellow strugglers, Stereo Kicks.
The eight-piece boyband covered Pink's 'Perfect', which garnered more votes than Lola's version of Aretha Franklin's '(You Make Me Feel Like) A Natural Woman'. The group were told in no uncertain terms by the judges that they would have to 'up their game' this week, and that makes them one of the favourites to go this weekend. One of our tips for last week, Paul Akister, survived despite having a hard time with a Meat Loaf song, and his disagreement with Simon Cowell brings him right into contention.
The theme for this week's show is Queen Vs. Michael Jackson, which gives the contestants a wide variety of song choice. The only two acts to have featured in a sing-off so far are the two remaining groups, Stereo Kicks and Only the Young; both acts will have to perform at their best this week to swing the public vote in their favour; Stereo Kicks in particular, who were appearing in the bottom two for the second time last week.
The Acts
Only the Young 4.00Bet €100 to win €4003/1Bet £100 to win £400+300Bet $100 to win $4003.00Bet HK$100 to win HK$4003.00Bet Rp100 to win Rp400-0.3333Bet RM100 to win RM400 with Coral
The mixed group looked in danger of elimination last week, but pulled it out of the bag with a strong performance of 'Monster Mash'. They've not been in the bottom two since week three now, but will need another good performance this weekend to maintain a share of the public vote. Song choice could be vital for the group this week, and with such a diverse back catalogue to choose from it could easily go either way. Definite contenders.
Paul Akister 4.00Bet €100 to win €4003/1Bet £100 to win £400+300Bet $100 to win $4003.00Bet HK$100 to win HK$4003.00Bet Rp100 to win Rp400-0.3333Bet RM100 to win RM400 with Ladbrokes
Paul had a tough time last week with Meat Loaf's 'Bat Out of Hell', and that was enough to see him installed as joint-favourite to be dumped from the competition this week. We thought there was value in backing him at a big price last week, but he was fortunate that Jack and Lola's performances were even worse than his. Simon looks to have marked his card with Paul and that's dangerous, but we also think Paul might come out fighting this week, with a better song and a better performance.
Stereo Kicks 4.50Bet €100 to win €4507/2Bet £100 to win £450+350Bet $100 to win $4503.50Bet HK$100 to win HK$4503.50Bet Rp100 to win Rp450-0.2857Bet RM100 to win RM450 with Skybet
Eight members in a boyband has given Stereo Kicks that novelty factor in this year's competition, but there are signs that the novelty is wearing thin. The judges were quite critical of the group after last week's performances, and it was the second time already they've found themselves in the bottom two. It's easy to over-complicate the betting sometimes, but this group have struggled for public support in the voting, and could easily make it a hat-trick of sing-offs this weekend.
Stevi Ritchie 6.00Bet €100 to win €6005/1Bet £100 to win £600+500Bet $100 to win $6005.00Bet HK$100 to win HK$6005.00Bet Rp100 to win Rp600-0.2000Bet RM100 to win RM600 with Bet365
Stevi has been providing this year's comedy value, and although we tipped him to go last week, it seems that he has overwhelming public support in his favour. The theme of Queen Vs. Michael Jackson is practically tailor-made for the cheeky chappy, and he'll go and do his thing again this week. Where others might be trying to re-vamp popular songs, or put their own stamp on them, Stevi will simply go on stage and have a ball, and his infectious enthusiasm will probably save him again.
Jay James 15.00Bet €100 to win €150014/1Bet £100 to win £1500+1400Bet $100 to win $150014.00Bet HK$100 to win HK$150014.00Bet Rp100 to win Rp1500-0.0714Bet RM100 to win RM1500 with Bet365
Jay sang a version of 'Mad World' last week and looks to be a 'housewives favourite' in the niche of a James Blunt or a Chris Martin. He'll have a whole host of balleds to choose from this week from either Queen or Michael Jackson. He could be an outsider to go this week, but as long as he gets the right song he should live to fight another week. Probably benefits from having such a distinct style, and isn't encouraged to play around with different genres quite as much as some of the other acts.
Fleur East 17.00Bet €100 to win €170016/1Bet £100 to win £1700+1600Bet $100 to win $170016.00Bet HK$100 to win HK$170016.00Bet Rp100 to win Rp1700-0.0625Bet RM100 to win RM1700 with Ladbrokes
Fleur's performance of 'Thriller' last week was one of the highlights of the show, and she is arguably the best all-round entertainer in the line-up. She looks more likely to win the competition than go out at this stage, but having sang a Michael Jackson song last week, she'll almost certainly have to go with a Queen number this week. There are much worse acts still left in the show, and she'd have to drop a clanger to get the boot this weekend.
Ben Haenow 26.00Bet €100 to win €260025/1Bet £100 to win £2600+2500Bet $100 to win $260025.00Bet HK$100 to win HK$260025.00Bet Rp100 to win Rp2600-0.0400Bet RM100 to win RM2600 with William Hill
Ben was the first to perform on last Saturday's fright night, with a rendition of AC/DC's classic 'Highway to Hell'. He might hope for a more preferential later slot this week, and doesn't appear to be in any danger of going out.
Lauren Platt 51.00Bet €100 to win €510050/1Bet £100 to win £5100+5000Bet $100 to win $510050.00Bet HK$100 to win HK$510050.00Bet Rp100 to win Rp5100-0.0200Bet RM100 to win RM5100 with Bet365
Lauren has reportedly been suffering from illness this week, and that could be the only thing that threatens her continued participation in the show. She's impressed with every performance so far, and if the sixteen year-old can battle through the illness, she look sure to retain the support of the public.
Andrea Faustini 67.00Bet €100 to win €670066/1Bet £100 to win £6700+6600Bet $100 to win $670066.00Bet HK$100 to win HK$670066.00Bet Rp100 to win Rp6700-0.0152Bet RM100 to win RM6700 with Bet365
Andrea was given a horrendous makeover last week, which saw him covered in gold paint for a cover of 'Relight my Fire'. The performance prompted Simon Cowell to compare him to a 'singing candle', and Andrea will hope to put Fright night well and truly behind him with a better perfomance this week. He is still the heavy favourite to win the competition, and it would be a shock to see him depart at this stage in proceedings.
We're tipping Stereo Kicks and Paul Akister to be the bottom two this weekend, with Paul doing enough to ensure that the boyband make it third time unlucky in the sing-off.
Tips Summary
To be eliminated from the X Factor – Sunday 9th November
Stereo Kicks 4.50Bet €100 to win €4507/2Bet £100 to win £450+350Bet $100 to win $4503.50Bet HK$100 to win HK$4503.50Bet Rp100 to win Rp450-0.2857Bet RM100 to win RM450 with Skybet
x factor
x factor elimination