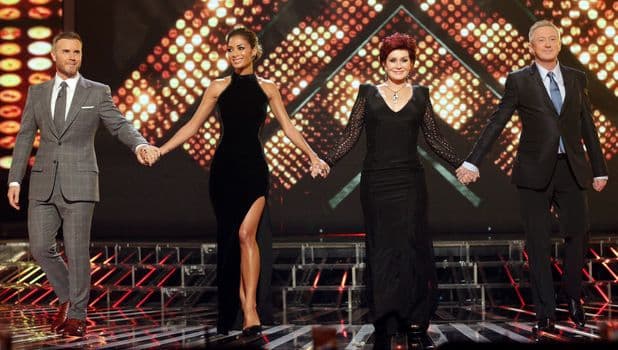 Week 5 of X Factor sees Big Band week, with last week's bottom 2 totally changing the X Factor betting odds
After a few weeks of straightforward results, last week was a bit of a shocker to see Tamera and Kingsland Road in the bottom 2. There were plenty of surprised looks on people's faces when both Abi and Sam Callaghan were announced safe, so what about this week?
It's Big Band week so each act gets to take the stage with a live orchestra. It's time for some acts to stand up and be counted, because there will be no passengers from here on in.
After Tamera's appearance in the bottom 2 last week, her odds of winning the show have drifted from 17/10 to 7/2 with Bet365. There are rumours doing the rounds that she is a bit of a diva backstage with her demands. This coupled with her alleged murky past has seen her lose popularity amongst the X-factor audience. The 2 biggest climbers in the market are Sam Bailey and Luke Friend. Sam is now the outright favourite and is available across the board @ 2/1, but Ladbrokes are offering a little more value in 9/4. Has she got the X-Factor though? Not in my opinion.
Luke has been a revelation. 40/1 when the 12 acts took to the stage, 12/1 last week and now 7/1 with Paddypower and StanJames. Sam, Tamera and Nicholas are all ahead of him in the betting but none of them have the X-Factor, with Rough Copy available at 9/1 with Coral just behind. It's just between these 5 for the top 3 spots. It's getting difficult to predict how the British public is going to vote. They like playing it safe with Sam B and Nicholas, so it looks to be 1 from the other 3. Expect the producers to do everything to help Tamera get there, because no doubt they'll have Beyonce lined up to perform with her.
The fight for the bottom 2 this week is sure to be a 3 horse race between Sam C, Hannah and Abi. All 3 have poor song choices this week. We'll have to endure Hannah screaming through her performance, while I'll be making a cup of tea while the other 2 are performing. Providing the producers don't throw another curve ball by bringing back the flash vote, I'd expect Hannah to be in the bottom 2. She's not doing anything memorable lately and she seems to have hit her peak and can't rise any higher. However, I believe that if she is in the bottom 2 that the judges will save her if she is up against Sam C or Abi.
Hannah to be in the bottom 2 is 8/11 with half a dozen of the major UK betting firms including William Hill and Coral which I think is a decent price. Sam still has a massive following on Twitter though, and if they vote in their droves, it will see him avoid the bottom 2 again. If I'm pushed for a bottom combo, I'd go Hannah/Abi @ 7/2 available with SkyBet and Abi to go @ 5/2 BetFred.
There's 1 bet that sticks out for me at the moment, and it's Rough Copy to outlast Hannah @ 8/13 with Ladbrokes.
This should be a 4/9 shot and if you have any coppers lying around, you could do worse than sticking a few quid on this. After this weeks performance, I don't see that price staying around.
There will always be some ifs and buts before we hear them perform, and song choices for Saturday's show are available, and I'll forgive you if you think you've heard them once or twice on X-Factor before!
X Factor Week 5 Song Choices
Abi Alton – That's Life
I'm not sure she can pull off a Sinatra number. There's a lot of piano versions floating around on Youtube that are quite decent, and she'll be scouring trying to find one to suit her. Not sure her one trick pony style can carry her through another week.
Hannah Barrett – This Is A Man's World
It's an ok song choice as it suits her voice, but she'll just end up shouting it. I don't think it will go down too well and she may well be in trouble after it.
Luke Friend – Moondance
This will be the performance of the night. It's another great song choice for him and he should sail through it.
Nicholas McDonald – Dream A Little Dream
Meh song choice for Nicholas. Would love to see him tackle something a little more challenging, but in reality, until the 3 weakest acts go, he doesn't need to up a gear just yet.
Rough Copy – Hit The Road Jack
Not too vocally challenging for the lads. Will be interesting to see how the harmonies will work. They'll have fun singing it so that should project from their performance.
Sam Bailey – New York New York
Yawn. She'll sing this really well as usual, but it's almost getting boring at this stage. Safe song choice and enough to see her though.
Sam Callahan – Ain't That A Kick In The Head
This will be terrible. If it was a straight up judges vote, Sam would be going home. He needs all the help from his army of followers to avoid the bottom 2, because the first week he's in there, he's a goner.
Tamera Foster – Cry Me A River
I'm not sure it's the best song choice for her. After last week, I would have preferred to see her come out singing something with a bit more oomph. I can't see her supporters letting her fall into the bottom 2 again this week, so no fear of her going home.