So we're down to the Final 9 in X-Factor this weekend, and there hasn't been too many surprises in the first 3 eliminations. When the betting opened for the live shows, the 2 big favourites to go were Lorna and Shelley, and that's exactly what happened in the first 2 weeks.
Miss Dynamix followed in week 3, which leaves us where we are now, the Super 9. But in reality, it's a Super 4, a couple of wannabes and 3 more making up the numbers.
When betting opened for X-Factor, the best price available on the remaining 9 acts was:
Tamera 3/1
Nicholas 9/2
Hannah 11/2
Rough Copy 10/1
Abi 10/1
Sam B 11/1
Kingsland Road 22/1
Sam C 22/1
Luke 40/1
The best price available going into this weekend's show is:
Tamera 17/10
Nicholas 11/4
Sam B 9/2
Luke 12/1
Rough Copy 14/1
Hannah 20/1
Kingsland Road 33/1
Abi 66/1
Sam C 66/1
Tamera and Nicholas continue to lead the way as the favourites and it really should come down to those 2 in the final sing off. Tamera is by far the best singer, but if it's judged on likeability factor, then I think Nicholas has the tools to sneak the crown away from her.
Sam Bailey has smashed it so far. Each performance to date has been almost note perfect, but she hasn't sang anything out of her comfort zone so it will be interesting to see how it goes when she has to switch gears.
Luke has had a couple of really good weeks which reflects in his shortening price, but realistically he's boxing above his weight a little. He has a good voice for certain songs and is a natural performer, but I think he'll struggle to keep putting in performances that will woo the public, especially when he has to change genres that might not suit him vocally.
Rough Copy are 3 really great singers and as long as they continue to gel in their performances, they can still be a dark horse in this years competition. Whether they win or not, they'll be sure to find success outside the show simply because there is a gap in the market for a band like them right now.
Hannah finished in the bottom 2 last week despite a ridiculously good performance. It was either 1 or both of these reasons, and it's a) the public don't like her, or b) they thought she was safe and didn't vote for her. She sings the 'haunting' songs well and I'm looking forward to see her in disco week to see the opposite end of her scale.
One word of note: I'm not sure if it's just me, but the fact she puts a H in front of words starting with vowels really annoys me! '(H)I wanna to sing, (H)I wanna shout, (H)I wanna scream till the words dry out' ughhh!
Kingsland Road had an earlier than expected sing off to stay alive in week 2, and it seems to have hit their confidence. They look a bit down at times and just pile on the cheese in their performances. They should be likeable and popular among traditional X-Factor viewers; but they don't seem to be, so it's hard to say where they sit in the final 9.
Abi is a beaten girl. Sharon's comment last week about people 'Going to put the kettle on for a cup of tea when she starts to sing' was below the belt and knocked Abi for 6. She is a bit of a one trick pony and you can see how low her confidence is. I can't see her bouncing back at all. Disco week? Ughh, that's just like digging the knife in even deeper for her.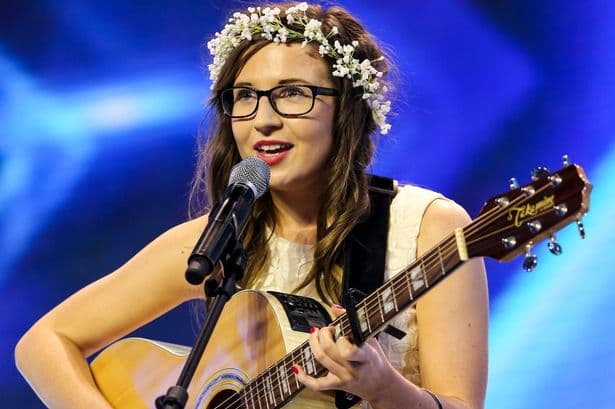 With week 4 being disco week, it might be time for Abi to bid her final farewell to this year's show
Sam Callahan is still giving it his all despite being the weakest singer by far. He's enjoying his run in the show and anything from now on must exceed his own expectations on where he would finish anyway. In a line up where there's very little eye candy for the ladies, he's the one that's keeping them interested so he's sure to carry the female vote for just a little longer. Due to his weaker vocals, this may be just 1 or 2 more weeks tops.
Week 4 Preview
Usually on Halloween, X-Factor bosses give the contestants Halloween themed songs but for some reason, they've decided to pass on it this year and we have Disco Week instead. Song choices have yet to be released so we're just guessing at the moment.
Expect Tamera and Hannah to shine this week. Generally the groups do well on disco week, but the rest could struggle a little depending on what songs they get. This week should not suit Abi at all and I'd be pretty amazed if she survived this week. Currently she is 9/4 to be eliminated with Betfred and Ladbrokes. I feel that's a big price and so I'll be having some of that action. Her nearest 2 rivals will be Sam C and Kingsland Road, but I can only see her possibly surviving if she's facing Sam C in the bottom 2. Any other outcome and it's the end of the road for her I'm afraid.