It's quarter final time in the X-Factor, and we're down to 5 contestants who are all just one step away from a mucrh coveted semi-final spot. I think we were pretty much spot on with our preview of last week's live shows, but somehow despite Tamera forgetting her lyrics and putting on a really poor show, she escaped the bottom 2 and Rough Copy were joined by Hannah.
Although she sang fantastically in the live show and in the sing off, however Hannah was never going to come out on top when the judges delivered their verdict. The silver lining for us though, was that we won our 'Rough Copy to outlast Hannah' match bet @ 8/13 from a couple of weeks ago, so some small consolation for us (we hope those of you following our X Factor betting tips were on it too)!
If we thought last week was hard to predict, this week is going to be even more difficult. Each act gets to perform 2 songs this week. One of their own choosing, and 1 chosen by the public in 'Jukebox Week' Let's take each song choice at face value and ignore for now what went on in previous weeks or who we think the producers would like to see in the final 3 spots.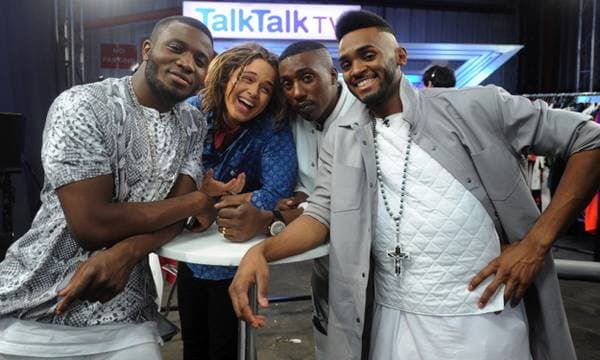 Tomorrow's X Factor show may not be all smiles for Rough Copy and Luke Friend
Luke Friend
Own choice – I Will Wait (Mumford and Sons)
The people's choice – Skinny Love (Bon Iver)
Loving these song choices for Luke. 'I Will Wait' will be great and will get everyone at home and in the audience tapping their feet along and enjoying the performance. He won't be able to make it his own though and I'm wondering if the song has enough appeal for a wider audience. 'Skinny Love' is quite a soft song and Luke has a rough sound but it's going to be awesome either way. Without a shadow of a doubt, I'm looking forward to Luke's performances the most this week. Unfortunately, I don't see Luke escaping this week no matter what he does but I hope he goes out in style.
Nicholas McDonald
Own choice – Greatest Day (Take That)
The people's choice – Just The Way You Are (Bruno Mars)
I've said it before, and I'll say it again. I don't see where Nicholas has the X-Factor. Don't get me wrong, I'd be happy if Nicholas won the show because he seems like a nice genuine lad, but these song choices are quite safe and won't make him stand out in the crowd. I don't like the Take That song because it won't let him show off any vocal range but I still think he'll sing it better that Take That because I don't think Gary Barlow sings it that great himself. I love the Bruno Mars number and I'm hoping Nicholas draws some emotion from it and does it justice. He has the fan base to make the final and I don't see anything changing after this weekend's performance. He is only 16 as well and will improve massively. Playing the safe card should once again work for him.
Rough Copy
Own choice – Every Little Step / She's Got That Vibe (Bobby Brown/R Kelly)
The people's choice – I Believe I Can Fly (R Kelly)
Hmmmmm. After being in the bottom 2 last week, Rough Copy need to show some bouncebackability to escape another bottom 2 berth this week. A mash-up as their own song choice? I don't like it. 'Every Little Step' on it's own would have been better. It seems to suit the Rough Copy style but it's probably the least known song of anyone this week, so they decide to mash it up with 'She's Got That Vibe'. I just don't see it working and can't see it appealing to the voters. The public haven't done them any favours either with the song they chose for them. Considering that Boys to Men's 'End of the Road' was an option, I think the R Kelly song choice could see the Rough Copy boys being bottom 2 for a 2nd consecutive week.
Sam Bailey
Own choice – How Will I Know (Whitney Houston)
The people's choice – Clown (Emeli Sande)

I'm bored of Sam's song choices. We know she's a great singer, and we know she can sing these songs well, but it's not enough for me. 'How Will I Know' is just a yawn song. It's like she's trying to keep the 30+ age bracket on side but this should have been given a better song choice. I'd love her to sing something more current and stay away from Karaoke sounding songs. I know 'Clown' is recent, but she sang this in the Bootcamp auditions and she did a fantastic job so it's not going to be anything we haven't heard before. Her spot in the Semi-final is signed, sealed and delivered regardless.
Tamera Foster
Own choice– We Found Love (Rihanna)
The people's choice – The First Time Ever I Saw Your Face (Roberta Flack/Matt Cardle)

After her catastrophe last week, she's chosen wisely with 'We Found Love'. It's not exactly the toughest song to sing and in a week where she needs to remember the lyrics to 2 songs, she needed to pick something she can do in her sleep. No doubt comparisons will be drawn to Rihanna but she should pull it off. The public helped her out with their song choice too. This should be a good week for Tamera because she'll be able to show her full range and I hope she smashes it and reminds us of how good she really is. If people are trying to remember where they heard 'The First Time..' before. Well, Matt Cardle sang this on the way to winning X-Factor in Season 7 and delivered one of the best performances ever to grace the X-Factor stage. If Tamera can get anywhere near this, she'll have done a good job. Let's have a flashback moment to that night.
Verdict
As we move into our 8th week, I think each of these acts has given us enough reasons to justify their place in the semi-final. Of the final 5, Sam and Nicholas haven't put a foot wrong. They've played to their strengths and haven't shown any weaknesses. They sing songs they are comfortable with and that appeal to their respective audiences so I can see them both make the semi-final; I also think they are the first 2 names in the final. That leaves us with a 3 way battle between Tamera, Rough Copy and Luke.
Both Luke and Tamera could deliver flawless performances, but if Tamera slips up, then she could find herself back in the bottom 2 again. Luke could do everything right and still end up in the bottom 2, simply because of the outstanding talent he is up against. Based on this week's song choices, Rough Copy have the weakest selection and I just don't see them doing enough to escape a bottom 2 place, even if they deliver a good performance on Saturday night.
For my X Factor betting fix this week, I'm going with Luke to be eliminated, available at 13/8 with SkyBet. I'm also going to have a bet on Rough Copy to be in the bottom 2 available @ 5/4 with Betfred.
Tamera to forget her words during this week's performance is even money with Coral. Whether she does or not depends on how much pressure she puts herself under, but there's more chance of it in the second song than the first. However, if you do think she'll bottle it again, you're getting 2 shots at it, so if you have that little devilish side that makes her want to fluff it again, it might be worth a small bet!
Who do you think will be eliminated this week? Leave your choices in the comments below.