Europe produced an outstanding performance at Le Grand National to hammer the United States in the 42nd Ryder Cup. Thomas Bjorn's men were flawless for two-and-a-half days after falling behind in the first session of the tournament. However, a fightback on Friday afternoon allowed them to take command and they never looked back, clinching a seven-point victory over Team USA.
Jim Furyk's men extended their run without a victory overseas. When they next return to European shores they will be without a win in 29 years. The American skipper endured a torrid time over the three days as seemingly all off his picks backfired, with Tiger Woods and Phil Mickelson failed to claim a point between them. Bryson DeChambeau had a baptism of fire, failing to rise to the occasion. Only Tony Finau looked at home in the wildcard selections, although he had a shaky start before benefitting from a huge slice of luck that turned his tournament around on the 16th hole.
In comparison all of Bjorn's selections worked out perfectly. Ian Poulter remained Mr Ryder Cup, helping drag Europe back into the competition on day one. Sergio Garcia was outstanding to claim three points – that took him past Nick Faldo as the all-time leader in Ryder Cup points. Henrik Stenson was ice cool, winning all three of his matches. Bjorn's wildcard picks claimed nine-and-a-half of Europe's 17-and-a-half points.
The combination of Francesco Molinari and Tommy Fleetwood proved to be a masterstroke. The Italian won five out five for his side, including four points with Fleetwood over the opening two days of the competition. Bjorn has given himself a chance to be selected once again as captain, becoming the first European since Bernard Gallacher to skipper successive Ryder Cups. Although, there will be a queue of former greats keen to take on the role for the 2020 tournament at Whistling Straits in Wisconsin.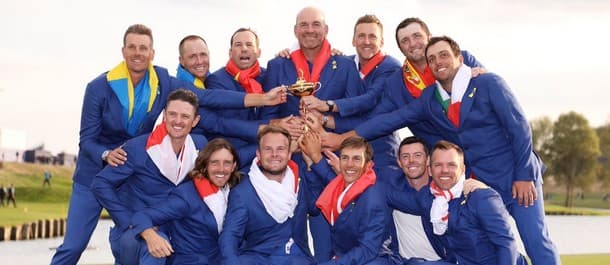 Europe
Bjorn hit all the right notes in his selections and his pairings throughout the weekend. He was rewarded for his faith in senior players Garcia, Stenson, Casey and Poulter. All four played crucial roles in driving home the victory, considering that Europe's best two players according to the world rankings Rory McIlroy and Justin Rose were not at their imperious best. The last European to captain successive Ryder Cup was Bernard Gallacher from 1991 to 1995.
Since then the captaincy has been passed around and the name that has been linked to the post is Padraig Harrington. McIlroy has already given his backing to the Irishman, who boasted a strong record during his Ryder Cup career along with three major wins. Harrington would be a solid choice, although he would face a challenge travelling to the States where Darren Clarke struggled to get a tune out of his team last time out.
The team itself will change over the next two years, although the core will no doubt remain intact. McIlroy and Rose are not going anywhere soon, positioned in the top-10 of the world rankings. Molinari has found his peak, dominating during the 2018 season, winning the first major of his career. At the age of 35, he will only improve over the next couple of years.
John Rahm is on the steady incline towards stardom, with a breakthrough on the major scene seemingly round the corner. Fleetwood was outstanding over the weekend and has been extremely impressive on the tour, finishing second at the US Open. He is also on the precipice of his first win at a slam. Garcia is ageless and has been a fixture of European teams for too long to be left out next time around at the age of 40.
Stenson proved that his experience was vital along with Poulter, but whether they are able to maintain their form at the age of 44 will be another matter. Matthew Fitzpatrick, Rafael Cabrera Bello and Thomas Pieters all missed on selection. Alex Noren, Tyrell Hatton and Thorbjorn Olesen will be determined to retain their places. Therefore there's a healthy competition for places for the next captain.
United States
The inquest has already begun for the United States, with Patrick Reed pointing the finger of blame towards Furyk and Jordan Spieth. Reed and Spieth combined to be one of the strongest teams in the history of the tournament in 2014 and 2016 for the States. However, Reed suggested that Spieth did not want to partner him on this occasion. Spieth formed a successful partnership with Justin Thomas, winning three of their four matches together before Spieth was defeated by Olesen in the singles.
Reed was far from his best, losing his two matches with his new partner Tiger Woods. However, he did stage a comeback to defeat Hatton comfortably in the singles. The problems with Reed were the tip of the iceberg for Furyk's men. All of his captain's picks failed miserably, mustering just two points between them – which both came from the club of Finau.
Whereas the experience of the Europeans proved to be crucial, it was the downfall for the States. Mickelson continued his woeful form on the tour this season with a shocking performance, summed up by the shot that allowed Europe to reclaim the trophy when he found the water on the 16th hole. Woods was equally poor, seemingly exhausted by his efforts to get back to winning ways on the PGA Tour just one week removed from his Tour Championship win. DeChambeau was not ready for the intensity of the competition – although he was not the only one.
Only Thomas and Spieth were able to emerge with any credit from the weekend. World number one Dustin Johnson's putting left a lot to be desired until the singles, but even that was not enough to stave off Poulter. Rickie Fowler was off the boil, while the player of the year Brooks Koepka was off his game. Koepka struck a spectator on the first day and may have been effected by the incident. Team USA should remain more or less unchanged in two years' time. Woods and Mickelson may be jettisoned, although it may not be a negative considering their records at the Ryder Cup.
Fred Couples has been touted as one of the leading contenders to take over the reins as captain. David Duval and Steve Stricker are also in contention, with the team in desperate need of inspiration next time around. There are some exciting players coming through the ranks to bolster the depth. Xander Schauffele, Patrick Cantlay and Kyle Stanley could offer youthful exuberance. Brandt Snedeker, Keegan Bradley and Jimmy Walker will be eyeing recalls after being rebuffed this time around.
Betting Options
Harrington has been installed as the early contender to lead Europe at Whistling Straits. He was vice-captain in France and it would make a lot of sense for him to take over the role. Bjorn was excellent, but Europe will extend their trend of one-term skippers. It might be too soon for Westwood given that he played in 2016. Take Harrington at odds of 1.44Bet €100 to win €14411/25Bet £100 to win £144-227Bet $100 to win $1440.44Bet HK$100 to win HK$144-2.27Bet Rp100 to win Rp1440.4400Bet RM100 to win RM144 with 888Sport to be named the captain.
The States have a few choices, but the consensus seems to be Stricker or Couples. Couples missed out last time to Furyk therefore he could be given the nod after the selection proved to be a poor one from the USA's Ryder Cup Committee. Take Couples to be the Team USA captain at odds of 3.75Bet €100 to win €37511/4Bet £100 to win £375+275Bet $100 to win $3752.75Bet HK$100 to win HK$3752.75Bet Rp100 to win Rp375-0.3636Bet RM100 to win RM375 with 888Sport.
Team USA are the favourites for the Ryder Cup on home soil where they've won two of the last three tournaments. However, should Europe rekindle the same spirit as their triumph in Paris then it could carry them to another victory. Take them in the early betting odds at 2.38Bet €100 to win €23869/50Bet £100 to win £238+138Bet $100 to win $2381.38Bet HK$100 to win HK$2381.38Bet Rp100 to win Rp238-0.7246Bet RM100 to win RM238 with Bet365 to take the crown.
Tips Summary
Europe To Win 43rd Ryder Cup
Friday 25th September 2020 – Sunday 27th September 2020
Odds: 2.38Bet €100 to win €23869/50Bet £100 to win £238+138Bet $100 to win $2381.38Bet HK$100 to win HK$2381.38Bet Rp100 to win Rp238-0.7246Bet RM100 to win RM238
Padraig Harrington To Be Named European Captain
Friday 25th September 2020 – Sunday 27th September 2020
Odds: 1.44Bet €100 to win €14411/25Bet £100 to win £144-227Bet $100 to win $1440.44Bet HK$100 to win HK$144-2.27Bet Rp100 to win Rp1440.4400Bet RM100 to win RM144
Fred Couples To Be Named United States Captain
Friday 25th September 2020 – Sunday 27th September 2020
Odds: 3.75Bet €100 to win €37511/4Bet £100 to win £375+275Bet $100 to win $3752.75Bet HK$100 to win HK$3752.75Bet Rp100 to win Rp375-0.3636Bet RM100 to win RM375
Europe
Fred Couples
Ryder Cup
Thomas Bjorn
United States