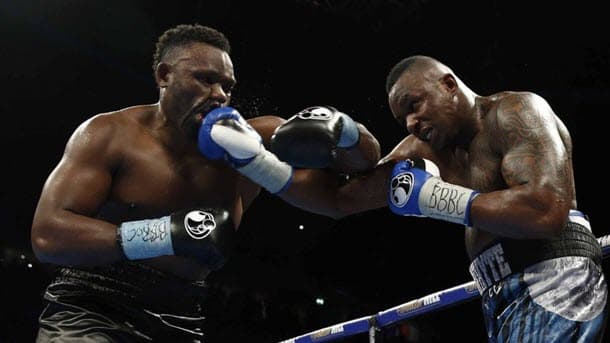 Dillian Whyte vs Dereck Chisora II – 22nd December – 22:00 BST
This Saturday, 22nd December, boxing fans are spoilt for choice with the action available at the end of their fingertips. However, while in years gone by, the casual and diehard alike would have been clamouring for more live action on the TV, it appears counter productive to have two pay-per view shows on the same night. The second fight between Dillian Whyte v Dereck Chisora battles it out for views with a mouth-watering domestic match up on BT Sport between Josh Warrington and Carl Frampton. Some will buy both events, but not many and so it appears more than rational to suggest that both events would have made more money if held on separate nights. Regardless, we are here for the betting angles, not the business side of things, and with that in mind, it is time to break down the potential candidate for fight of the year between Dillian Whyte and Dereck Chisora (Warrington v Frampton prediction and betting analysis can be found by clicking here).
Dillian Whyte and Dereck Chisora first fought two years ago, and the build up to the contest was fiery, to put it mildly. Tables were thrown, as were punches, and what manifested when the first bell rung was hardly a surprise given the animosity that had bubbled over in the weeks leading up to the fight. As a boxing match, technique was out of the window and for the most part, each round descended into a brawl. Whyte did try and box a little bit and his output was higher, but it appeared that Chisora landed the more damaging shots. As the final bell went, ringside pundits, fans and armchair supporters were divided on the victor – some saw Chisora winning, and some Whyte. The latter named was the victor by a narrow margin, but in all actuality, it was the fans who won, getting to witness two warriors leaving it all on the line.
Fast forward two years, and things appear different. While the interaction between the two London heavyweights hasn't been prickle-free, it has lacked some of the real needle that dominated the storyline of the first fight. Jabs have been made but have by and large been tongue in cheek, and one suspects there is a deep underlying respect between these two fighters. But why does it matter? What is the point in analysing past and present pre-fight behaviour? Well because it can have an impact on how the contestants approach the battle tactically when the first bell is rung. Disdain between two combatants can and evidently did spill over last time, but there is the suspicion, this will be a little different this time, at least from Dillian Whyte's side.
TOP TIP! – 1 point win – Dillian Whyte KO/TKO/DQ 2.75Bet €100 to win €2757/4Bet £100 to win £275+175Bet $100 to win $2751.75Bet HK$100 to win HK$2751.75Bet Rp100 to win Rp275-0.5714Bet RM100 to win RM275
Get the best odds for Whyte v Chisora 2 with our selected bookmakers below.
Since his victory over Chisora, Whyte has gone on a four fight tear, beating notable names including Robert Helenius, Lucas Browne and most impressively, Joseph Parker. There has been an evidential improvement in his boxing skills in that period, and the Brixton fighter's stamina and conditioning has also been elevated to the next level. He has a fantastic punch variety for a heavyweight, and will be looking to display those skills and make it a more convincing victory than when he last fought Chisora. Whyte still tends to slap with some of his shots, but he has developed a devastating left hook that is often thrown as a counter punch.
And what about the enigma that is Dereck Chisora. The Zimbabwean native who now calls London home, has been at the forefront of boxing fans consciousness for a long time now, having had battles with Tyson Fury, Vitali Klitschko and David Haye. His record of 29-8 may not look stellar by any means, but it doesn't tell the whole story. Chisora has mixed at the top level for an extended period of time and performs best when he faces elite competition. It is a well-known fact that he has had a lazy approach to training and has in reality, only been functioning at 70-80% on fight night. For Chisora, the curtain appeared to be closing on a colourful career when he was well behind in his last fight against teak tough and talented Carlos Takam. Somehow, against the odds Chisora found a huge overhand right that served to slay not only Takam, but the notion that he was finished as a fighter. Following on from that contest, Chisora accepted his shortcomings and drafted in David Haye, a former bitter foe (think bottle over the head, "he glassed me") as an advisor. That move appears to have been shrewd, as Chisora looks in fantastic condition, suggesting he could give Whyte real trouble.
TOP TIP! – 1 point win – Dereck Chisora KO/TKO/DQ 8.00Bet €100 to win €8007/1Bet £100 to win £800+700Bet $100 to win $8007.00Bet HK$100 to win HK$8007.00Bet Rp100 to win Rp800-0.1429Bet RM100 to win RM800
So just how does the fight pan out? Well Chisora is a little bit of a one trick pony, but he is effective with that trick. He will aim to intelligently brawl with Dillian Whyte, putting significant pressure on his rival, in an attempt to break him down. In recent fights, Chisora has had to do this in spurts and take breaks on the ropes as he regains his wind, but WAR Chisora (as he now likes to be known) could be a different proposition and may be relentless with that come forward aggression. His money punch is clearly that overhand right, but he also does some nice bodywork.
Dillian Whyte on the other hand will be wanting to box and move, keeping Chisora on the end of his jab and catching him with body and head combinations as he steps forward. The body is likely to play a crucial role for both fighters in this contest as they aim to slow each other down before doing big work to the head.
Common logic should dictate that Chisora is ageing while Whyte is coming into his peak years as a heavyweight pro, but given how he has looked in camp, it is difficult to be confident about that assertion. The bookmakers give Dillian Whyte about a 75% chance of success in the win market at 2.75Bet €100 to win €2757/4Bet £100 to win £275+175Bet $100 to win $2751.75Bet HK$100 to win HK$2751.75Bet Rp100 to win Rp275-0.5714Bet RM100 to win RM275 with Bet Victor, William Hill, which would seem around fair, but there doesn't appear to be value in that price. While the first fight was a slugfest and this is likely to be a little more 'civilised', there could actually be greater potential for a knockout this time around, as both fighters are going to be better conditioned and will have more power on their shots late in the fight. The bet is to back both fighters to win by stoppage; a victory for Whyte via that method gives a slight profit and if Chisora does upset the applecart, then followers of this advice will get a nice return at 8.00Bet €100 to win €8007/1Bet £100 to win £800+700Bet $100 to win $8007.00Bet HK$100 to win HK$8007.00Bet Rp100 to win Rp800-0.1429Bet RM100 to win RM800 with Bet Victor.
Feel free to us know what you think of our tips. Click the button below and Share on Facebook or Twitter and tell us if you agree or disagree with our selections!
Boxing
Chisora
Whyte
Whyte v Chisora 2