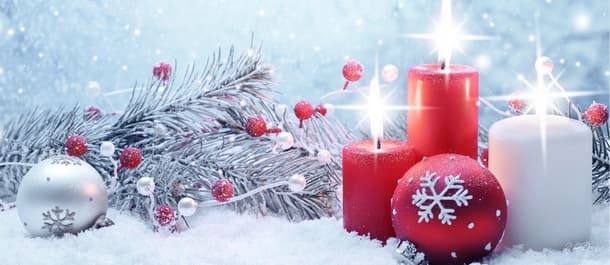 It's that time of year when thoughts are turning to the festive season, and it's a tradition to have a few quid on some of the fun Christmas betting markets. Bookmakers quote prices on a number of novelty events, including the coveted number one Christmas single, the best-selling Christmas video game, and the most viewed Christmas TV show.
And of course, the biggest novelty festive market of all – betting on a white Christmas!
SBO regularly provides odds and betting tips for a range of sports and entertainment events, but this is an enjoyable diversion into the seasonal betting options.
Will We Have a White Christmas?
For most people living in the UK, a white Christmas seems to be a very rare occurrence, but according to the MET Office, it's actually not all that unusual. The official definition is as follows:
'The definition that the Met Office uses to define a white Christmas is for one snowflake to be observed falling in the 24 hours of 25 December somewhere in the UK.'
Traditionally a single location – the MET Office in London – was used to determine whether or not a Christmas could be classed as white, but with the increased interest in betting, you can now have a wager on a white Christmas in various locations including Manchester, Belfast, Aberdeen, Birmingham, and Liverpool.
Based on the above criteria, the MET Office says that 38 of the last 54 Christmas days have been officially 'white' – that is to say that a snowflake has fallen somewhere in the UK on the 25th of December. However, most of us associate a white Christmas with snow-covered ground and that is a much less common occurrence. There have only been four occasions in the last 51 years on which we've seen 'widespread snow lying on the ground'.
The odds for snow to fall in London on the 25th are 13.0 with Betfred, and the same bookie is offering 7.0 about a white Christmas in Belfast and Liverpool, and 5.5 about a snowflake falling in Aberdeen.
Unfortunately, December isn't the most popular month for snowfall, with January, February and even March more likely to receive a smattering of the white stuff. Also this year, according to most weather reports, it's due to be a mild Christmas temperature-wise with potential wind and rain storms, but no snow. The chances of precipitation in the South of the country are rated at around 50%, but temperatures are highly unlikely to drop enough for snow to appear. The Northerly Aberdeen should see temperatures as low as 3 degrees, but with the chances of precipitation rated at below 5% by the MET Office, snow seems unlikely.
Fancy a Premier League Christmas? Check out the cost of a Christmas dinner at these top Premier League clubs.
Number One Single
The number one Christmas single has long been coveted in the music industry, but in recent years the market has been dominated by X Factor winners and Charity singles. The market had looked primed for a similar two-horse race this year with Matt Terry, the winner of ITV's annual cringe-a-thon, up against the Friends of Jo Cox (who insist that their cover of 'You Can't Always Get What You Want' is a protest, rather than a charity single).
Regardless, both have been swept aside in the betting stakes by Clean Bandit, who have been backed into 1/10 with their 'Rockabye' track. Bookmakers have reported a number of large bets, and any value has long since passed. Matt Terry can now be backed at 50/1 while Friends of Jo Cox have drifted to a huge 66/1 .
Top Rated Christmas Day TV Show
The top rated Christmas Day TV Show is a market that gets more popular every year, and it's a wide open race in 2016. Last year's winner in the viewing stakes was Downton Abbey with a whopping 6.9 million of us tuning in, but as it's no longer on our screens, favouritism falls to 2015's 2nd and 3rd Strictly Come Dancing and Mrs Brown's Boys. The BBC's ballroom dancing show scooped the silver medal last year with 6.5 million viewers, but the Mrs Brown comedy show was only just behind with 6.4 million.
Other programmes in the running this year include The Great Christmas Bake Off, Eastenders (of course!), and Call the Midwife. Of the three, The Great Christmas Bake Off could be a lively outsider at 11/2 with Betfair as this is the last festive edition of the show on the BBC before it moves to Channel Four, and the last time Paul Hollywood, Mary Berry and comedy duo Mel and Sue will appear together.
However, it's hard to look past the top two in the betting – Strictly Come Dancing at 3.0 with Betfair and Bet365 and Mrs Brown's Boys at 7/2 with Coral, and preference is for the former as it appeals to a wider demographic.
Number One Video Game
It's a familiar story in the world of gaming, with Call of Duty and FIFA dominating the betting markets once again. The latest Call of Duty offering has been clipped to 1/3 at the time of writing, ahead of the 2017 version of the best-selling football game, and it's hard to make a case for anything else usurping the shoot 'em up this year.
Tips Summary
Strictly Come Dancing
Top Rated Christmas TV Show 2016
Odds: 2/1
Best Selling Video Game
Christmas betting
Novelty betting
Number One Single
Top Christmas Day TV Show
White Christmas