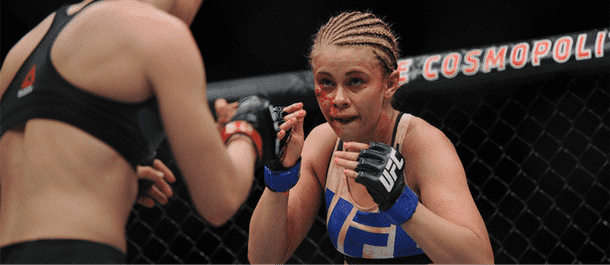 Mickey Gall vs. Sage Northcutt
Dana White and the UFC aren't crazy – they know what's up. When they brought CM Punk into the UFC, they picked his opponent with due diligence with the reason being that when Punk was to lose (was almost a certainty), the other fighter will be granted instant familiarity throughout the sport. They didn't put any old 35-year-old journalist in against CM Punk because, simply, the guy who beats him will have an incredible opportunity to go on and do great things in the UFC. Who better to throw into this situation than an up and coming prospect like Mickey Gall? Mickey Gall was going to make the UFC anyway, but now he's been given a head start that other fighters could only dream about. Gall's attitude towards fighting and how much he understands the game that is martial arts is truly refreshing. After beating CM Punk, he realised his opportunity and latched onto it with two hands by calling out the attractive prospect, Sage Northcutt – and so it begins!
'Super' Sage Northcutt launched into the UFC with an abundance of hype behind him as well. Northcutt stopped Francisco Trevino in just 57 seconds in his debut before submitting Cody Pfister in the second round in his next fight as well. Coming off two impressive wins to start his UFC career, he entered the fight against Bryan Barberena as a decent favourite. However, Barberena pulled off an upset by submitting Sage Northcutt in round 2 with a choke. While Barberena handled Northcutt quite comfortably through this fight, it was Northcutt's lack of perseverance, or 'heart', that was worrisome in my opinion. Once the going got tough, he almost gave up and accepted defeat.
Against Mickey Gall, a hungry newcomer into the UFC who just loves to fight, Sage can't lose his composure. I'd say he almost has to keep this fight standing if he wants to defeat Gall. The differences in the stand-up game between these two fighters will be extremely noticeable as Sage will punish Gall every second this fight isn't on the ground. However, if Gall is able to time Sage's kicks and use them as a means of taking him down to the ground, it could be quick work for Gall who is much better suited to the ground game than Northcutt. While we haven't seen what Gall can do on the ground against an experienced opponent in the UFC just yet, I've seen enough evidence to believe he can manhandle Northcutt if it gets to that stage. Gall stuck with Gordon Ryan, one of the world's best no-gi grapplers, at the NAGA World Championships in 2015, proving to me that his skillset is definitely UFC calibre.
Another factor to take into account here is that Mickey Gall is a natural welterweight, while Sage has predominantly fought at lightweight through his time in the UFC. Interestingly, Sage's one loss was the only time he moved up to welterweight to fight Bryan Barberena.
Gall's abilities on the ground, Sage's questionable determination and willingness to avoid 'scraps', along with the the chance that Sage's kicks are neutralised by the threat of Mickey Gall's takedowns, makes me lean towards Gall in this one by stoppage.
No matter the result, this fight is going to be an absolute ripper, and you can't deny that these two fighters are potentially future stars of the sport.
Mickey Gall to Win
Odds: -125 – Skybet
---
Paige VanZant vs. Michelle Waterson
It's easy to forget that Paige VanZant is just 22-years-old. She's a raw talent and an exceptional athlete training out of Team Alpha Male. She's continually developing her skill set and has visibly improved every time we've seen her in the cage. This is undoubtedly her toughest test yet, as she looks to take on Michelle Waterson 'The Karate Hottie'.
Waterson is a very experienced martial artist and former Invicta Champion. Her strengths are her outside stand-up game in which she can utilise her excellent karate techniques. She has impressive ground control, especially off her back and can excel in almost any situation.
Paige, while she looks completely innocent and more suited to a role on TV than in a combat sport, has incredible heart and determination in the octagon. We've seen it multiple times, which makes it difficult to choose the best example. How about the extreme display of toughness in the Rose Namajunas fight? Or, how she came out and landed that superb flying switch head kick knockout after losing the first round against Bec Rawlings recently!
Waterson has the technical ability to beat up Paige from the outside, but I don't believe there'll be enough of an opportunity in this one for Waterson to showcase her karate skills. Paige excels at closing the distance and has often been known to rush in and initiate brawls. While Waterson probably has the technical advantage on the ground as well, there's just no measure for how much pure grit and determination can take a fighter in the UFC. We've seen it before, and it can often overwhelm the most technically sound fighters. I'll be taking a similar position to the Gall vs. Northcutt bout before this one and backing Paige to overwhelm Michelle Waterson with real pressure and desire to win.
Paige VanZant to Win
Odds: -110 – Skybet
---
Tips Summary
Mickey Gall vs. Sage Northcutt
Mickey Gall to Win
Sunday 18th December, 02:10 GMT
Odds: -125 – Skybet
Paige VanZant vs. Michelle Waterson
Paige VanZant to Win
Sunday 18th December, 02:50 GMT
Odds: -110 – Skybet
---
Check out VanZant and Waterson's 'dance-off' at the weigh-ins!
Mickey Gall
MMA
Paige VanZant
Sage Northcutt
UFC