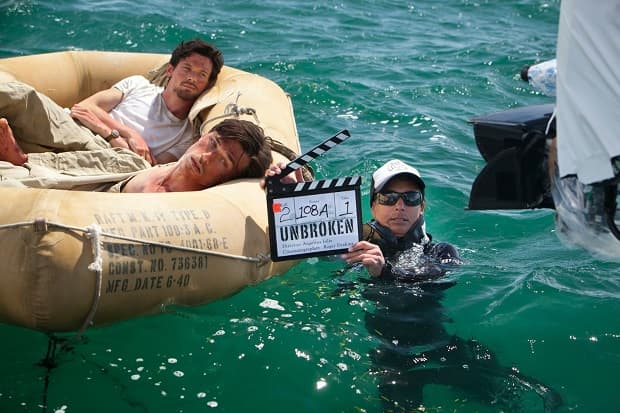 Hollywood is gearing up for the Oscars, and although the award ceremony isn't staged until February, the industry that does 'buzz' so well, is already awash with speculation about the potential winners and losers this year. The nominees aren't even announced until the new year, but to be considered a movie must have premiered by the end of November, and most of the likely candidates are well-known even if they haven't yet screened.
The award for Best Picture is arguably the most coveted of all, and equally difficult to predict, but at this stage Unbroken looks to tick all the right boxes. The incredible true story of American hero Louis Zamperini has finally been brought to the screen by the Coen brothers, with Angelina Jolie taking the director's chair, having become friends with the remarkable man before his passing at the age of 97 earlier this year. The movie premieres in Australia on the 17th of November, and if the reaction is as positive as expected, the odds of 3.50Bet €100 to win €3505/2Bet £100 to win £350+250Bet $100 to win $3502.50Bet HK$100 to win HK$3502.50Bet Rp100 to win Rp350-0.4000Bet RM100 to win RM350 with Paddy Power could quickly tumble.
On the Shortlist
It's been a good year for Cinema and several films are in with a chance of winning Best Picture, so here's a snapshot of some of the other contenders:
Boyhood 2.75Bet €100 to win €2757/4Bet £100 to win £275+175Bet $100 to win $2751.75Bet HK$100 to win HK$2751.75Bet Rp100 to win Rp275-0.5714Bet RM100 to win RM275 with Paddy Power
Richard Linklater's ambitious film, Boyhood, is the story of growing up seen through the eyes of a child (Ellar Coltrane) who literally 'grows up' on screen. The project was made over the course of twelve years, with shooting each year since 2002. What's remarkable is that it is illegal to sign a contract for more than seven years in America, so nothing could be signed for the twelve-year commitment of those involved. The crew got together annually to film, with Linklater's process to make a 'short' film each year which would depict a year in the boy's life, then edit the shorts together at the end to create the final movie. Ellar Coltrane was 7 when the movie started shooting and 18 by the time it finished, and stars alongside Ethan Hawke, Patricia Arquette, and Lorelei Linklater – the director's daughter who also 'grew up' with the film.
The film has been especially well received, and is one of only 11 movies ever to achieve a metascore of 100 – the highest score a film can attain from professional critics. It's deserving of it's place as favourite and possibly deserving of the prize, but the Oscars are not an exact science; and although it is a ground-breaking piece of film-making, it may find recognition in the other awards rather than this one.
Birdman 8.00Bet €100 to win €8007/1Bet £100 to win £800+700Bet $100 to win $8007.00Bet HK$100 to win HK$8007.00Bet Rp100 to win Rp800-0.1429Bet RM100 to win RM800 with Ladbrokes
Michael Keaton is already being tipped to win Best Actor for his performance in Birdman, the story of a washed-up actor who plans to put on a Broadway show in an attempt to reclaim his former fame and glory. The movie isn't released in the UK until the 2nd of January, but opened on the 17th of October in the U.S. and has already seen a very positive reaction.
Interstellar 8.00Bet €100 to win €8007/1Bet £100 to win £800+700Bet $100 to win $8007.00Bet HK$100 to win HK$8007.00Bet Rp100 to win Rp800-0.1429Bet RM100 to win RM800 with Ladbrokes
Interstellar is a Sci-fi epic from director Christopher Nolan (Inception, The Dark Knight), and stars Matthew McConaughey. Anne Hathaway and Jessica Chastain. Like most of Nolan's films it was released in a whirlwind of publicity and marketing, and early signs are that it is living up to the buzz. It was released in late October and has been lauded for its visual brilliance, although some reviews have pointed to a weakish plot being its downfall. Sci-fi films rarely win Best Picture, as evidenced by hot favourite Gravity's failure last year.
The Imitation Game 6.00Bet €100 to win €6005/1Bet £100 to win £600+500Bet $100 to win $6005.00Bet HK$100 to win HK$6005.00Bet Rp100 to win Rp600-0.2000Bet RM100 to win RM600 Ladbrokes
Benedict Cumberbatch and Keira Knightley star in the story of English codebreaker, Alan Turing, who helped crack the enigma code during the Second World War. Initial release is not until the 28th November, but with Harvey Weinstein behind it, the movie has every chance. The Weinstein company paid a record-breaking $7 million for the U.S. distribution rights for the movie, and have a good Oscars history as the company behind recent winners The Artist, and The King's Speech.
Unbreakable
However, our faith is unbreakable when it comes to Unbroken. Hollywood and the Oscars love an emotional, epic, heat-warming story, with a true hero; and Unbroken has all of those things in spades. It tells the amazing life story of Louis Zamperini, who was an Olympic runner before World War Two broke out and he joined the US Army Air Corps and was posted to the South Pacific. After his plane was shot down over the sea, he and another survivor endured 47 days in a life raft in shark-infested water without food or drink. After eventually being 'rescued' by the Japanese Navy, he spent two years in a succession of Japanese POW camps, suffering physical and psychological abuse at the hands of his captors.
He was routinely beaten and tortured by a Japanese officer, Mutsuhiro Watanabe, known as 'The Bird', who was determined to break the spirit of the American athlete. While many men were executed, Watanabe ordered that Zamperini was kept alive – not allowed to die until he could be 'broken'. In one incident, all 220 of Zamperini's fellow inmates were ordered to punch him in the face, one-by-one, with the threat of death or brutal punishment if they refused.
After his eventual release, when Allied forces reached the camp, Zamperini was hailed as an American Hero, and Hollywood had eyes on his story as early as 1957 when Universal bought the rights to the story and had Tony Curtis lined up to play the leading role. The project eventually received the green light after Laura Hillenbrand's 2010 biography of Zamperini became a New York Times Bestseller.
The story has all the elements of triumph over adversity that the Oscar's love, and follows in the path of recent winners such as 12 Years A Slave and The King's Speech.
Tips Summary
Unbroken to win the Oscar for Best Picture 2015 3.50Bet €100 to win €3505/2Bet £100 to win £350+250Bet $100 to win $3502.50Bet HK$100 to win HK$3502.50Bet Rp100 to win Rp350-0.4000Bet RM100 to win RM350 with Paddy Power
Award ceremony – February 22nd 2015
academy awards
angelina jolie
boyhood
coen brothers
oscars
unbroken