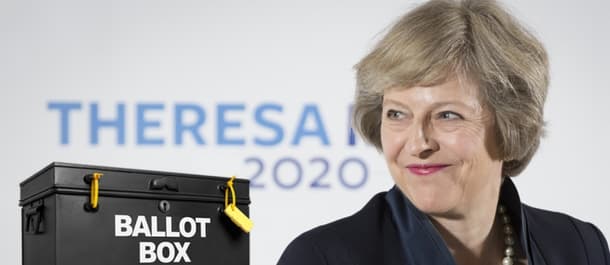 Theresa May is not the most inspiring British prime minister of all time but she is likely to lead the Conservative Party to a thumping victory in the upcoming general election.
May succeeded David Cameron as Britain's leader last year and, sensing that the Labour Party was in complete disarray and incapable of running an effective campaign under its unpopular boss, Jeremy Corbyn, called a parliamentary vote to hold an early general election. The poll will be the first snap election since the United Kingdom moved to fixed terms, with May receiving the necessary two-thirds support from the British parliament to stage a general election before the one that was scheduled to occur in May 2020.
The Conservative Party holds 330 of the 650 seats in the United Kingdom's House of Commons and the only way is up for the Tories given the British public's desire to exit the European Union and disdain for a Corbyn-led Labour Party. Leave the European Union received 51.89 per cent of the Brexit referendum vote in June 2016 and the vast majority of Britons who wanted to leave the European Union 10 months ago have not changed their minds in the intervening period; indeed, many have become even more anti European Union.
May is a cunning politician. May says that she sought an early British general election because it was the "only way to guarantee certainty and security for years ahead" but the reality is that she saw an opportunity to win a poll by a huge margin and increase the Conservative Party's majority in the House of Commons. The Conservative Party is going to make considerable gains and one thinks that bookmakers are underestimating how well the Tories will fare at the polls.
According to Electoral Calculus, a website that crunches the various opinion polls to predict the outcome of British general elections, the Conservative Party are on track to win 414 seats, with the Labour Party dropping to 158 seats and the Scottish National Party in third place with 46 seats. Electoral Calculus is forecasting that the Conservative Party will unseat members of the Labour Party and the Scottish National Party from the House of Commons and that, contrary to other predictions, the Liberal Democrats is unlikely to make a major comeback.
There are a couple of ways to attack betting on the British general election that is set for Thursday 8 June. Over 364 and a half Conservative Party seats is available at odds of 1.65Bet €100 to win €16513/20Bet £100 to win £165-154Bet $100 to win $1650.65Bet HK$100 to win HK$165-1.54Bet Rp100 to win Rp1650.6500Bet RM100 to win RM165 with 32Red and that looks like the politics betting equivalent of picking up money off the street. Coral's line is 378 and a half Conservative Party seats and its odds are 1.83Bet €100 to win €18383/100Bet £100 to win £183-120Bet $100 to win $1830.83Bet HK$100 to win HK$183-1.20Bet Rp100 to win Rp1830.8300Bet RM100 to win RM183 . Both lines are well worth playing because Electoral Calculus has the Conservative Party clearing them by more than 30 seats and the likelihood of the Labour Party improving its position under Corbyn is close to zero.
It would take something truly extraordinary for money buyers who back the Conservative Party to win the most seats in the British general election at odds of 1.06Bet €100 to win €1063/50Bet £100 to win £106-1667Bet $100 to win $1060.06Bet HK$100 to win HK$106-16.67Bet Rp100 to win Rp1060.0600Bet RM100 to win RM106 with several bookmakers, including 188Bet, Ladbrokes and Unibet, not to make six per cent on their cash in a matter of weeks. For once, there is a wager that is better than bank interest.
Tips Summary
Conservative Party seats – Over 364.5
8th June 2017
Odds: 1.65Bet €100 to win €16513/20Bet £100 to win £165-154Bet $100 to win $1650.65Bet HK$100 to win HK$165-1.54Bet Rp100 to win Rp1650.6500Bet RM100 to win RM165
Conservative Party seats – Over 378.5
8th June 2017
Odds: 1.83Bet €100 to win €18383/100Bet £100 to win £183-120Bet $100 to win $1830.83Bet HK$100 to win HK$183-1.20Bet Rp100 to win Rp1830.8300Bet RM100 to win RM183
Conservative Party to win most seats
8th June 2017
Odds: 1.06Bet €100 to win €1063/50Bet £100 to win £106-1667Bet $100 to win $1060.06Bet HK$100 to win HK$106-16.67Bet Rp100 to win Rp1060.0600Bet RM100 to win RM106
conservative
Jeremy Corbyn
labour
Politics
Theresa May
UK General Election