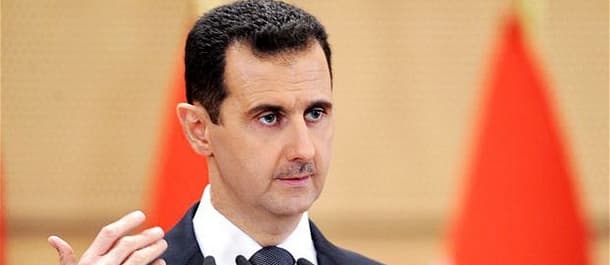 Several bookmakers are taking bets on the Time Person of the Year and one thinks that arguably the key player in 2015's biggest international story is available at generous odds.
Generosity is not the first word that springs to mind when one thinks about Bashar al-Assad but Betfair is being benevolent with its odds of 26.00Bet €100 to win €260025/1Bet £100 to win £2600+2500Bet $100 to win $260025.00Bet HK$100 to win HK$260025.00Bet Rp100 to win Rp2600-0.0400Bet RM100 to win RM2600 that the Syrian president is the Time Person of the Year for 2015.
It is important to note the criteria that Time applies in selecting its Person of the Year. Time features and profiles a person, group, idea or object that, for better or worse, has done the most to influence the events of the year. For example, Adolf Hitler was the Time Person of the Year in 1938 and Joseph Stalin succeeded him in 1939. Time likes to court controversy from time to time – if you will pardon the pun – and it has been a fair while since the magazine put up someone whose selection would make huge headlines around the world. Choosing Assad would spark an international debate.
With all due respect to the likes of Caitlyn Jenner, Donald Trump and Tim Cook, the Syrian Civil War and its impact not only in the Middle East but also around the world has been the biggest news story of 2015. The Syrian Civil War is a complicated subject but, in a nutshell, more than 25,000 Syrians have lost their lives in four and a half years of armed conflict that began with anti-government protests before escalating into a full-scale civil war. More than 11 million others have been forced from their homes as forces loyal to Assad and those opposed to his rule battle each other, as well as jihadist militants from Islamic State. Millions of Syrian refugees have flooded into European countries, especially Germany, and the challenge of accommodating those people is an enormous one.
Migrants and asylum seekers are among the Time Person of the Year market leaders with numerous bookmakers, as is German chancellor Angela Merkel, who has thrown open the doors to Europe's most populous nation and finds herself under pressure to limit what has become a record influx of migrants or face her conservative coalition splintering.
Sister bookmakers 888Sport and Unibet are offering odds of 12.00Bet €100 to win €120011/1Bet £100 to win £1200+1100Bet $100 to win $120011.00Bet HK$100 to win HK$120011.00Bet Rp100 to win Rp1200-0.0909Bet RM100 to win RM1200 that Merkel is the Time Person of the Year, thereby becoming only the second German after you know who to earn the title. One can see the Nobel Peace Prize going to Merkel in the near future if her open-door policy works out well but one would much rather back Assad to be the Time Person of the Year because, quite frankly, his actions fit the magazine's criteria better. Assad's actions have done the most of anyone associated with the Syrian Civil War to influence the events of the year. Merkel would not even be involved it was for the action of the Syrian president.
According to Time Person of the Year bookmakers, some of the possible recipients whom one has not mentioned so far include Alexis Tsipras, Vladimir Putin and Barack Obama. Tsipras is the Greek prime minister who is trying to get his country back on track financially. One does not believe that the Greek story is anywhere near as compelling as the Syrian story. Putin (2007) and Obama (2008 and 2012) are previous Time Person of the Year recipients and one does not believe that they have been sufficiently influential in 2015 to be shorter odds than Assad, which is how the market looks.
Tips Summary
Bashar al-Assad to win Time Person of the Year
6th December 12:00 GMT
Odds: 26.00Bet €100 to win €260025/1Bet £100 to win £2600+2500Bet $100 to win $260025.00Bet HK$100 to win HK$260025.00Bet Rp100 to win Rp2600-0.0400Bet RM100 to win RM2600
Alexis Tsipras
Angela Merkel
Barack Obama
Bashar al-Assad
Syria
Syrian Civil War
Time Person of the Year
Vladimir Putin