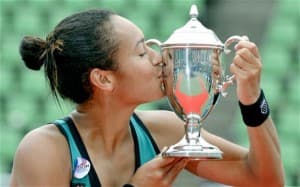 BetVictor has framed more 2013 exotic tennis betting markets than Novak Djokovic has funny impressions and the online arm of Victor Chandler's business appears to have made ricks in its odds about the nation with the most WTA Tour title wins in its haste to react to the end of the 2012 campaign.
Russia is the BetVictor favourite at 5-6, with the remainder of the betting options being the United States of America (7-2), Germany (6-1), Czech Republic (8-1), Belarus (12-1), Italy (20-1), Serbia (33-1), Great Britain (100-1) and any other country (50-1). And one should note that the four Grand Slam events – the Australian Open, the French Open, Wimbledon and the US Open – are not classed as WTA Tour titles so they will not count towards the market.
One can understand why BetVictor (www.betvictor.com) has installed Russia as the favourite. It has four of the top-20 ranked women's singles players – strength in depth that no other country can match – and it would have been the winner of this market had it been offered in 2006, 2007, 2008, 2009, 2010 and 2011.
But has BetVictor gone sufficiently far in offering 5-6 about Russia? One would have to say that quote seems on the generous side, with there being a very strong case for Maria Sharapova et al deserving odds of 4-6 or even shorter.
Russia looks like the first mistake that BetVictor has made in this particular market but its second rick is probably of greater interest to the average punter wishing to strike a good ante-post bet with a potential high dividends.
Italy is way over the odds at 20-1. Italian women won six WTA Tour singles titles in 2012, a tally that saw them tie with the United States of America for first place in this mythical market. Sara Errani won four events, while both Francesca Schiavone and Roberta Vinci won one apiece.
Currently there are four Italian women's singles players in the top 50 – Errani (six), Vinci (16), Schiavone (35) and Flavia Panetta (45) – while 20-year-old Camila Giorgi is likely to join them shortly after racing to 75th in his first complete season on the major circuit. She made the fourth round of Wimbledon this year, eliminating not one but two seeded women before losing to Agnieszka Radwanska.
One of the most striking things about Italy's top women's singles players is their high participation rate. Quite simply, the likes of Errani, Vinci and Schiavone take part in more tournaments than most of their rivals near the top of the rankings. Last year, no other top-10 player lined up in more events than Errani (23). And Vinci (28) was the most active player in the top 20. So while the likes of Victoria Azarenka, Serena Williams and Sharapova rest up when there are less glamorous titles up for grabs, the Italian ladies stay on tour and have a crack at winning those minor events.
Credit to BetVictor for framing what is a very interesting market, one in which there are several legitimate chances because of the competitive nature of elite women's tennis right now. But one cannot help thinking that its compilers have erred with their odds on most of the contenders, with their prices about Russia and Italy favourable to punters.
One could attack this market from many directions. Dutching Russia and Italy at 5-6 and 20-1 respectively works out at between 4-6 and 8-11. That is one way to go, while another route to take is a win bet on Russia and a stake saver on Italy. For example, one could have 20 points on Russia and one on Italy, with a Russia victory resulting in a profit of 15.66 points and an Italy win resulting in breaking even. Visit www.betvictor.com now.