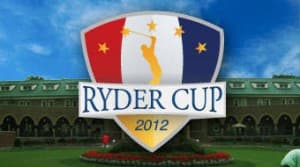 The Ryder Cup, played in odd-numbered years between 1927 and 1992 before the cancellation of the 2001 event resulted in it moving to even-numbered years from 2002 onwards, is a biennial trans-Atlantic Ocean golf team competition.
For 50 years the Ryder Cup was an event between sides representing the United States of America and the British Isles but, because of the boring dominance of the Americans, it underwent a revamp in 1979 and became a tournament in which the best of America played the best of Europe.
The Ryder Cup takes place over three days, with the venue switching between American and European golf courses. In 2012 it is the turn of the United States of America to be the home team and the Medinah Country Club, located just outsider Chicago, is doing the honours for the first time.
The format of the Ryder Cup involves match play competitions between the players of the two sides. Currently it consists of eight foursomes matches, eight fourball matches and 12 singles matches, all of which are played over 18 holes.
A foursomes match is a competition between two teams of two golfers. The golfers on the same side take alternate shots with the same ball. Each hole is won by the team that completes the hole in the fewest shots.
Like a foursomes match, a fourball match is a competition between two sides of two golfers. However, all four golfers play their own ball and each hole is won by the team whose individual golfer has the lowest score.
A singles match is a standard match play competition between two golfers. In the Ryder Cup, the non-playing captains can nominate whomever they want for the foursomes and the fourball matches. But they have no choice but to select every member of their 12-man side for the singles.
There are 28 points up for grabs during a Ryder Cup event and, most of the time, the competition goes right down to the wire. Since it became a United States of America versus Europe affair, the most lopsided scoreline has been 18.5-9.5. The most common scoreline has been 14.5-13.5.
Ryder Cup Betting Tips
Europe has won four of the last five Ryder Cup events and it is overpriced to retain the trophy that it won back at the Celtic Manor Resort in Wales two years ago. Bookmakers are offering around 8-5 that Jose Maria Olazabal's team beats the United States of America outright and around 6-5 that the Europe side either wins or forces a 14-14 draw.
At worst, Europe should be the Ryder Cup joint favourite because its team features four of the world's top five golfers and its side features more excellent exponents of match play golf than the United States of America team does.
According to the current world rankings, Tiger Woods is the only United States of America golfer in the top five and the 14-time major winner is surrounded by Europe's Rory McIlroy (first), Luke Donald (third), Lee Westwood (fourth) and Justin Rose (fifth). In seventh spot, Masters Tournament champion Bubba Watson is the next highest ranked American.
Not only does the Europe side possess great class but also it has great Ryder Cup numbers. No fewer than eight members of the Europe team have Ryder Cup records above a .500 percentage. Westwood is 16-11-6, Sergio Garcia is 14-6-4, Donald is 8-2-1, Ian Poulter is 8-3-0, Graeme McDowell is 4-2-2, Paul Lawrie is 3-1-1, Rose is 3-1-0 and Martin Kaymer is 2-1-0. Contrast that with the fact that no member of the United States of America side boasts a winning record.
Europe is good value at 8-5 to win the Ryder Cup outright and, when it comes to exotics, Steve Stricker is a decent bet at around 9-4 to be the top United States of America wild card, primarily because he is very likely to play in all five sessions, four of them as the partner of Woods.
Stricker, who has a Ryder Cup record of 3-3-1, is up against Jim Furyk (8-15-4), Dustin Johnson (1-3-0) and FedExCup winner Brandt Snedeker (0-0-0) and he should be a warm favourite. Undoubtedly, he will benefit from playing with Woods, who just happens to have won the last two events played at the Medinah Country Club, both of them majors.
Ryder Cup Betting Offers
Betfred, Paddy Power and Blue Square are three bookmakers who are offering Ryder Cup betting offers. All of the deals have some value but one is heaps better than the other two.
Betfred will refund your unsuccessful bet if your selection leads after 17 holes but fails to win the match. Paddy Power will refund your successful bet if your selection leads after 12 holes but fails to win the match. And Blue Square will refund your bet on Europe winning the Ryder Cup if it loses out by two points or less. It is time to go through the history books to work out the value propositions.
Both Betfred and Paddy Power would have refunded on a total of 12 matches over the last four Ryder Cup competitions, including three apiece in 2010. So, basically, there is about a 10 per cent chance of their respective offers resulting in a refund. That is good but not great.
Blue Square's Ryder Cup betting offer is the best by a mile. Back Europe at 31-20 with it and you will get back your money if the underdog side draws 14-14, loses 13.5-14.5 or loses 13-15. Blue Square is betting 10-1 about each of those three scores, which works out at between 5-2 and 11-4 for the combination. Even without factoring in Blue Square's theoretical profit margin – the true odds of its offer resulting are slightly longer – it is clear that it is interesting to anyone who fancies a bet on Europe.
Had Blue Square's Ryder Cup betting offer been in operation for each of the 16 Ryder Cup matches between Europe and the United States of America, Europe punters would have won eight times and had their money refunded five times.
Go to www.bluesquare.com
For US Bettors
Those residing in the USA are going to find the most markets for Ryder cup betting at Bovada.lv. Bovada does not have any specific golf special offers but it does give new customers a 50% up to $250 sign up bonus. Take this free cash and use it to bet on the Ryder cup futures and exotic markets.
Go to www.bovada.lv
Ryder Cup Betting Strategies
Respect Ryder Cup Form
Ryder Cup alumni they say that it is the most pressurised golf event in which to take part. Some golfers can handle the pressure and some golfers cannot. Try to get with proven Ryder Cup performers against proven Ryder Cup flops. Plus, keep a close eye on the quintet of Ryder Cup rookies.
Research Probable Partnerships
Stricker will play with Woods, quite possibly in all four pre-singles Ryder Cup matches. Keegan Bradley and Phil Mickelson are likely partners, while Garcia has an outstanding record with both Donald and Westwood.
Back Europe with Blue Square
Sure, Blue Square's 31-20 is not the best price out there but its Ryder Cup betting offer is terrific in what should be a close contest. Only three times in the 18 meetings between Europe and the United States of America would you have done your dough based on Blue Square's great deal. Claim your special bonus at www.bluesquare.com now.