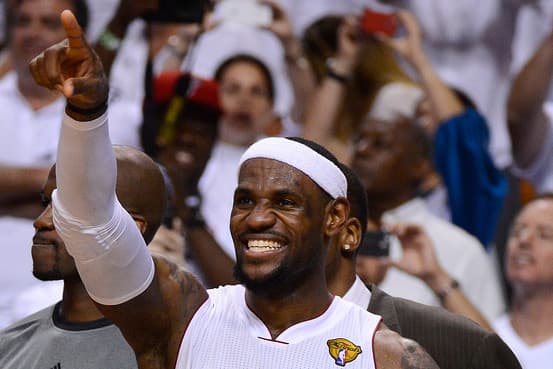 San Antonio Spurs at Miami Heat -7 – Total: OvUn 191
Tip-off: Tuesday, June 18th, 2013 at 9:00 EDT on ABC
Odds provided by Bovada.lv

Our NBA Finals betting coverage continues with Game 6, and we are on quite a tear. We picked the San Antonio Spurs to win the title in our Series Odds Preview, and have now gone 5-1 with our betting picks on Games 1 through 5. We cashed twice in Game 5, taking the over 188 and San Antonio +1.5.
The series now heads back to Miami with the Spurs up 3-2 and the pressure squarely back on the Heat's shoulders.
Game 5 Recap
The most surprising aspect of Game 5 actually happened before tipoff. Greg Popovich started Manu Ginobili for the first time all season, going with a small lineup that slotted the Argentine at small forward. Danny Green still started at shooting guard. The Heat also went small, going with Mike Miller at small forward.
The game was close down the final five minutes, but the Spurs seemed to be in control from the outset as they ran out to a 32-19 lead at the end of the 1st quarter. It was back and forth for much of the game until the Spurs pulled away late in the 4th quarter to win 114-104. San Antonio's starting lineup all contributed greatly in the win. Ginobili finally had his breakout game, dropping 24 points on Miami from 8-14 shooting. And, of course, Danny Green shot 6-10 from three point range, added 24 points in the win, setting an NBA Finals record with 25 three pointers in just five games.
The Heat certainly did not play terrible, but again failed to play better than San Antonio, which is truly all that matters. Wade recorded a double-double with 25 points and 10 assists, marking his second outstanding performance in these finals. LeBron James filled up the stat sheet again, but shot just 8 of 22 from the field and was clearly bothered by the defensive pressure of Spurs (a common theme in this series). Also, Chris Bosh had a solid game, but even with the Miami's Big 3 playing above average, they could not get the job done against San Antonio.
Our Pick:
We were shocked to see Miami -7 as the Game 6 number, but if you look at recent history it makes sense. The Heat have followed all their playoff losses with large (usually blowout) wins against their opponents. They are 12-0 against the spread in their last 12 games following a loss. Can this trend continue?
Of course, the Heat could come out and blow the Spurs out tomorrow, but few would expect that to happen at this point. Because of Miami's absolute shellacking of teams after straight up losses in the playoffs, it may seem like bettors should just "bet the trend" and continue to ride the train until it falls off. We wholeheartedly disagree.
The Spurs are a team possessed and have shown throughout this series that they can and will exert their will on the Heat defensively. They work harder than any team in the NBA for loose balls and defense and take away their opponents' best options. LeBron has not found his way to the paint easily, and Miami has not been able to run up the floor quickly in transition. The games have been high scoring – something that would seem to favor Miami – but benefits the Spurs, as well.
Tony Parker's quickness and ability to penetrate has been a problem for the Heat all series, and it is not getting any better. Parker's hamstring looked impressive in Game 5 and showed no signs of injury. He led the Spurs in scoring with 26 and shot an impressive 10 for 14 from the field.
The trend suggests a Heat win in Game 5, but we can't ignore what we see on the court. The Spurs are simply a better team, and we're confident whatever adjustments Spoelsta makes, Pop will be able to counter. Although, there's not much left in surprises for these two teams now and it just comes down to execution. We believe San Antonio has the edge in this regard. The Spurs have shown that they are just as athletic as the Heat at this point, and we believe they are a smarter better basketball team, as well. This one will be close at the wire, or the Spurs may pull off the win.
We like the San Antonio Spurs +7 with Bovada.