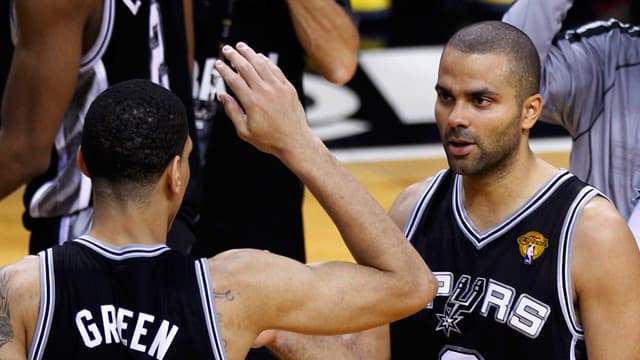 NBA Finals Game 2 Betting
San Antonio Spurs at Miami Heat -6 Total: OvUn 188
Tip-off: Sunday, June 9th, 2013 at 8:00 EST on ABC
Odds provided by Bovada.lv

Game 1 Recap
We're 1-0 so far with our predictions in the Finals with the Spurs not only covering the +5.5 in Game 1, but winning the first game in Miami, 92-88. Led by Tony Parker's 21 points, the Spurs trailed for almost the entire game but pulled away late to take the victory. Duncan patrolled the paint and added 20 points with 14 boards, 4 assists and 3 blocked shots. San Antonio also had plenty of lifts from their bench with seemingly everyone chipping in on the box score.
It was more of the same for the Heat. LeBron James scored only 18 points in the game but notched a triple-double with 18 boards and 10 assists. Wade had a strong first half and finished 7-15 from the field with 17 points but was nonexistent in the second half. Bosh continued his horrific playoffs, missing 10 of 16 shots from the field and securing only 5 rebounds. However, the Miami's bench did step up their play. Ray Allen, Mike Miller, Norris Cole and Chris Andersen were all solid contributors in their limited minutes.
Our Pick:
Game 2 opened with an identical line to Game 1, Miami -5.5. Since the game opened it has moved to -6 at most all sportsbooks as Heat backers' continue to doubt the Spurs.
Game 2 is where the first set of adjustments will be made from both coaches, but as we mentioned in our previous article, we're confident in Popovich's ability to outcoach Spoelstra on pretty much every occasion.
What's scary about Game 1 if you are Miami is that the Spurs won the game despite playing a subpar performance. At least, based on their other play in this year's playoffs. Ginobilli was effective but did not add much a scoring touch to the game. Duncan missed a ton of wide open mid-range jumpers in the first half despite posting a nice stat line overall. The same goes for Parker – although he made the game sealing shot – was nowhere near as dominant as he has been so far in the playoffs.
Both teams shot poorly, something that will change, but Game 1 does not bode well for Miami's supporting cast. The Heat need Bosh and Wade to give them productive, efficient minutes down the stretch, something that has not seemed to have happened since the Chicago series. LeBron can not win an NBA Title on his own.
Speaking of King James, despite his superior talent and being one of the best players to ever wear an NBA uniform – he has been poor under pressure late in games. He obviously scored and rebounded effectively, but he has been turnover prone late in games and sometimes finds the wrong guy in clutch time. Case in point: Bosh's three point attempt late in Game 1.
Spoelstra chooses to go without a point guard late in games, a strategy that we're not so sure is the right decision. The Heat's offense may be more effective late in the game – or at least less turnover prone – with a point guard running the show.
Even with adjustments and better performances from LeBron's supporting cast, it is hard to be too impressed with the Heat based on the Spurs' play in Game 1, especially from a defensive perspective. San Antonio clogged passing lines, forced turnovers extremely effectively and essentially controlled the tempo of the game.
We like the Spurs +6 again in Game 2. We think Miami will certainly win some games during this series, but they do not look up to the task quite yet.
Game 3 is usually an excellent spot to take a team down 0-2, and we'll look to do that if the Heat drop another game at home to the Spurs.
Bet San Antonio Spurs +6 at Bovada.lv