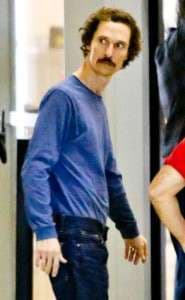 There are odds-on favourites for each of the top six Academy Awards categories but, if there is to be a shock result in one of the high-profile races, it may occur in Best Actor where Matthew McConaughey is the clear market leader.
McConaughey was a laughing stock among serious actors until he took a brief break and, upon his return, turned his back on romantic comedies to focus on independent films that had challenging roles. McConaughey has been nominated for his portrayal of Ron Woodroof, a part that required him to shed 38 pounds, in Dallas Buyers Club. McConaughey plays an AIDS patient who smuggled unapproved pharmaceutical drugs into Texas when he found them effective at improving his symptoms, distributing them to fellow sufferers.
Many of the important Academy Awards precursors have gone to McConaughey, including the Screen Actors Guild prize. But is Dallas Buyers Club, a movie that has made the Best Picture cut but does not have a hope in hell of receiving that gong, likely to provide two of the four actor/actress winners?
It is a question worth posing because Jared Leto is a lock to win the Academy Award for Best Supporting Actor. Leto has dominated the pre-Academy Awards events with none of his rivals – Barkhad Abdi, Bradley Cooper, Michael Fassbender and Jonah Hill – landing a serious blow. And, no, Abdi receiving the BAFTA does not really matter. So, if Leto takes out the Academy Award for Best Supporting Actor, will voters think twice about McConaughey in his category?
For years it was common for films to win two or more of the four Academy Awards for acting. However, there has been a dearth of such eventualities in recent times. The last movie to supply two Academy Awards acting winners was The Fighter three years ago when Christian Bale and Melissa Leo won Best Supporting Actor and Best Supporting Actress respectively. That ended a six-year drought since Million Dollar Baby superstars Morgan Freeman and Hilary Swank took out the Academy Awards for Best Supporting Actor and Best Actress respectively. It does not happen as often as it once did.
McConaughey is a worthy Best Actor favourite but there are reasons why some of Hollywood's Academy Awards experts are tipping that Leonardo DiCaprio could upset at odds of 6.00 with Bet365 and Betfred. Among the DiCaprio disciples is Tom O'Neil, the Academy Awards tragic behind the GoldDerby website.
DiCaprio is due by industry standards having received four Academy Awards nominations. Many critics have described DiCaprio's performance in The Wolf Of Wall Street as the finest of his career and being the lead actor in a Martin Scorsese-directed picture helps. One does not know how the Academy Awards voters who hold Screen Actors Guild rights view DiCaprio because, bizarrely, The Wolf Of Wall Street star did not make it on to the Screen Actors Guild ballot.
Recent Academy Awards ceremonies have gone according to the script, if one will pardon the pun. And there does appear to be several 86th Academy Awards certainties, particularly Cate Blanchett in Best Actor, Alfonso Cuaron in Best Directing and Leto in Best Supporting Actor.
Not even Blanchett's association with controversial figure Woody Allen is going to stop her winning her first Academy Award for Best Actress and her second Oscar in any category. Only once in the last 30 years has a helmsman won both the Golden Globes Award and the Directors Guild of America Award for directing and not gone on to taste Academy Awards success so Cuaron has the right form lines. And Leto's performance of a transgender woman is really terrific.
Surely Academy Awards voters will resist the temptation to hand a second Oscar to Jennifer Lawrence before she turns 24, leaving Lupita Nyong'o to collect the Best Supporting Actress statuette. That would also mean that Best Picture favourite 12 Years A Slave wins one of the acting prizes, which is something that usually happens at the Academy Awards. Nyong'o is available at odds of 1.73 with Stan James to win the Academy Award for Best Supporting Actress.
We did dabble in the early markets, touching on the second tier markets before the bookmakers caught on. If there odds are still available at any sportsbooks then they are still profitable bets.