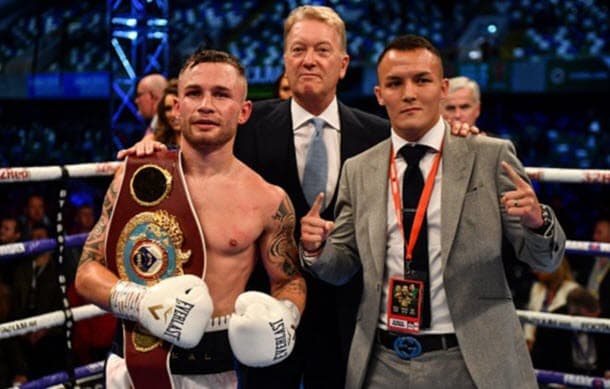 Josh Warrington v Carl Frampton – 22nd December – 22:00 BST
Josh Warrington is fighting Carl Frampton for the Featherweight championship of the world this Saturday night. If the previous sentence had been written two years ago, it would have been a fight that would be scoffed at, as world champion Carl Frampton would have been a very heavy favourite, only available at prohibitive odds in the betting markets. However, as it stands today, Warrington is at the top of the tree and holds a strap, and it is Frampton who enters the bout as the challenger.
The Irishman Frampton still starts as a betting favourite for the fight, but his chances are set at about 67%, when in reality a few years back, he would have been a 90%+ jolly going into the fight.
So what has changed to warrant the swing in public opinion and with the bookmakers? Well Warrington has undoubtedly seen progression in his career and has continued to improve, with that ascension topped off by beating Lee Selby for the title last time out, when again he started the fight as an underdog.
Critics will sight the fact that the Welshman was weight drained and looked like a ghost on the scales, but regardless, you can only beat the man put in front of you, and Warrington impressed by mixing up both boxing and brawling, when pundits and armchair fans alike thought he only had the ability to do the latter mentioned.
One playing devil's advocate could point to the fact that in addition to suffering a severe weight cut, Selby wasn't and isn't a fighter with dynamite in his fists (With the Stephen Smith knockout being the anomaly in this data set!). Although he could not attack with reckless abandon, it most certainly wouldn't be out there to suggest that Warrington wasn't paying too much attention at what was being thrown at him – the Leeds fighter having claimed to have never gone down in sparring or in the ring under the lights.
TOP TIP! – Carl Frampton to win by KO/TKO/DQ at 4.00Bet €100 to win €4003/1Bet £100 to win £400+300Bet $100 to win $4003.00Bet HK$100 to win HK$4003.00Bet Rp100 to win Rp400-0.3333Bet RM100 to win RM400 with Bet365
Get the best odds for Warrington v Frampton with our selected bookmakers below.
While Warrington has undoubtedly seen his stock rocket, the view on where Frampton lies in the timeline of his career and how much he has left in the tank, has been discussed and debated by many boxing heads. Frampton has always been an elite talent, and he was a very heavy handed fighter when competing in the 122lb division. He showed his class by beating Leo Santa Cruz the first time around, but then saw his Mexican-American rival regain gold in their rematch. Since losing his world championship, Frampton has endured an acrimonious split with former coach Shane McGuigan.
However, those looking in would not be foolish to say that real issue lay with Frampton and Shane's dad (Frampton's former manager) Barry McGuigan. Information that McGuigan Snr and his company had been to put it mildly 'shafting' Frampton was disseminated to the press and turned many off the family. Since moving on to now trainer Jamie Moore, Frampton has fired the occasional shot at his former coach, implying that he was chronically over trained and now under new tutelage, he feels revitalised and as strong as ever. The evidence is mixed.
Frampton looked fantastic in the first few rounds of his comeback against a rugged Mexican fighter, but he gassed badly in the second half of the contest and that performance definitely wasn't stellar. He followed that up with a competitive but comprehensive win over former multi-weight world champion Nonito Donaire, who was in all likelihood a competitors boxing two divisions above his optimum weight.
After going the distance in his previous six contests, Frampton would have been relieved to have scored the knockout against overmatched Australian fighter Luke Jackson last time. That performance was definitely one back in the right direction, and perhaps the relationship with talented trainer Jamie Moore will now flourish.
So, how will the fight go? The two fighters have been somewhat typecast into the roles of high-output pressure fighter and cute boxer/puncher, but it could be a little more of a complex equation than that. Warrington displayed some surprising boxing skills last time, and he may try and mix it up when in the ring.
TOP TIP! – Carl Frampton to win by KO/TKO/DQ in Rounds 5-8 8.00Bet €100 to win €8007/1Bet £100 to win £800+700Bet $100 to win $8007.00Bet HK$100 to win HK$8007.00Bet Rp100 to win Rp800-0.1429Bet RM100 to win RM800
Frampton is undoubtedly the heavier handed fighter and that may make Warrington a little more wary about coming in all guns blazing. Sharp counter punchers with pop can often limit the output of normally busy fighters, by stinging them early and then feinting those big shots for the rest of the contest.
Frampton will be relying on his accuracy and footwork and is likely to land the crisper shots early on in the fight. Warrington will be hoping that he can use his perceived superior stamina down the stretch to wear down Frampton and coax him into mistakes and into dropping his guard as he gets tired. Those counters don't have quite the same sting down later in the fight and Warrington will be hoping to drown the Jackal in the latter rounds. As much as he has stamina for days and is improving, there is in reality, a gulf in class between the two fighters.
Frampton has always been touted as a special fighter and he has fought all of the top contenders and champions along the way. We fancy him to catch Warrington with a big shot while he is coming in, and then jump on him for the TKO victory in the mid rounds at 8.00Bet €100 to win €8007/1Bet £100 to win £800+700Bet $100 to win $8007.00Bet HK$100 to win HK$8007.00Bet Rp100 to win Rp800-0.1429Bet RM100 to win RM800.
Feel free to us know what you think of our tips. Click the button below and Share on Facebook or Twitter and tell us if you agree or disagree with our selections!
Boxing
Carl Frampton
Featherweight Championship
Josh Warrington