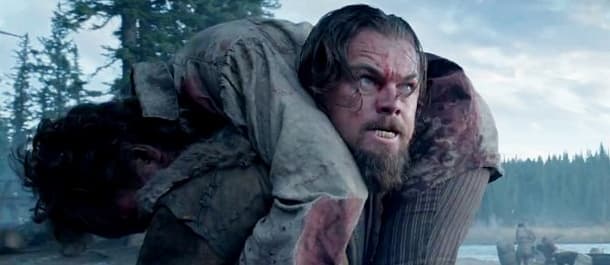 Sixth time lucky – that is what Leonardo DiCaprio will be hoping eventuates at the 88th Academy Awards and one rates him as the real Best Actor in a Leading Role favourite.
The bookmaking fraternity has pegged Michael Fassbender as the Best Actor in a Leading Role frontrunner and Ladbrokes has the German-Irish thespian as the odds-on favourite to take out one of the major Academy Awards categories. Film critics have praised Fassbender's portrayal of Steve Jobs and playing a real person has a history of going down well with Academy Awards voters. However, the buzz surrounding the Steve Jobs movie is dying, not least because Fassbender is not campaigning for prizes. Fassbender made a point of not actively seeking Academy Awards votes for his role in the Best Picture-winning 12 Years a Slave, a choice that many seasoned Oscars analysts think cost him dearly in the Best Actor in a Supporting Role race that Jared Leto won. Fassbender does not look like changing his spots any time soon and, without a strong presence on the Academy Awards campaign trail, he strikes one as a vulnerable favourite.
Everyone in Hollywood believes that it is only a matter of time before the Academy of Motion Picture Arts and Sciences honours DiCaprio with a statuette. With Fassbender conceding ground in the Best Actor in a Leading Role race, DiCaprio is well positioned to win his first Academy Award at the sixth attempt. The Academy of Motion Picture Arts and Sciences nominated DiCaprio for Best Actor in a Leading Role for his performances in Blood Diamond, The Aviator and The Wolf of Wall Street, Best Actor in a Supporting Role for his part in What's Eating Gilbert Grape and Best Picture for his effort in producing The Wolf of Wall Street. More than 20 years have spanned DiCaprio's Academy Awards nominations and, according to some critics, he should have been shortlisted for the likes of Catch Me If You Can, The Departed and Titanic. One does not have to be a DiCaprio fan to argue that he is an Academy Awards winner in waiting.
Like Fassbender in Steve Jobs, DiCaprio portrays a real person in The Revenant – Hugh Glass, a fur trapper and frontiersman noted for his exploits in the American West during the early 1800s. Unlike Fassbender, DiCaprio had to make himself ugly to play his subject and usually that wins brownie points with Academy Awards voters – they love to see Hollywood superstars undergo major physical transformations, particularly if the end result is a less attractive person.
No-one has grabbed the Best Actor in a Leading Role race by the scruff of its neck yet. DiCaprio is shaping up as the most likely firmer in this Academy Awards betting market over the next couple of months – Fassbender is his own worst enemy and the third favourite, Eddie Redmayne, is attempting to go back to back. Nine men have won the Best Actor in a Leading Role category at least twice but only of them has gone back to back – Spencer Tracy in the 10th and 11th editions of the Academy Awards during the late 1930s.
Titanbet and Winner are offering odds of 3.00Bet €100 to win €3002/1Bet £100 to win £300+200Bet $100 to win $3002.00Bet HK$100 to win HK$3002.00Bet Rp100 to win Rp300-0.5000Bet RM100 to win RM300 about the Academy Award for Best Actor in a Leading Role going to DiCaprio. The Academy Awards races are heating up – for example, next week sees the announcement of the New York Film Critics Circle prizes – so now is the time to take a punt on DiCaprio being the Best Actor in a Leading Role market mover and, ultimately, the statuette's recipient.
The 88th edition of the Academy Awards will take place at the Dolby Theatre in Los Angeles on Sunday 28 February 2016.
For other Oscar related articles, check out our tips on Best Actress, Best Supporting Actor, Best Supporting Actress, Best Director and Best Picture.
Tips Summary
Leonardo DiCaprio to win Best Actor Academy Award
28th February
Odds: 3.00Bet €100 to win €3002/1Bet £100 to win £300+200Bet $100 to win $3002.00Bet HK$100 to win HK$3002.00Bet Rp100 to win Rp300-0.5000Bet RM100 to win RM300
academy awards
Best Actor
Hugh Glass
Leonardo DiCaprio
Michael Fassbender
Steve Jobs
The Revenant