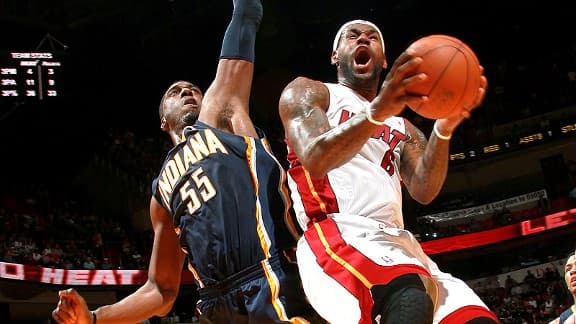 2013 NBA Playoffs Eastern Conference Finals – Indiana Pacers vs. Miami Heat
To Win Series Odds: Pacers +550 – Heat -710
Odds are provided by TopBet.eu, one of the world's top sportsbooks and our choice for NBA betting.
Two familiar foes meet again in the playoffs as the Indian Pacers take on the top seeded Miami Heat for a ticket to the NBA Finals. The Western Conference Finals kick off this Wednesday, May, 21st 2013 at 8:30 PM.
Indiana has had a difficult path to the Eastern Conference Finals but completed one of their most successful seasons in franchise history. After beating the Hawks in six games in the First Round, they headed to New York to take on the Knicks in an East Semi-final. Indiana stifled a talented and higher seeded team in New York and stifled Carmelo Anthony and company. The Pacers won the series in six games.
The Miami Heat breezed through their First Round matchup with the Milwaukee Bucks, dominating them in all phases of the game and sweeping the series 4-0. The Bulls shocked Miami by winning Game 1 of the East Semi-finals, but the Heat showed their dominance once again and won four straight games to eliminate Chicago and head on to the next round.
These two teams met three times during the 2013 regular season with the Indiana Pacers holding the edge on Miami Heat, going 2-1. However, two out of the three games were played on the Pacers home court.
They also met in last year's playoffs, and the Pacers certainly gave them a run for their money. Miami looked human for the first three games of the series, leading an East-semifinal series 2-1. But, the Heat stormed backed in the series and won three straight games.
Dwayne Wade played in that series but was bothered with injury, (as he is now) but Chris Bosh missed the entire series due to injury. Bosh is currently healthy and will be at full strength against Indiana.
Our Prediction:
This series is a tale of two teams searching for something different, although they clearly both crave an NBA title. With a series win, Indiana would beat one of the better teams in recent history and establish themselves as a title contender for at least next season, whether they would go on to win the title or not.
For the Heat, a win in this series and subsequent NBA Title would cement the 2013 Miami Heat as one of the best teams in history. The Heat feel that they still have something to prove even after their shortened season NBA Championship last year. If they win another title this year, it shuts up all the naysayers and could be the start of a Jordan or Kobe like dynasty for LeBron James and the Miami Heat.
While Miami has been so dominant this year, especially in the playoffs, (they have only lost one game in the first two rounds) the Pacers match up much better against the Heat than their previous opponents.
If the Heat have one weakness, it is size and depth in their frontcourt. Bosh is too small to guard most centers and Chris Anderson can make a difference in limited minutes, but he is not a game changer. Roy Hibbert has been downright dominant in this year's playoffs and clogs up the paint better than most big men in the league. Along with David West, Hibbert hopes to grab the majority of boards and at least to try stymie LeBron James as he drives to the basket.
They Pacers have an enormous mismatch in the paint during this series, both offensively and defensively. It is a vital that they use this to their advantage, or this could be a short series.
Of course, stopping LeBron James is impossible, and even the best defenses in the league can only hope to contain him. Much of that responsibility will fall onto Paul George's shoulders, but the Pacers will rotate many men on the best player in the game. If they contain LeBron somewhat while limiting the scoring of his support cast – the Pacers have a fighting chance in this series.
Dwayne Wade's injury concerns are also a factor, but Wade can still contribute in small bunches even if he is playing injured. He was excellent in spurts against the Bulls in the last series and is still one of the NBA's best when he is healthy.
Indiana's defense has been impressive, but the Heat led the NBA in defensive points per 100 possessions, allowing just 93.4 points per game. Miami's three pointing shooting has been subpar in the playoffs, but it is likely just a slump. The Heat were one of the best three point shooting teams in the regular season and perimeter shooters Ray Allen, Shane Battier and Mario Chalmers will no doubt get plenty of open looks in the series as teams collapse on James.
It will be key to see if Indiana can limit Miami's three point shooting, which could be a significant factor in this series. They led the league in the regular season in three pointers allowed, holding opponents to 32.7%.
Both teams are unselfish with the basketball, but while Miami's scoring load is predominantly dominated by star players – most specifically James – Indiana seems to have a new hero every night. George Hill, Lance Stephenson and Paul George are all solid contributors and can explode on any given night to propel their team to victory.
Still, even if everything goes right for Indiana, they face a giant uphill battle against Miami. This series will likely go to seven games if the Pacers win and Indiana has to play well at home to even have any chance in this series. If they can steal Game 1, they can put themselves in a good position to at least make this series difficult for the Heat.
As bettors can see by the series odds, the Heat are massive -710 favorites. This is justified but too steep of a price to pay against this Pacers' team. While Miami could end up dispatching them in 4-5 games, we find it unlikely and foresee a tough series for both teams.
Regardless, wagering $710 to win $100 is not exactly a strategy most betting experts would endorse, even if the team was a virtual "lock" to win. Something, in our opinion the Heat are not.
The Bucks nor the Bulls stood a chance against Miami, but the Pacers do match up well against the Heat and have two skilled big men to take advantage of their size down low and to clog the paint. If Indiana's starters can have solid games offensively and close out on perimeter shooters, they have a good chance of keeping these games close.
LeBron James will get his, and no one will be able to stop him. The key for Indiana is making sure they execute in the other aspects of this series while doing the best job they can on James without leaving others wide open.
For +550, we especially love Indiana. They were, after all, the only team that showed Miami any fight in last year's playoffs and did beat them twice in the regular season. We still think it is hard to imagine anyone beating the Heat, (even the Western Conference's representative in the Finals) but the Pacers match up better than any other team the Heat have faced so far, and have a smart head coach in Frank Vogel.
Bet the Indiana Pacers +550 at Topbet.eu