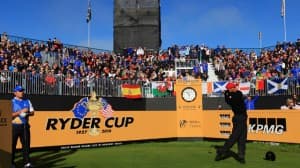 The United States of America is the favourite to win this year's Ryder Cup but one can make a very strong case for backing Europe at underdog odds that are as long as 8-5 to win outright and 6-5 to retain the prestigious trophy.
Of course, there are lies, damned lies and statistics and fans of the world rankings could argue that bookmakers are correct to have installed the United States of America as the Ryder Cup market leader at odds between 4-5 and 4-6.
After all, prior to the Tour Championship, Jim Furyk was the lowest ranked member of the United States of America team at number 28, with the average ranking of the dozen Americans being 12.42. The Europe side, on the other hand, had three golfers ranked below Furyk and its mean was 18.75 in spite of Rory McIlroy, Luke Donald and Lee Westwood occupying first, third and fourth positions respectively.
But as anyone who has seen a Ryder Cup contest over the past 30 years, since when Europe has been competitive, knows that the trans-Atlantic golf competition is a special beast in which some golfers rise to the occasion and some golfers fall to pieces. And that is why the United States of America, even allowing for home advantage, should not be such a warm order for the 17th meeting since the event was changed to include golfers from all European countries and not only those from Great Britain and Ireland.
Ryder Cups are all about handling pressure, gelling as a team and playing matchplay golf. In all three categories, one could argue that the Europe side is either equal to or superior to the team from the United States of America.
First, the best measure of how golfers handle pressure is their results in the sport's four major championships – the Masters Tournament, the US Open, the Open Championship and the PGA Championship – the individual events that matter most. Having collated this year's scores, the Europe side performed better than the United States of America team at the Masters Tournament and the PGA Championship. So honours even there, although it is interesting that the Europe side edged two of the three America-staged events.
Second, the Europe team appears – rightly or wrongly – to be closer knit than the United States of America side. Maybe it is harsh but, from the outside looking in, it seems that the Ryder Cup means more to the Europeans than it does to the Americans. It is very much like the State of Origin rugby league series between Queensland and New South Wales in which the time-honoured underdog – Queensland – seems to care about the result more than its southern neighbour.
And third – and this is the killer statistic – the Europe team has a much better record in Ryder Cup matches than the United States of America side, plus Europe's representatives are more experienced in the tough matchplay format. No fewer than eight members of the Europe team have Ryder Cup records above a .500 percentage. Westwood is 16-11-6, Sergio Garcia is 14-6-4, Donald is 8-2-1, Ian Poulter is 8-3-0, Graeme McDowell is 4-2-2, Paul Lawrie is 3-1-1, Justin Rose is 3-1-0 and Martin Kaymer is 2-1-0. Contrast that with the fact that no member of the United States of America side boasts a winning record, not even the great Tiger Woods.
The 14-time major champion has played 29 Ryder Cup matches for 13 wins, 14 losses and two halves. Phil Mickelson is 11-17-6, Furyk is 8-15-4, both Steve Stricker and Zach Johnson are 3-3-1, Matt Kuchar is 1-1-2 and both Dustin Johnson and Bubba Watson are 1-3-0. Keegan Bradley, Jason Dufner, Brandt Snedeker and Webb Simpson are making their Ryder Cup debuts, which means the United States of America has four rookies. Europe has just one – Nicolas Colsaerts.
Betting on this year's Ryder Cup should be what is known in sports betting circles as a pick-em affair, with the United States of America and Europe as joint favourites. If one had to get off the fence and favour one of the teams, the three aforementioned points would make one lean towards Europe.
Bookmakers have gone Ryder Cup exotics crazy ahead of the three-day battle at the Medinah Country Club near Chicago. Perhaps the best bet in the multitude of markets is Stricker to be the top United States of America wild card at around 9-4. He is up against Furyk, Snedeker and Dustin Johnson.
United States of America team captain Davis Love III has picked Stricker because not only is he ranked 10th in the world but also he has demonstrated that he can play with Woods, which means that he is very short odds to pair up with the home side's biggest name. This is particularly significant given the venue for this year's Ryder Cup.
The Medinah Country Club is a private course that does not stage many professional tournaments. It has staged only two in the last 20 years and both of them were won by Woods. He took out the 1999 PGA Championship by one stroke and the 2006 PGA Championship by four strokes. Stricker, who was joint seventh in the aforementioned 2006 major, will be in pole position to score more Ryder Cup points than Furyk, Snedeker and Dustin Johnson if he teams up with Woods.
As listed above, Stricker is 3-3-1 in Ryder Cup matches compared to Furyk's 8-15-4, Dustin Johnson's 1-3-0 and Snedeker's big fat nothing. The golfer they call Mr September should be the hot favourite at under 2-1.
The 2012 Ryder Cup runs from Friday 28 September to Sunday 30 September, opening with foursomes and closing with those all-important dozen singles matches on the final day.