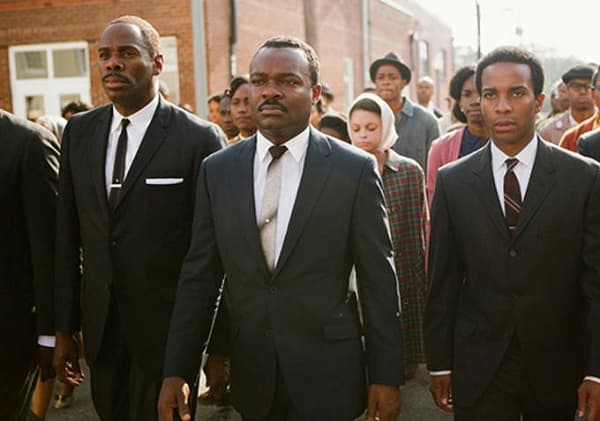 The 87th Academy Awards will be presented on 22nd February 2015, with the winner selected from a shortlist of five, due to be announced on the 15th of January. At this stage, the qualifying films have been released and the performances of a host of leading men can be assessed. The best odds will be available before the actors are shortlisted, and now is a good time to get the bets down on the eventual winner of the award.
David Oyelowo has received rave reviews for his portrayal of Martin Luther King in Ava DuVernay's historical biopic, Selma. He is a lively contender against the current favourites and is worth backing at a stand-out 11.00Bet €100 to win €110010/1Bet £100 to win £1100+1000Bet $100 to win $110010.00Bet HK$100 to win HK$110010.00Bet Rp100 to win Rp1100-0.1000Bet RM100 to win RM1100 with Paddy Power to take the illustrious award.
The Potential Nominees
In a good year for movies, there have been some excellent leading men, and this market may be more open than the odds would suggest. Top of the betting is:
Micheal Keaton – 1.67Bet €100 to win €16767/100Bet £100 to win £167-149Bet $100 to win $1670.67Bet HK$100 to win HK$167-1.49Bet Rp100 to win Rp1670.6700Bet RM100 to win RM167 with William Hill
Michael Keaton is almost certain to be nominated for his turn in Birdman – The story of a former actor's attempt to put on a Broadway show. He's earned critical acclaim for the performance in the role of Riggan Thomas, a fictional character who once played an iconic superhero 'Birdman', and attempts to reinvent himself as a serious, dramatic director. Keaton has been around for many years, and as a former star of Batman, his own career is vaguely reflective of the film as he comes victoriously back to form. He was famously snubbed for a nomination in 1993 for 'My Life', and an award could be long overdue. However, this is a comedic role, and they are rarely awarded Oscars in this category – only six actors in the history of the Oscars have taken the award for a comedic performance, and that raises enough doubt to take him on in the betting.
Eddie Redmayne – 2.88Bet €100 to win €28847/25Bet £100 to win £288+188Bet $100 to win $2881.88Bet HK$100 to win HK$2881.88Bet Rp100 to win Rp288-0.5319Bet RM100 to win RM288 with Ladbrokes
Eddie Redmayne looks likely to be nominated for his portrayal of famous physicist Stephen Hawking in the movie 'The Theory of Everything'. The film tells the story of Hawkings relationship with his wife, and although it is yet to screen in public cinemas, his performance as the disabled scientist has had many critic purring. He has been installed as the second favourite, but oddly, his age may count against him. Previous winners of this award have generally been older, more experienced actors, and the committee may overlook him this year.
Benedict Cumberbatch – 6.00Bet €100 to win €6005/1Bet £100 to win £600+500Bet $100 to win $6005.00Bet HK$100 to win HK$6005.00Bet Rp100 to win Rp600-0.2000Bet RM100 to win RM600 with Betfair
The Imitation Game should scoop Benedict Cumberbatch an award for his role as Alan Turing, the man who helped the British government crack the enigma code during World War Two. His rise as an actor in Hollywood has been astonishing over the last year or two, and he is a man in demand at the moment. The movie is backed by the Weinstein company, so can be expected to pick up something at the Oscars, such is their pedigree. Could be the next Englishman to win the award, after Colin Firth took the gong for The King's Speech in 2010, although it remains to be seen if The Imitation Game will reach quite the same heights.
Steve Carrell – 13.00Bet €100 to win €130012/1Bet £100 to win £1300+1200Bet $100 to win $130012.00Bet HK$100 to win HK$130012.00Bet Rp100 to win Rp1300-0.0833Bet RM100 to win RM1300 with Ladbrokes
Steve Carrell is the next most likely to be nominated (according to the odds, anyway), for his role as multi-millionaire John Du Pont in the true story of wrestling brothers Mark and David Schultz. One thing that may count against him is that the picture is a biopic of Mark Schultz, and it's arguable if Carrell's is even the 'leading' role in the movie. Channing Tatum is also in the running for a nomination for his role as the main character in the story, and that muddies the waters somewhat.
Best of the Rest
Timothy Spall – 17.00Bet €100 to win €170016/1Bet £100 to win £1700+1600Bet $100 to win $170016.00Bet HK$100 to win HK$170016.00Bet Rp100 to win Rp1700-0.0625Bet RM100 to win RM1700 with BetVictor
Timothy Spall has been bestowed with praise for his 'performance of a lifetime' as artist J.M.W. Turner in Mike Leigh's feature about the British painter's life. Could be nominated ahead of Carrell or Cumberbatch, but on the downside Mike Leigh has never seen a leading man in one of his films nominated before.
Jake Gyllenhaal – 34.00Bet €100 to win €340033/1Bet £100 to win £3400+3300Bet $100 to win $340033.00Bet HK$100 to win HK$340033.00Bet Rp100 to win Rp3400-0.0303Bet RM100 to win RM3400 with Ladbrokes
Jake Gyllenhaal has been tipped as an outsider for the award by some critics, for his role in the dark thriller Nightcrawler. He's a potential long shot at a very fancy price.
The winner
If Micheal Keaton is indeed overlooked for the award, then David Oyelowo is the stand-out choice of the other contenders. The film – Selma – focuses on the civil rights marches led by Martin Luther King in 1965. It has received a metascore (the score attributed by professional movie critics) of 98/100, and is set for a Christmas day release which puts it at the forefront of the Academy's mind in the build up to the Oscars. Early reviews have eulogized over the British actor's fine portrayal of the great man. The film itself is not a biopic in the traditional sense, in that it doesn't chart King's life, but focuses on one particular part of his history. Director Ava Duvernay has been tipped for a nomination in the Best Director category, which would see her become only the fifth female director to be nominated, while the movie is also considered an outsider for best picture.
This is also the kind of serious in-depth role that is often associated with Best Actor. Last year Matthew McConaughey took the award for his brilliant performance in Dallas Buyer's club; and Daniel Day-Lewis won Best Actor gong in the previous year for his depiction of Abraham Lincoln in the film of the same name. Before that it was Jean Dujardin for his work in The Artist, and in 2010 Colin Firth was the winner with The King's Speech. In fact, the Oscars have a history of going to actors playing exactly these types of roles, and in Martin Luther King, there are few historical figures more ingrained into the collective American conscience.
After supporting roles in a huge number of different movies, Oyelowo has stepped firmly into the limelight, and looks a cracking bet at a decent price.
Tips Summary
David Oyelowo to win the Oscar for Best Actor – 11.00Bet €100 to win €110010/1Bet £100 to win £1100+1000Bet $100 to win $110010.00Bet HK$100 to win HK$110010.00Bet Rp100 to win Rp1100-0.1000Bet RM100 to win RM1100 with Paddy Power
Awards Ceremony 22nd February 2015
academy awards
Benedict Cumberbatch
David Oyelowo
Eddie Redmayne
Michael Keaton
oscars