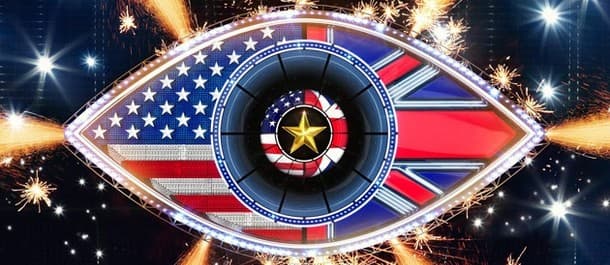 Celebrity Big Brother is back next week for an incredible 16th series of the toe-curling Z-list love-in. It's car crash TV at it's best, and although you know you shouldn't watch it, the off-the-wall social-experiment-gone-wrong is utterly compulsive viewing.
The secretive nature of the production is all part of the intrigue, and Channel 5 have slowly dripped information out into the public domain about this year's offering. And of course, there is the usual rumour mill about who will walk up the famous steps of the house at next week's live launch show. The twist this year is a UK v USA theme, in which CBB has 'thrown down the gauntlet' to celebrities on either side of the pond to take part in what they call the 'ultimate CBB Battle'. The house, say producers, will be adorned with British and American paraphernalia, and viewers have been told to expect the atmosphere of a sporting event as contestants are pitched into a series of cross-Atlantic challenges.
It all starts on Thursday 27th August and it sounds positively enthralling! We've got the lowdown on some of the runners and riders rumoured to be making an appearance this year.
Potential Housemates:
Hulk Hogan
The most famous of American wrestlers (of a certain era, at least) is one of the big stars named in many a tabloid to be holding up the US end on this year's show. He remains a huge celebrity in America, so it would be a great coup if the Big Brother team could pull it off, but he does have form for reality TV, having starred in Hogan Knows Best – a reality show about his family.
Janice Dickenson
Janice Dickenson, dubbed 'the World's first Supermodel', has long been linked with the show, and after appearing as an outspoken judge on America's Next Top Model, she also played the reality game on I'm a Celebrity. She's been said to have been offered £300,000 to appear on this year's series, and there are 300,000 reasons right there for her to grace the BB house with her presence.
Chloe-Jasmine Whichello
After meeting Stevi Ritchie on X Factor, Chloe-Jasmine has enjoyed a fairy-tale romance with the karaoke crooner, and she is tipped to make an appearance this year. She has the right blend of not-quite-famous, but desperate-to-stay-in-the-public-eye about her, but unless CBB can persuade the two lovebirds to appear together on the show, it may be an unsubstantiated rumour.
Dapper Laughs
This on the other hand is a natural rumour, and Dapper Laughs (or Daniel O'Reilly as he's better known) should be a shoo-in for this years show. After rising to prominence with the 'lad culture' character Dapper Laughs online, he was even rewarded with a TV series on ITV. However, it was cancelled shortly after due to certain remarks made during a stand-up gig. Daniel has remained in the news though, and after retiring the character he brought him back with a promise of 'toned down' content. He was recently in the news after tweeting about the harassment he's received from the media, and is in that typical Big Brother position of 'wanting the public to know the real him'. There has to be at least one contestant with that maxim each year – it's practically Big Brother law.
Gail Porter
Gail Porter is another celeb keen to get her career back on track, but for entirely different reasons, having gone through divorce, alopecia and bipolar depression in recent years. The former TV presenter and FHM pin-up is just the kind of contestant the producers love – on the expectation that emotion will follow – but Gail may prove to be a great deal tougher than they imagine. She would be an excellent and most likely popular housemate.
Stevi Ritchie
Stevi Ritchie's surprisingly long run on X Factor this year was bad enough, and as above, unless CBB can get both him and his fiancee on the show together, it looks like a non-starter.
Paul Danan
The former Hollyoaks actor and general lad was a regular guest on Big Brother's bit on the side last year, and he is certainly a housemate we expect to see show up on launch night. The fact that he's well known to the BB audience and is a likeable type anyway should stand him in good stead. He appeared on the original series of Celebrity Love Island in 2005, so has experience of reality TV already. He's a best price of 26.00Bet €100 to win €260025/1Bet £100 to win £2600+2500Bet $100 to win $260025.00Bet HK$100 to win HK$260025.00Bet Rp100 to win Rp2600-0.0400Bet RM100 to win RM2600 with Betfair and looks worth a small punt at this early stage.
Natasha Hamilton
Former Atomic Kitten Natasha Hamilton is no stranger to reality TV, having appeared on The Big Reunion and Seven Days With…, so she's a likely contender.
Dan Osbourne
Dan Osbourne has already achieved celebrity status with TOWIE, and it's wouldn't be a Big Brother without at least one of the cast or former cast of that show being linked. Gemma Collins is the other, although she only lasted three days on I'm a Celebrity, so producers could be forgiven for thinking they'd get more mileage out of Dan.
David Gest
David Gest is continually linked with CBB after appearing on I'm a Celebrity, and he certainly has more than enough juicy gossip to get CBB fans excited by what he might say in the house. Whether the rumoured £250,000 he's been offered is enough to lure him is another matter though.
Karen Danczuk
Karen Danczuk is the self-confessed 'Queen of the Selfie', yet she is also a former councillor for Rochdale and was previously married to MP Simon Danczuk. She is unashamedly proud of her 'assets' as her stream of twitter photos shows, and what could CBB want more than an intelligent, independent women who is proud of showing off her body? It's a match made in heaven and she might even be worth a punt at 34.00Bet €100 to win €340033/1Bet £100 to win £3400+3300Bet $100 to win $340033.00Bet HK$100 to win HK$340033.00Bet Rp100 to win Rp3400-0.0303Bet RM100 to win RM3400 with Betfred, or Totesport.
Tips Summary
Karen Danczuk to win Celebrity Big Brother 16
Starts Thursday 27th August
Odds: 34.00Bet €100 to win €340033/1Bet £100 to win £3400+3300Bet $100 to win $340033.00Bet HK$100 to win HK$340033.00Bet Rp100 to win Rp3400-0.0303Bet RM100 to win RM3400
Paul Danan to win Celebrity Big Brother 16
Starts Thursday 27th August
Odds: 26.00Bet €100 to win €260025/1Bet £100 to win £2600+2500Bet $100 to win $260025.00Bet HK$100 to win HK$260025.00Bet Rp100 to win Rp2600-0.0400Bet RM100 to win RM2600
celebrity big brother
Celebrity Big Brother 16
Hulk Hogan
Karen Danczuk
Paul Danan
Tila Tequila