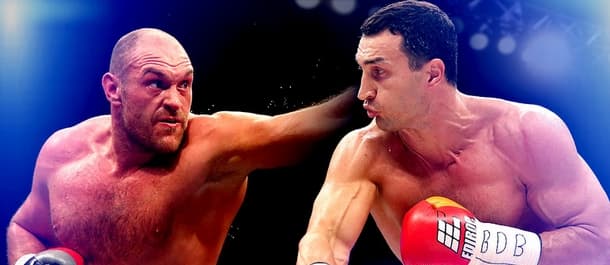 Wladimir Klitschko lost his last fight to Tyson Fury.
Man say he's better than AJ….tell that man to shut up. Trouble is, there is more than just one man saying that Wladimir Klitschko is going to restore his position at the top of the heavyweight tree this Saturday in front of 90,000 screaming fans, beating Anthony Joshua in the process. This really is a cross-roads fight, an intriguing affair which pits one of the all-time greats against an absolute machine, but a machine who has yet to be tested at the elite level. There have been rumours about Joshua being decked in sparring whilst Wlad has supposedly looked back to his best, but sparring stories are always rife and can often be way off the mark once it comes to fight time. Who is going to win this gargantuan heavyweight battle and where does the betting value lie? We take a look.
The profile of the two fighters entering the ring could not be much different. Anthony Joshua has enjoyed a meteoric rise to stardom, and the most impressive thing is that he hasn't even been boxing for 10 years. Joshua started as an 18 year old after getting in trouble with police for drug dealing, and hasn't looked back since. After 4 years of learning his trade, the super heavyweight fulfilled a dream of becoming an Olympic gold medallist, and although there may have been slight controversy about how he did so (many observers thought he lost one or two of his fights on the way to the final), it is there in the history books.
Five years later, and the Watford man has improved immeasurably, winning the world title from a poor Charles Martin. Joshua is fast, powerful and a good combination puncher. His athleticism is unmatched in boxing and possibly in sport general. He has a fantastic attitude, a killer instinct and is learning with every contest. Does he have flaws? Absolutely – purists would like to see some more head movement, and he is prone to bringing his right hand back low after throwing it, leaving him susceptible to the left hook, which incidentally, is one of Wladimir's best punches. Joshua has been stopped before in the amateurs and it is widely known that he got knocked out in sparring by the heavy handed but fragile chinned David Price a few years back. But this is heavyweight boxing – anyone can knock anyone out, so the defensive frailties are more of a concern than the strength of Joshua's chin.
Wladimir Klitschko's career started before Anthony Joshua even laced up a pair of gloves for the first time, and one has to ask, what is his motivation to fight. After reigning as the lineal heavyweight champion of the world for a decade, Wlad was dethroned by the enigmatic but brilliant Tyson Fury just shy of 18 months ago. Was Tyson great or was it a sign Klitschko is getting old? Perhaps a little of both. In his previous outing, Wlad laboured to a points victory over Bryant Jennings, a tough but smaller heavyweight. On fight night, the giant Ukranian will be 41, and will have to shake off ring rust, so on paper, the deck looks stacked against him. But Klitschko has experience, which can count for a lot in this fight.
The weigh-in was interesting, with Wlad looking absolutely shredded, coming in light for him at 240lbs. Joshua looked muscle bound and came in 10lbs heavier at 250lbs. Is this an indication of how the fight will go? With Klitschko looking to be fast and have stamina to last the full twelve, while Joshua looks to get the job done early. The early rounds in this contest will be crucial. If Joshua can land hard and regularly early, it is likely to demoralise Klitschko, but doing that will be easier said than done as Wlad can be notoriously cagey. Joshua isn't going to dance around like Fury – he only knows one way to fight and that is come forward and bang. If it goes late in the fight, experience could well tell and Wlad's lean physique could give him the edge.
So what are the bets? There does look to be some value in Joshua winning within the first 6 rounds, with that outcome being available at odds of 3.00Bet €100 to win €3002/1Bet £100 to win £300+200Bet $100 to win $3002.00Bet HK$100 to win HK$3002.00Bet Rp100 to win Rp300-0.5000Bet RM100 to win RM300 with William Hill. Joshua will be aggressive from the off and if he can't get rid of Wlad in the first half of the fight, it could be a long night. Klitschko is available at juicy odds of 7.50Bet €100 to win €75013/2Bet £100 to win £750+650Bet $100 to win $7506.50Bet HK$100 to win HK$7506.50Bet Rp100 to win Rp750-0.1538Bet RM100 to win RM750 with SkyBet to win the fight in the second half of the fight, and if he weathers the early storm, could come on strong late.
Tips Summary
Joshua to win in rounds 1-6
Saturday 29th April, 22:10 GMT Approximate start time
Odds: 3.00Bet €100 to win €3002/1Bet £100 to win £300+200Bet $100 to win $3002.00Bet HK$100 to win HK$3002.00Bet Rp100 to win Rp300-0.5000Bet RM100 to win RM300
Klitschko to win in round 7-12
Saturday 29th April, 22:10 GMT Approximate start time
Odds: 3.00Bet €100 to win €3002/1Bet £100 to win £300+200Bet $100 to win $3002.00Bet HK$100 to win HK$3002.00Bet Rp100 to win Rp300-0.5000Bet RM100 to win RM300
Anthony Jushua
Boxing Tips
Wladimir Klitschko